Oak Crest Resident, Retired Police Officer Publishes Sixth Book
By Danielle Rexrode
May 26, 2022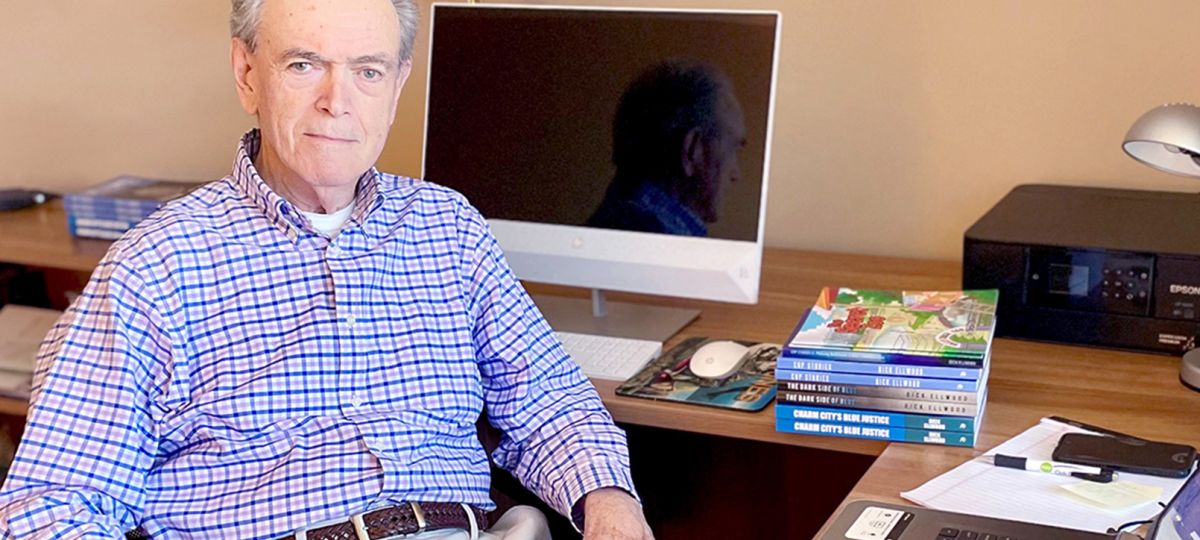 "Truth is stranger than fiction, but it is because fiction is obliged to stick to possibilities; truth isn't," Mark Twain wrote, and it's a notion that author Dick Ellwood knows all too well. During his 25 years as a Baltimore City police officer, he saw more than his fair share of strange things. Since retiring, he has used those encounters as fodder for his true crime books.
A resident of Oak Crest, an Erickson Senior Living community in Parkville, Md., Dick has published two autobiographies, two crime novels, and a children's book. His sixth book, LEO Legends - A Look Behind the Badge, is due out this year. (LEO is an industry acronym for law enforcement officer.)
"Every cop has stories. They tell them in the locker room, the parking lot, in courthouse hallways, at retirement parties, at funerals, and bars - especially in bars, where cops go to let off steam," wrote Dick in the introduction to his first book: Cop Stories: The Few, The Proud, and The Ugly - Twenty-five years on the Baltimore Police Department.
A collection of true short stories, Cop Stories, highlights moments from Dick's career, ranging from arresting his childhood baseball hero, Mickey Mantle, for public intoxication to responding to the civil rights riots of 1968.
A legacy of service
"I started out writing the history of my family in the Baltimore Police Department," recalls Dick, a third-generation officer. "I realized it was going in too many directions, so I changed gears and decided to write short stories about my career on the force. As I was writing, one story would remind me of another. I could have included hundreds of stories, but I decided on 38."
He continues, "My latest book is about police officers that, in my opinion, were legends in law enforcement. These legends are people I either worked with in the Baltimore City Police Department or I have firsthand knowledge of their contributions in law enforcement."
Walking the beat
Raised in an Irish Catholic area of East Baltimore, Dick joined the Marines when he was 17. He followed in his father's footsteps four years later by joining the Baltimore City Police Department.
"We have four generations of police officers in our family going back to the mid-1850s: my grandfather on my mother's side, my father, and my brother John," says Dick. "I think I knew at a pretty young age it's what I wanted to do."
Dick started as a beat cop in the same neighborhood where he grew up.
"I still had relatives and friends living in that neighborhood, and at times, it was a challenge," says Dick. "Back then, officers who walked the post were really respected. We didn't have walkie-talkies, so we relied on the people in the neighborhood. On certain corners, there would be a telephone with a yellow flashing light, and if you locked someone up, you had to get them to walk to the call box and then call to have someone come and arrest them."
Moving up
After five years on the streets, Dick moved to specialized units in vice, robbery, homicide, and the arson and bomb unit. "I enjoyed the camaraderie in the police department; it was strong," says Dick. "You had a squad of 8 to 10 people, and we became really close."
Dick left the police force when he was 46 and went to work for Nationwide Insurance, retiring for good in 2008. In 2012, he penned his first novel, Charm City's Blue Justice. The novel follows two friends who both chose careers in law enforcement, but they go about policing in very different ways.
His second novel, The Dark Side of Blue, was published in 2016. It was followed by Cop Stories II: Policing Baltimore - A Real Conversation two years later. In 2014, Dick took a respite from crime stories to try his hand at an entirely new genre - a children's book called The Secret Zoo.
New chapter
In 2021, Dick and his wife Sharon traded their townhouse in Timonium, Md., for an apartment home at Oak Crest. Dick writes from his home office, which has a large picture window that, he says, "allows me to take in the weather and do some serious thinking."
When he's not writing, Dick enjoys exercising at Oak Crest's on-site fitness center, playing cards and tennis, and participating in a men's book club called Men Like Books Also.
With his sixth book now under his belt, Dick's passion for writing isn't waning. "When you get to the end of a book, and it's finally published, it's a pretty good feeling, especially when people tell you they liked your book," says Dick. "It motivates you to keep going."
To learn more about affordable, independent senior living at Oak Crest, request your free brochure to get the scoop on amenities, floor plans, and so much more.
Back