Oak Crest Offers Great Value and a Vibrant, Worry-Free Senior Lifestyle
By Danielle Rexrode
April 5, 2022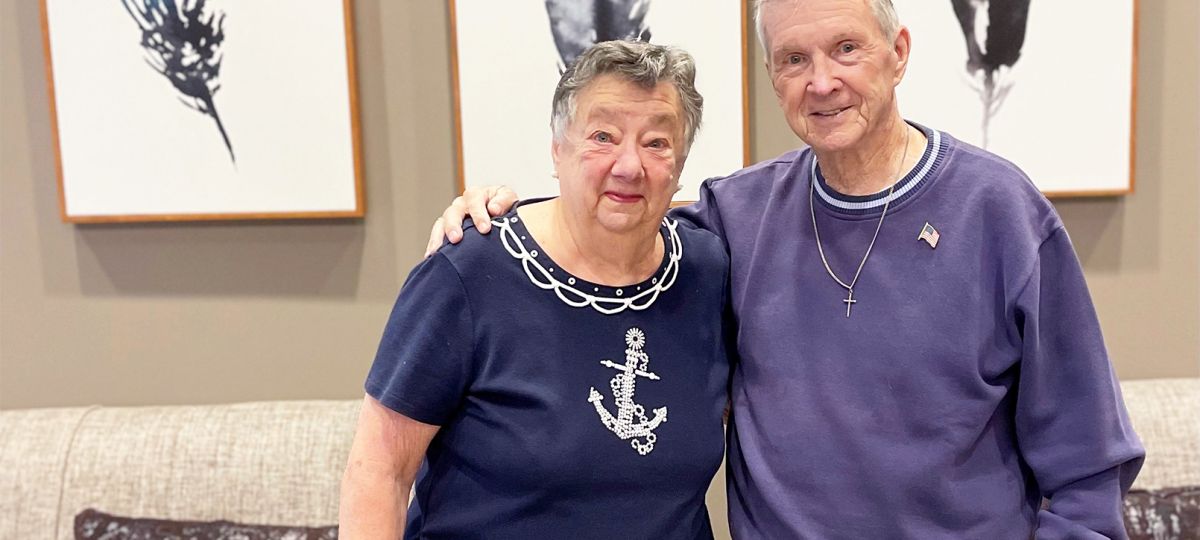 Nearly 10 million Americans age 65 and older are still paying a mortgage, according to a 2021 study by LendingTree. For those on a fixed budget, paying the monthly mortgage cost - along with rising property taxes and utilities - can be a challenge. And regardless of whether the mortgage is paid off or not, the repair and upkeep of a house is expensive.
Fortunately, there's an alternative to the headaches and high costs of maintaining an aging house. Residents at Oak Crest, an Erickson Senior Living community in Parkville, Md., say that they enjoy having independence to do what they please - without the worries of homeownership.
Worry-free financial stability for seniors
"We visited a number of different places, but their finances left something to be desired," says John Bennett, who moved to Oak Crest eleven years ago with his wife Agnes. The couple chose a one-bedroom, one-bath apartment home with a recessed balcony.
"Oak Crest met my financial prerogatives, and I thought that the monthly service package was a good rate," adds John. "I find that it's so convenient to have all the maintenance taken care of. I don't have to schedule repairs or worry about fixing things."
Oak Crest's comprehensive monthly service package replaces most of the expenses homeowners incur every month, including the gas and electric bill. In addition to utilities, the package includes property taxes; seasonal maintenance, such as furnace/heat pump inspections and conditioning; all major repairs; appliance replacement; and even cable television.
The monthly service package also provides residents with flexible meal plan options to dine at the community's eight on-site restaurants. Oak Crest prides itself on providing an exceptional dining experience with a wide variety of delicious menu items.
Maintenance free lifestyle
Every apartment home is maintenance-free, which means that residents can spend their free time pursuing hobbies and interests instead of replacing lightbulbs. With more than 150 groups, clubs, and organizations at Oak Crest - plus amenities like a fitness center, pool, medical center, and even college courses - there are plenty of ways to maintain your physical, mental, and spiritual well-being. 
"I appreciate the security and the health aspects of living here. I also like the ease of having a medical center, restaurants, and everything else right here on campus," John says.
He says he also appreciates Oak Crest's home for life commitment, which promises that no one will ever be asked to leave the community because of a genuine inability to pay, and the 90% refundable entrance fee.
"I like the peace of mind knowing if something happens to me, my wife is taken care of," he says. "You never know when something could happen. We know that we have a home here for life, no matter what happens. That's very important to me, and a big relief."
Senior living is a great value
John and Sue Hart moved to Oak Crest from their house of 50 years in 2018. A retired cost analyst for Bethlehem Steel, John carefully examined Oak Crest's financial structure.
"I came and talked to one of the salespeople about finances. I wanted to know if we could afford Oak Crest and see exactly what the costs were," John says. "When you compare Oak Crest to other retirement communities and what you get for what you pay, Oak Crest definitely wins."
John and Sue chose the two-bedroom, two-bath Kingston floor plan, with a recessed balcony.
"We have a very nice apartment home and feel like we get a lot for our money," says John.
"We see our doctors at the medical center and attend church services on campus. We walk to the restaurants, use the fitness center, play cornhole and cards, and play water volleyball in the pool. It's nice that we have so many amenities."
How a seller's market benefits seniors
"If you have ever considered moving to Oak Crest, now is a great time to take a closer look," says Dan Plakatoris, sales director. "The value of houses in the local area has steadily increased over the last few years, allowing homeowners to sell their properties quickly and obtain top dollar. And because mortgage interest rates are predicted to continue increasing through the end of the year, it's a seller's market. Many homes are selling within days of being listed." 
Invest in your future at Oak Crest. From top-notch amenities and activities to affordable, maintenance-free apartment homes, you'll enjoy living your retirement to the fullest. Request more information or schedule a visit today!
*Carefully read the Residence and Care Agreement for the conditions that must be satisfied before the provider is required to pay the entrance fee refund.
Back