At Oak Crest, Building a Career in Care
By Danielle Rexrode
June 30, 2023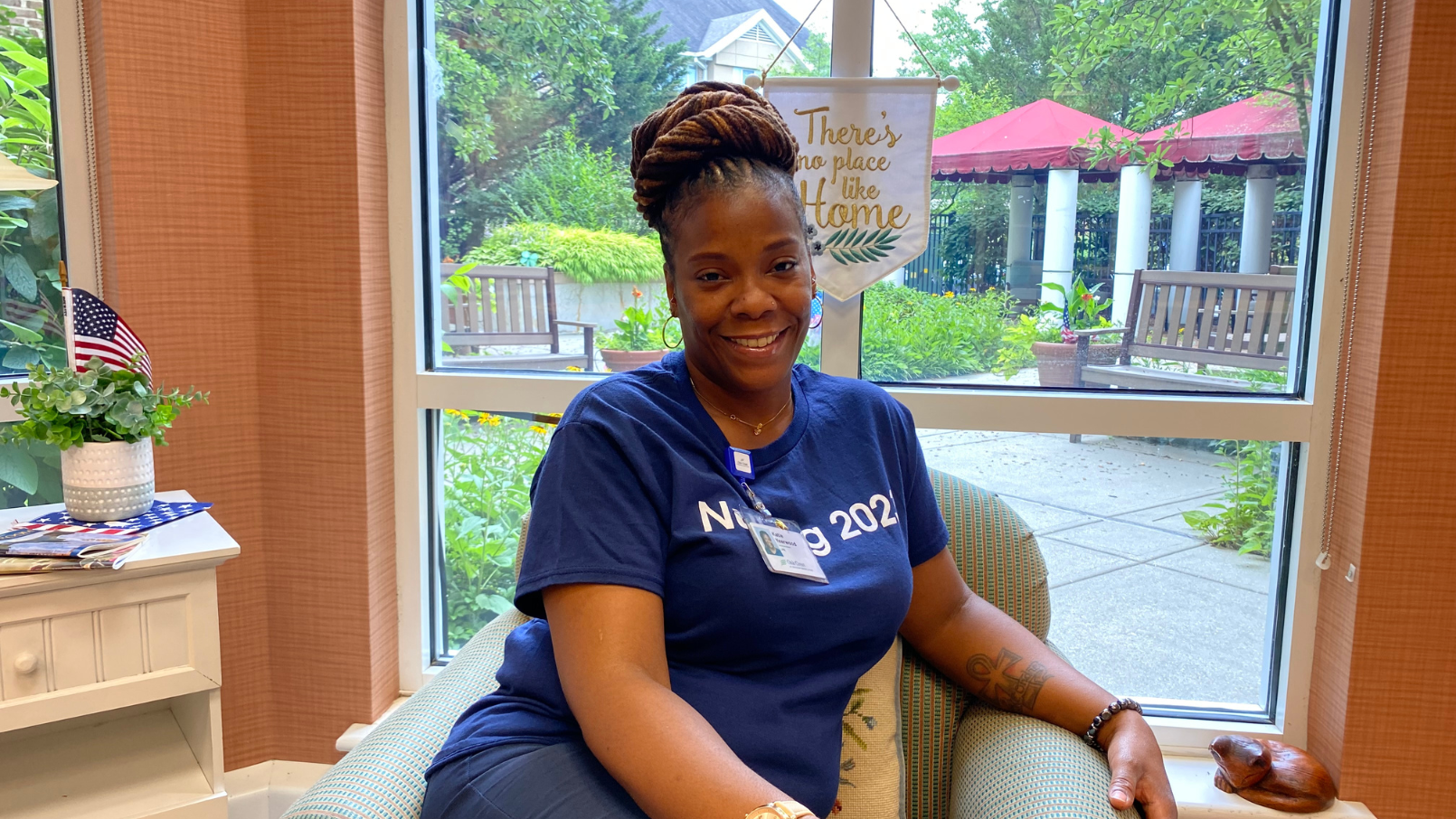 When she was growing up, Katie Yearwood wondered why her grandmother was just getting home when most people were leaving for work. It turns out her grandmother was a nurse on the night shift.
Now Katie is a nurse. And she is making a positive difference in people's lives while building a career in healthcare at one of the most respected names in senior living, Oak Crest, an Erickson Living community in Parkville, Maryland.
"My grandmother always took care of people, so it was normal for me to want to take care of people," says Katie.
Katie was hired as a general nursing assistant at Oak Crest in 2008. One year later, she was encouraged to advance her career by becoming a certified medication technician (CMT).
"My manager encouraged me to go through the CMT program. I was unsure, but after I thought about it and I decided it was an opportunity for me to grow," explains Katie.
After earning her CMT certification, with her coworkers cheering her on, Katie pursued her dream of becoming a nurse.
"We have a team that wants to see people grow," says Katie. "They really encourage you to continue on with your schooling and advancing your career."
Industry leader
Since 1983, Erickson Senior Living's network of communities has been devoted to one mission, helping people live better lives.
One of the many advantages to a healthcare career at Oak Crest is the ability to work in a supportive environment, earn competitive pay, and take advantage of flexible work hours. With a predictable schedule, healthcare team professionals have a work-life balance that enables them to equally prioritize the demands of their careers with the needs of their personal lives.
"I float around between assisted living and nursing," says Katie. "I like the fact that I make my own schedule, and they place me where I am most needed."
Some benefits differentiating Oak Crest from other workplaces include tuition reimbursement, 401K, generous paid time off (including volunteer hours), rapid advancement opportunities, on-site employee health and wellness centers, employee discount programs, and much more.
Room to grow
"There has never been a more exciting time to be a part of Oak Crest's health care team," said Joy Curbean-Johnson, director of human resources at Oak Crest. "The rewarding work, diverse training programs, and opportunities to help others that are inherent with our healthcare positions provide an ideal pathway for a successful career."
Joy recently celebrated her first anniversary with Oak Crest. As a leader, she values career development opportunities for her team, and herself.
"This was the greatest career move that I have made! There are so many resources to assist and help me grow within my career," says Curbean-Johnson.
When people join the team at Oak Crest, they gain more than a great job in a booming industry; they gain unparalleled access to an array of rich experiences, knowledge, and opportunities that will prove invaluable to their personal and professional growth. Even more rewarding is the chance to impact lives for the better!
"My favorite part of my job is interacting with the residents," says Katie. "I love building relationships with them. They are always happy to see me. I also feel like the staff and people I have met here at Oak Crest have been supportive of me. Oak Crest feels like home."
If you want to explore a healthcare career or other exciting career opportunities at Oak Crest, click here to browse the company's careers website. 
Back