Martha Wheeler Moves into Her Mom's Former Apartment Home at Oak Crest
By Danielle Rexrode
September 11, 2023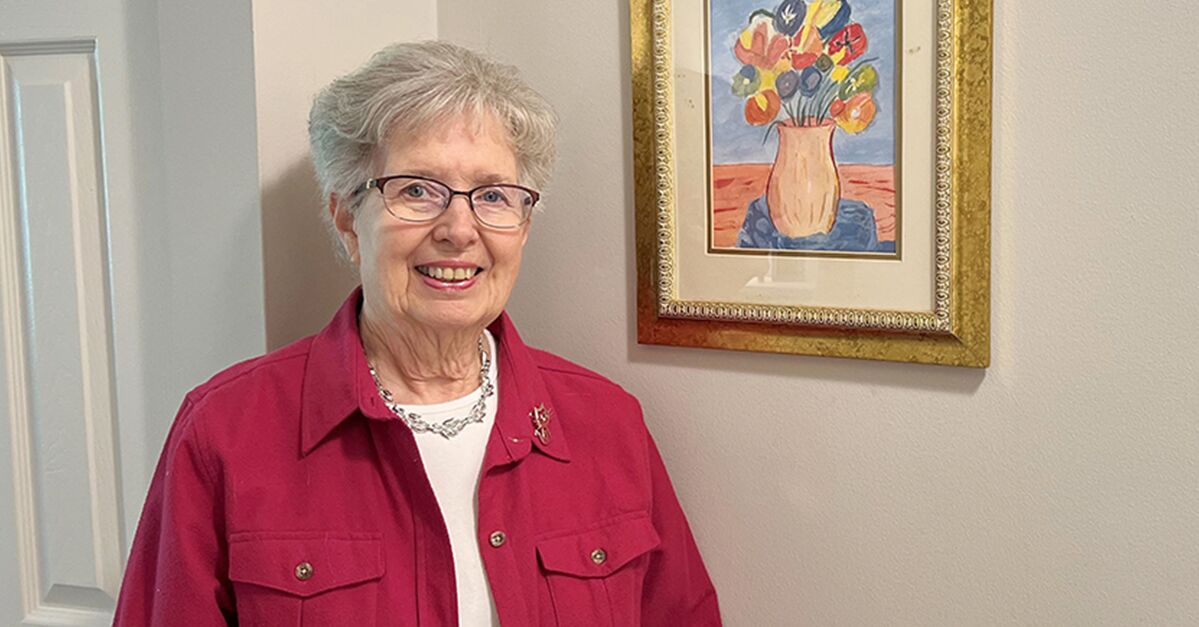 Martha Wheeler is well-acquainted with one particular one-bedroom apartment home at Oak Crest, an Erickson Senior Living community in Parkville, Md. 
Fifteen years ago, she helped her mother move into it--and now she lives there, enjoying the same active, maintenance-free lifestyle that her mom valued so much.
"My mom loved living at Oak Crest and everything it had to offer," says Martha. 
"She had wonderful friends that she played cards and poker with. She had the grandkids over all the time to swim in the pool. She just enjoyed her life here!"
Perfect timing
In February 2022, Martha, then a resident of Ocean Pines, Md., decided she was ready for a change. Her husband had passed away a year earlier, and she was looking to continue her active lifestyle in a location closer to family. 
Naturally, the first place that came to mind was Oak Crest. 
"When I got on the phone with Laurie [Bender, a senior sales associate at Oak Crest], she was so sweet. She asked me how I had heard about Oak Crest. I told her that my mom had lived here and loved it," says Martha. "I wanted to see if I could afford it."
Martha couldn't remember what floor plan her mother had selected, so Bender decided to do some research.
"I looked up her mom's name," recalls Bender. "It turned out that the exact apartment home her mom had lived in was available. I told her the good news. We couldn't believe it! A few days later, Martha called me back and said, 'My daughter just can't get over the fact that my mother's apartment home is available. We would like to come and take a look at it.'"
Feeling at home
Martha journeyed up from Ocean Pines and brought her daughter with her. "As soon as I saw it, I said, 'This is it!'" says Martha. 
"I could remember walking down the halls, and I remembered the apartment home. I immediately felt a hug."
She adds, "From that point on, I didn't have any reservations about moving to Oak Crest-it's something that was in my heart. It felt like my mom was telling me, 'It's time to do this. It's time to be with your kids.' I knew it was the right move." 
Enjoying the changes
That day, Martha reserved the apartment home and moved to Oak Crest not even two months later. 
Since her mom had lived there, the flooring, kitchen, and bathrooms were updated to modernize the space, but the layout remained the same. 
"My mom was one of the first residents to live in the building," says Martha, who is fond of the changes. 
"The apartment home overlooks a garden and the pool," she adds. 
"My favorite room is the bedroom, where I have my sewing machine set up in front of the window. I used to quilt, but now I do smaller projects. I have eight grandchildren that I make things for!" 
Martha brought plenty of reminders of her mom, including a quilt she made for her and her mother's artwork.
"My mom joined an art class when she was living here," says Martha. "She had never painted before! I have some of those watercolor paintings here. They're just lovely. Every time I look at them, it's like she's here with me."
Friends galore
Joining Martha are her cats Eddie and Archie, who spend their days on cat perches flanking the large picture window in the living room. 
"The cats have made it their home too. They run around like crazy! They love it here just as much as I do," says Martha, who notes that the pet-friendly, vinyl wood plank flooring throughout the apartment home makes cleaning a breeze. 
When she's not relaxing at home with her feline friends, the amenity- rich environment outside her door provides Martha with endless opportunities to have fun, stay engaged, and enjoy an active social life.
"I have met some wonderful people here, and there are so many things to do and get involved in. It's just amazing!" says Martha. 
Convenience matters
"Everything is so convenient. I use the on-site medical center and everything I need is in the same building. Also, I don't have to cook-I just go to one of the restaurants for dinner."
Plus, she adds, "I see my kids and grandkids more frequently now. I feel very blessed that I am here. It's the best move I could have made." 
To learn more about senior living at Oak Crest, request your free brochure to get the scoop on amenities, floor plans, and so much more.
Back