Health and Well-Being are Paramount at Oak Crest
By Danielle Rexrode
January 18, 2022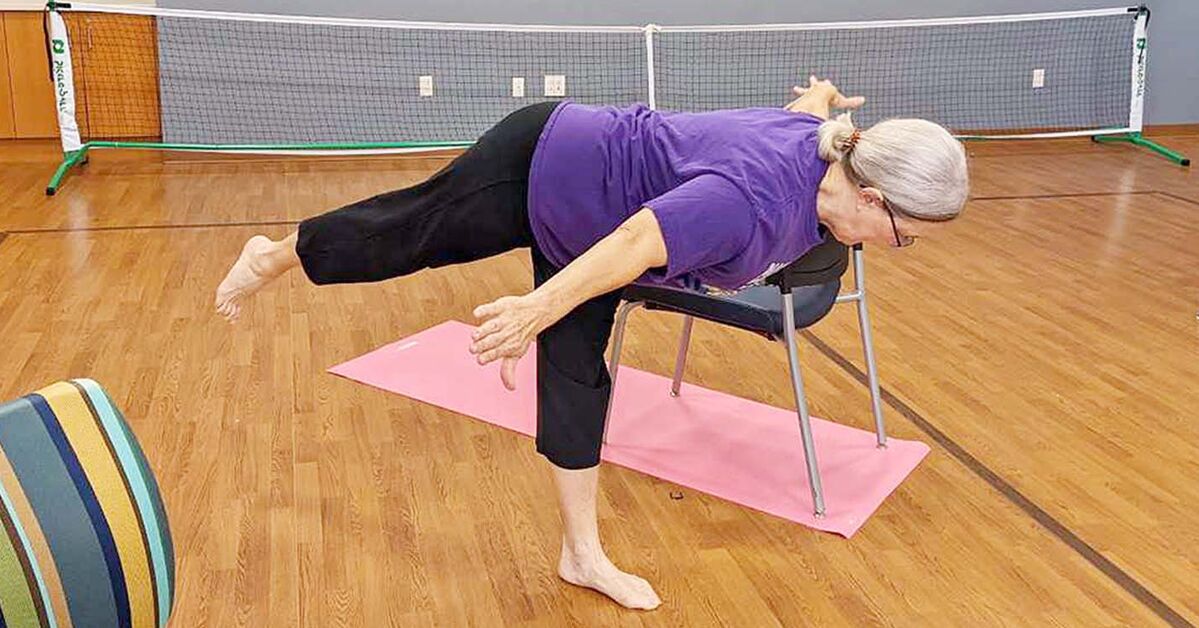 It's no surprise that focusing on health and fitness tops the list of New Year's resolutions for 2022. It's also not surprising that for most of us, no matter how good our intentions are, these resolutions will soon fall by the wayside.
But for hundreds of residents at Oak Crest, an Erickson Senior Living community in Parkville, Md., setting the goal to maintain a healthy lifestyle is far less challenging.
With all the amenities available at Oak Crest—including a fitness center, all-season swimming pool, walking paths, clubs and activities, an on-site medical center staffed by experienced providers, pastoral care options, and more—staying fit, engaged, and at peace has never been easier.
Get moving
For Oak Crest residents Stella and Ed Holmes, living a healthful, balanced lifestyle includes practicing yoga twice a week.
"We started doing yoga a few years before we moved to Oak Crest, while we were living on the Jersey Shore. After we moved here, we learned there was a yoga class and we decided to sign up," says Stella.
"We think yoga is probably the most important thing that we do. It's great for your body and joints, and the teacher is excellent. She demonstrates all of the poses and does them with us."
"We are very physically active," says Ed, "but we feel that yoga fine-tunes muscles and other parts of the body that you might not exercise regularly. It is really the key to staying mobile."
Oak Crest resident Nancy Dorval has practiced yoga, on and off, over the years.
She and her husband Art moved to Oak Crest in 2019 from Bel Air, Md. Nancy was in the same "move-in class" as Stella and Ed. "The yoga class is like a family—there's camaraderie. Unlike some of the yoga classes I took in the past—that were pretty serious—here, there is a lot of laughter. I have enjoyed it immensely," says Nancy.
Friendly, social lifestyle
Studies have shown that cultivating an active social life and sustaining close, personal relationships can contribute to good health and longevity as we age.
Oak Crest is inherently engaging, as many residents make their friendships a priority. By taking advantage of all the convenient on-campus amenities—accessible all year round due to the climate-controlled walkways—residents find dozens of opportunities to expand their social circle. With more than 200 clubs and groups to choose from, residents can connect with like-minded people, or discover new hobbies and interests.
"One of the biggest attributes of living here is the active social life," says Stella. "Sociability is one of the keys, I think, to staying young and healthy."
Oak Crest residents enjoy unlimited access to the fitness center and all exercise equipment. If residents are interested in a one-on-one approach to their fitness routine, they can request a complimentary fitness assessment and consultation as well as a personalized exercise program created in partnership with one of the center's professional fitness trainers. Together, they will monitor the exercise progression on a monthly basis.
Community members also participate in numerous athletic clubs like softball, tennis, pickleball, and bocce.
"I use the pool twice a week and I walk a lot," says Nancy. "The community has plenty of places to walk. It's a lovely campus. And the great thing about Oak Crest is, all of these amenities are connected by enclosed bridges, so you don't have to go outside."
With healthy habits comes healthy choices … food choices, that is! On-campus restaurants serve fresh and nutritious meals, so residents can eat well without the hassles of grocery shopping, cooking, or washing dishes.
To help community members stay on track with their health goals, Oak Crest has an on-site medical center, staffed by full-time physicians. Residents can personalize their care by choosing from same-day or next-day appointments, telehealth calls, or home visits. Residents are welcome to keep their current primary care physicians and still utilize the center for vaccinations, routine tests, and urgent care options as needed.
'Mind, body, and spirit'
Because mental well-being is also an important component of maintaining a healthy lifestyle, Oak Crest offers mindfulness programs and opportunities for residents to explore their spirituality.
"When we talk about healing, we talk about mind, body, and spirit," says Nancy Ginsberg, pastoral ministries manager. "To have complete healing, you must heal all three aspects. Meditation helps with stress reduction and teaches you to slow down. It's about being very focused, mindful, and letting go of negativity. It's a great way to calm your body and your mind."
To learn more about how Oak Crest's active and engaging lifestyle can support your health and wellness, schedule a virtual or in-person visit.
Back