Good Times in the Great Outdoors at Oak Crest
By Danielle Rexrode
July 11, 2023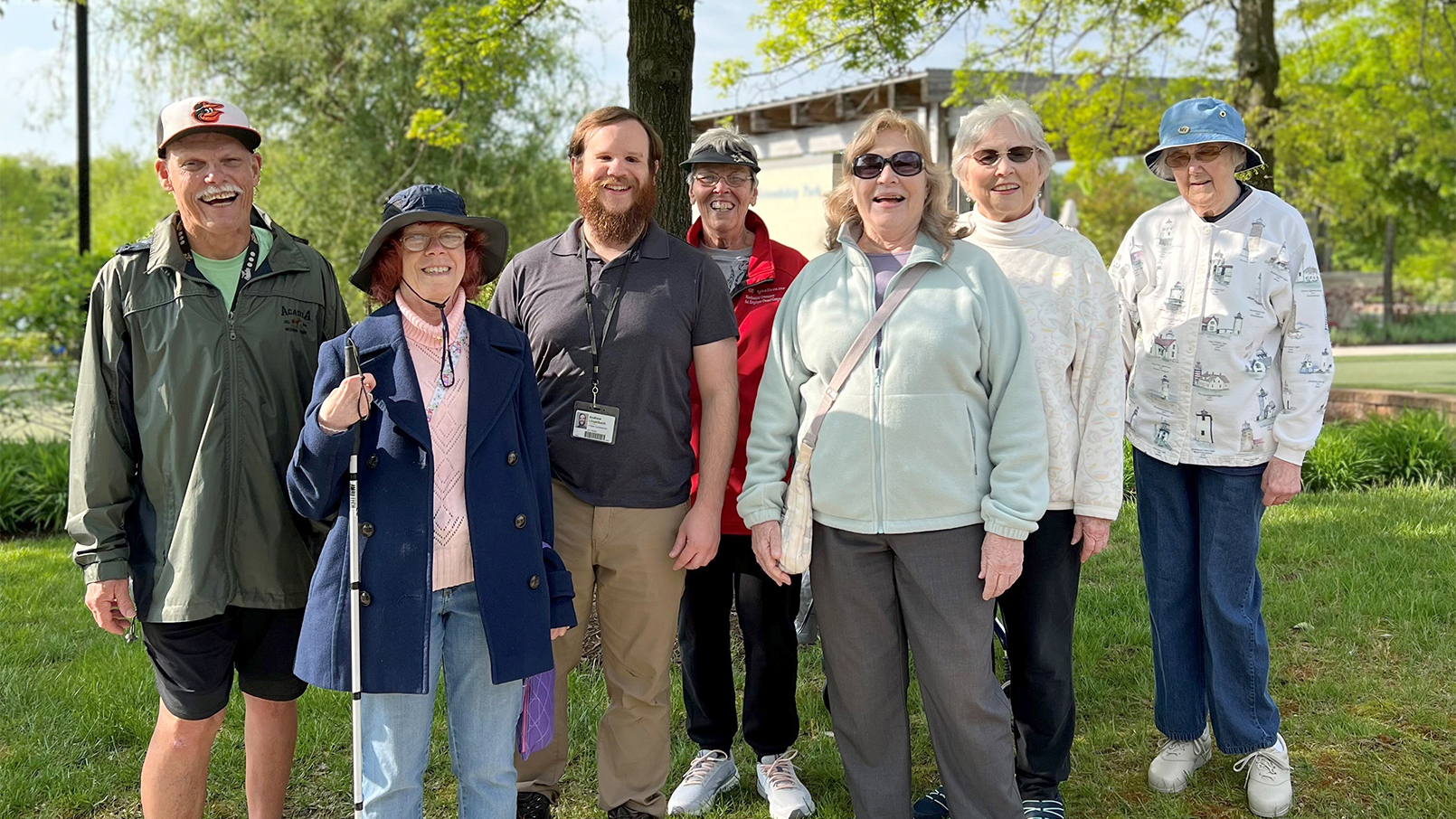 Lillian "Lil" Donatelli knows the grounds at Oak Crest as well as anyone. She walks the one-mile "loop road" around the Erickson Senior Living-managed community in Parkville, Md., twice a week with the resident-led walking club and enjoys strolling around on her own too. 
"I especially like to walk in the mornings when the weather is nice," says Lil. "On Wednesdays and Fridays, there are six or seven of us who meet at 8:00 a.m. and walk together. We talk and joke around. We see the gardens and the birds, geese, and ducks at Lake Victoria."
Before she and her husband Robert "Bob" moved to Oak Crest in 2021, Lil regularly walked around their Constant Friendship neighborhood in Abingdon, Md.
"It's something I didn't want to give up!" she says. "When we moved to Oak Crest, I found out they had a walking group, so I joined. Walking is really good exercise. It's also good for me mentally. When I walk by myself, I get time to think. Being outside relaxes me." 
Fresh air and fitness
Research shows the many benefits of spending time outside. Seniors who frequent the outdoors feel more energized, have greater focus and stamina, and recover from injuries more quickly. 
Erickson Senior Living communities create beautiful, accessible environments that encourage activity and socialization, positively impacting residents' overall well-being. With 87 acres of park-like space and ample amenities, residents can easily embrace all the outdoors has to offer at Oak Crest. 
The possibilities are plentiful! Many walk along the well-manicured paths on crisp mornings, practice on the putting green, fish at the lake with grandkids, compete with neighbors on the bocce courts, and dine al fresco with friends and family. 
Quarry Grille, The Acorn, and Terrapin Cove, three of the community's on-site restaurants, offer patio dining. Cozy seating around fire pits encourage everyone to linger after dinner and converse with friends into the evening. 
"Bob and I play bocce and shuffleboard together. He also plays pickleball, and I do beachball volleyball in the pool. It's wonderful! And, the best part is, you don't have to leave the community. We enjoy going to dinner with friends too," says Lil. 
"Everyone here is so friendly, and we have met a lot of people," she adds. "We really appreciate the camaraderie more than anything."
Enhanced amenities
Over the past year, Oak Crest has enhanced its already impressive amenities-thanks to the Well-Being Fund, Erickson Senior Living's multimillion-dollar investment to support the addition of enhanced health and well-being programs and services to residents across the nation.
"The Well-Being Fund helped us add even more value to our community!" says Community Resources Manager Dana Huntington-Smith. "We added exercise stations around our loop road, which residents like Lil take full advantage of during their regular walks."
She adds, "We also created a wonderful meditation garden in one of our courtyards. It encourages everyone to pause, sit and enjoy the sounds and smells of the outdoors. The beautiful plants, trees, and benches provide a spot for reflection and relaxation; a space to take a break from our busy lives."
Parties and events
Events throughout the year support Oak Crest's commitment to wellness. 
This year, an Earth Day event included a guided seminar by Nature Worx, a Bel Air, Md., organization that demonstrates how to develop a relationship with the natural world and gain a fresh perspective through connecting to living things in the surrounding environment.
"Each fall, we host a Party by the Pond event, where staff and residents come together outside for entertainment, games, food, and ice cream or snowballs. This is a great opportunity for staff members and residents to socialize and enjoy the outdoors," adds Huntington Smith.
Right at home
While they both enjoy sports and being active around Oak Crest, Lil and Bob also appreciate the opportunity to soak up some sunshine from the comfort of their apartment home. 
"We love our balcony," says Lil. "I have my flowers out there, and when the weather is nice, we sit outside and play cards and have a little happy hour. I just love being outside whenever I can!" 
To learn more about the ways residents are enjoying the great outdoors, request more information today!
Photo Caption: Walking club member Lil Donatelli (center, in red) loves walking around Oak Crest's lush campus with friends. Pictured from left: Mike Sullivan, Patty Reichart, Fitness Coordinator Andrew Lingelbach, Lil Donatelli,Regina Bilton, Debbie Geraghty, and Susan Harryman.


Back