Enjoying the Opportunity to Socialize at Oak Crest
By Danielle Rexrode
January 9, 2023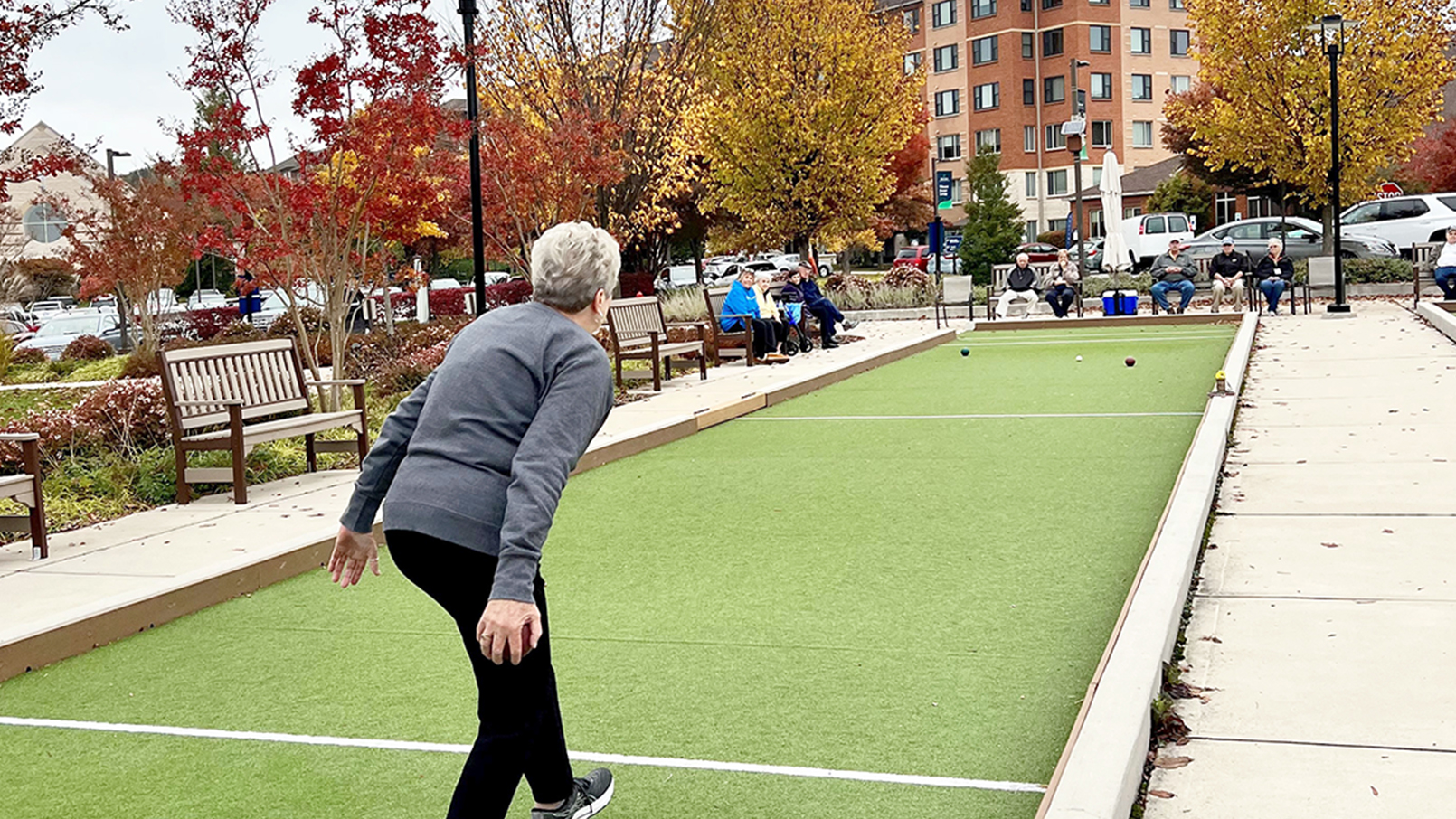 There's an Irish blessing that says, "There are good ships and wood ships, ships that sail the sea, but the best ships are friendships, and may they always be." It's a saying that residents of Oak Crest, an Erickson Senior Living community in Parkville, Md., would undoubtedly agree with.
Living in a vibrant retirement community can open doors to making new friends and building relationships with people who share similar interests--and who live just a short walk away from your apartment home!
Whether it's fostering close friendships, reuniting with past acquaintances, or being part of a close-knit community, the opportunities for meaningful connection at Oak Crest are endless, offering a healthy alternative to the isolation that many seniors may experience living alone.
"My experience with meeting people and making friends has been wonderful," says Shirley Schumacher, who moved to the community from Perry Hall, Md., in 2016. "Before moving to Oak Crest, I lived alone in my house, so I had to travel to participate in the fun times."
Now, Shirley says her social life is very active. "All my activities are right here and neighbors are always eager to join a game or other activity. I eat dinner with friends every day. I play pickleball, bocce, tabletop shuffleboard, disc golf, Rummikub; I use the putting green; and I teach mah-jongg."
A common thread
"Having enjoyable social connections is an important, yet often overlooked, aspect of personal health and well-being," says Dr. Matt Narrett, chief medical officer at Erickson Senior Living. "From a robust calendar of events and dozens of clubs to sharing a meal together with friends, our communities are designed to maximize social engagement opportunities."
Dana Huntington-Smith, community resources manager at Oak Crest, couldn't agree more.
"It's always such a pleasure to see residents connect with one other," says Huntington-Smith, who helps residents start and join clubs that suit their hobbies. "When I meet a new resident, I try to connect them with someone who shares the same interests. It's especially heartwarming to watch those friendships blossom and grow stronger."
For Shirley, one of those friendships blossomed into romance.  
"My goal was to make new friends of all ages, married or single. I had no intention of getting into a serious relationship," says Shirley, with a laugh. "Three years after moving in, I met someone new on the pickleball court. For months, we were just friends. Then, one day, he asked me out to dinner--and the rest is history! Getting together has made our lives more enjoyable."
Healthy habits
Friendships not only enrich everyday experiences, but research also shows that social relationships play an important role in cognitive health, particularly for older adults.
A 2017 study at the Mesulam Center for Cognitive Neurology and Alzheimer's Disease Center at Northwestern University Feinberg School of Medicine found that "SuperAgers"--seniors who have the memory skills of those several decades younger--had far greater levels of positive social relationships than others their age.
Thanks to the wealth of opportunities for interaction at Oak Crest, residents are on their way to being "SuperAgers," too.
All apartment homes are just a short walk away from numerous amenities, including a bank, a salon, a fitness center, a library, and more. And with more than 200 resident-driven groups, clubs, and organizations, there's no shortage of ways to find new friends.
Easy to make friends
For Marilyn Couture, whose husband passed away in 2021, finding a maintenance-free retirement community closer to her children was an easy feat.
"I was already familiar with Erickson Senior Living because my aunt lived at Riderwood," says Marilyn, speaking highly of the Erickson community in Silver Spring, Md. "So, I decided to tour Oak Crest. I knew the minute I drove onto campus and entered the Town Center that this was going to be my next home--it was just a feeling."
Marilyn moved to Oak Crest from Milton, Del., in the summer of 2022. Now, Marilyn says she is already enjoying a more active social life and trying new things.
"I have dinner with friends two to three times a week, play bocce and shuffleboard bowling, and take a memory fitness class," says Marilyn. "It's very easy to make friends! By joining different groups and attending events, I meet lots of new people."
Invest in your future at Oak Crest. From top-notch amenities and activities to affordable, maintenance-free apartment homes, you'll enjoy living your retirement to the fullest. Request more information today!
Back