Best-Selling Author Peggy Rowe Settles In at Oak Crest
By Danielle Rexrode
February 26, 2022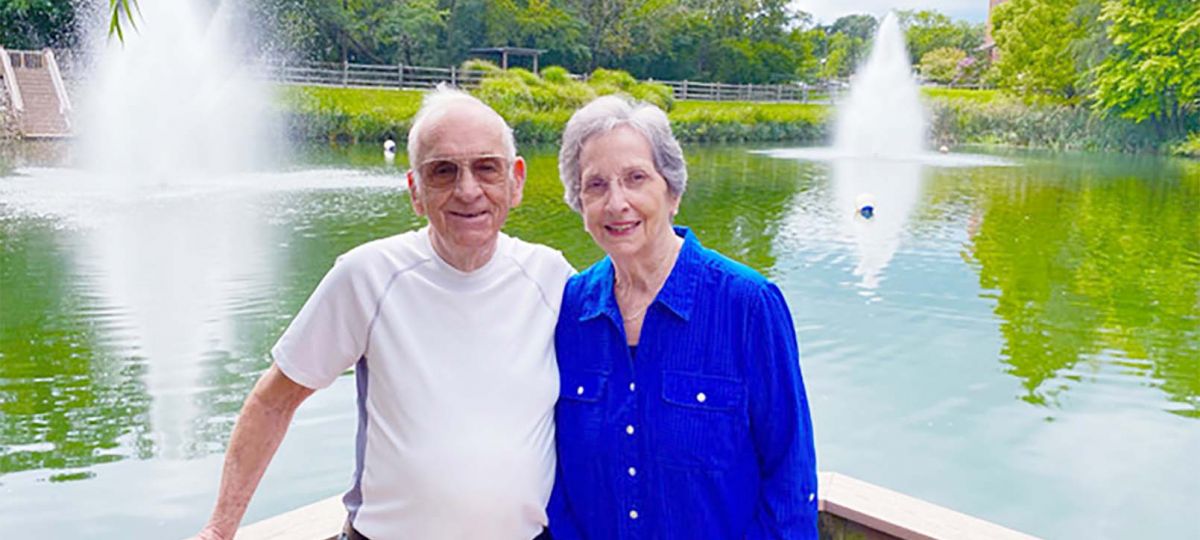 Peggy Rowe is a breath of fresh air on social media. With more than 200,000 followers on Facebook - which she calls her blog - readers thoroughly enjoy the engaging, entertaining, and humorous reflections she has to share. Her posts often have to do with life at Oak Crest, the Erickson Senior Living community in Parkville, Md., where she and her husband John live.
"When I published my first book, About My Mother, Simon & Schuster insisted that I have a social media presence," says Peggy. "Two or three times a week, I would write 100 to 200 words. Before long, I got into a rhythm, and it was easy. The material just fell into my lap. I learned a lot about human nature writing this blog. People want something positive. They want something upbeat and happy, and they love to laugh."
From chatting about shopping online for a new bathing suit to talking about her friend Dora, who vacuums in the nude—and numerous accounts of John's "compulsion for routine and order"—her entries are so relatable and fun to read that it's easy to get hooked.  
"I've met so many fascinating people," says Peggy. "I have heard so many stories—poignant, inspirational stories. People tell me all the time that I remind them of relatives who have passed on. When I meet people face-to-face, they often look at me and say, 'Oh Mrs. Rowe, you are the spitting image of my grandmother.' You can see the love in their eyes—it's very moving. I take it as a compliment."
Becoming a best seller
Peggy wrote the book that kick-started the blog, About My Mother, True Stories of a Horse-Crazy Daughter and Her Baseball-Obsessed Mother, in 2018.
The first printing of About My Mother sold 10,000 copies in three weeks, catching the attention of publisher Forefront Books, which picked up the book. It then fell into the hands of publisher Simon & Schuster, which ultimately distributed it. To Peggy's surprise, About My Mother went on to make the New York Times Best Seller's List.
"Of course, I cried when I found out. I was 80 in 2018 when the first book came out. I had never done a book tour before, but I agreed to one, and I learned how to get up in front of big audiences and speak. I've loved it," explains Peggy in an interview with her alma mater, Towson University. 
At 82, Peggy published her second book, About Your Father, And Other Celebrities I Have Known: Ruminations and Revelations From a Desperate Mother to her Dirty Son.
In April 2021, Peggy and John moved to Oak Crest from Perry Hall. They are the second generation on Peggy's side to live in the Parkville community.
"John and I lived next door to my parents most of our married life—almost 40 years," says Peggy. "The last ten years, John was very busy. We had acres and acres to take care of. John cut all the grass and did all the 'weed eating' and tree trimming. It was hard on him. So, we found a condominium that we liked and I said to my parents, 'We are moving.'"
"My mother said, 'Well, we aren't staying here by ourselves. We are going to Oak Crest!'" adds Peggy.
Starting a new chapter
Twenty years later, Peggy and John followed in her parents' footsteps. Now, she's finishing up her third book about her journey as a writer—in between days spent swimming, working out in the on-site fitness center, and playing shuffleboard.
"I'll tell you; Oak Crest isn't a bad place to live, unless of course, you are a writer," jokes Peggy. "There are so many things to do—I barely have time to write! We swim in the morning three days a week. Then we walk through the gym, and it's hard to pass by those machines without getting on them because we have a wonderful fitness center."
She continues, "Then we pass shuffleboard on the way back to our apartment—John can never pass up a game or two. By the time we get back home, we are having brunch. All of these activities are great, of course, but I'm losing a lot of writing time!"
As for how her Oak Crest neighbors feel about living next to a best-selling author, Peggy says, "I am just a normal, everyday, average person—there is nothing special about me. I have the same flaws that everyone else does. When it comes to humility, we try to be humble and I think we pretty much succeed at that."
If living at Oak Crest sounds like the right environment for you, request a brochure or a visit now!
Back