Acorn After Dark Offers Oak Crest Residents a Variety of Entertaining Options
By Danielle Rexrode
May 1, 2023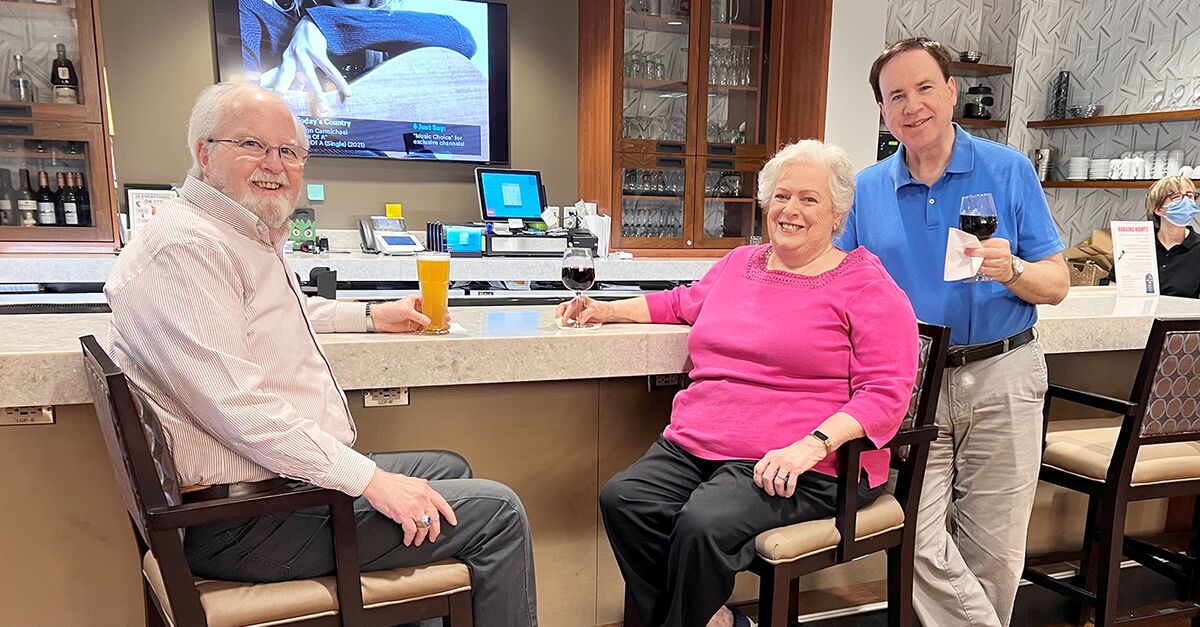 It was standing room only as Steve Bendon, a retired Air Force colonel and local Elvis impersonator, sang favorites like "Love Me Tender" and "Suspicious Minds" at Oak Crest, an Erickson Senior Living community in Parkville, Md.
Steve's set was just one of the many jam-packed performances at Acorn After Dark, a monthly event that brings residents together for fun and live entertainment at the community's Acorn Pub.
A 'sellout' crowd
"Elvis is one of the most popular acts," says resident Donald Curtis, a member of the Acorn After Dark Committee. "The pub holds 75 people, but many times, we have more people than we do seats."
Donald and his wife Erika help organize the events and book the entertainment.
"We plan each event six months ahead of time," says Donald. "We have had musicians, vocalists, trivia nights, sports nights, and sing-a-longs. Most performers sing songs from our generation, so we all know the words and can sing along."
The musical acts cover a variety of genres, including bluegrass, jazz, swing, and folk. "It's great to walk down the hall, enjoy entertainment, socialize with friends, and enjoy a drink," notes Donald. "It's a lot of fun!"
More of a good thing
During the day, people gather at the Acorn Pub to watch local sports teams like the Orioles and the Ravens play, while enjoying a draft beer and some light fare.
But in 2014, residents decided they wanted even more of a good thing. Acorn After Dark get-togethers initially started as a grassroots effort, led by a group of eight neighbors who wanted a place to hang out in the evenings. Joanne and Jim Fennessey were among them. 
"We were looking for a place to gather after dinner to be with friends, maybe share a drink, and just have fun. We thought of it as a similar experience to the 1980s sitcom Cheers--a place where everybody knows your name," says Joanne.
An idea catches on
Resident Dennis Hoover, a retired Baltimore County science teacher who played keyboard in a handful of local bands throughout his career, helped the club gain popularity in its earliest months. Dennis kept the joint jumping with over 2,000 songs in his repertoire, including country, rock, Broadway shows, sing-alongs, and pop music.
As word of these get-togethers spread, the list of performers expanded. Soon enough, residents were volunteering to host trivia nights and relatives of residents were raising their hands to entertain. An event themed "Take Me Out to the Ball Game" featured an appearance by the Oriole Bird. 
"But Dennis was our go-to entertainer," says Joanne. "When he was on the piano, he took requests. He also planned fun things like 'Name That Tune' as well as St. Patrick's Day and Veterans Day events. If we were ever in need of an entertainer, even at the very last minute, Dennis volunteered and carried the night."
The fun never stops
Gloria Byrd, who moved to Oak Crest in 2016, says that Acorn After Dark convinced her to take a closer look at the community.
"My mother lived here for 19 years, and I have a friend who moved in in 2015," says Gloria, who now serves as a member of the Acorn After Dark Committee. "I came to one of the events and it was a blast. People were having fun, dancing, and singing. It really drew me to Oak Crest. We usually have about 70 to 90 people attend. It's always at capacity. People will sit outside the venue trying to listen!"
Gloria says the popularity of the events proves that, "Just because you're retired that doesn't mean the fun stops when the sun goes down."
She adds, "Oak Crest is such a vibrant community with so many things to do! I have met lots of people and made friends at the Acorn. It's nice to have something in the evening where you can enjoy a drink and socialize. We just love it!"
Acorn After Dark takes place on the second Tuesday of every month from 6:30 p.m. to 9 p.m. The events are free, thanks to a 50/50 raffle that pays for the entertainment. Schedules and information regarding the shows are advertised on posters hanging throughout the community and via the in-house TV station.
When asked who her favorite Acorn After Dark performer is, Joanne says, "It's hard to say. We are blessed with wonderful entertainers, talented residents, and staff who generously give their time and talent. What I enjoy most is seeing residents laughing, swaying with the music, singing out loud, enjoying each other's company, and truly having a good time, leaving with a smile on their face."
To learn more about affordable, independent senior living at Oak Crest, request your free brochure to get the scoop on amenities, floor plans, and so much more.
Back