Stop Waiting - Start Living the Life You Deserve at Lantern Hill
Danielle Rexrode
March 1, 2022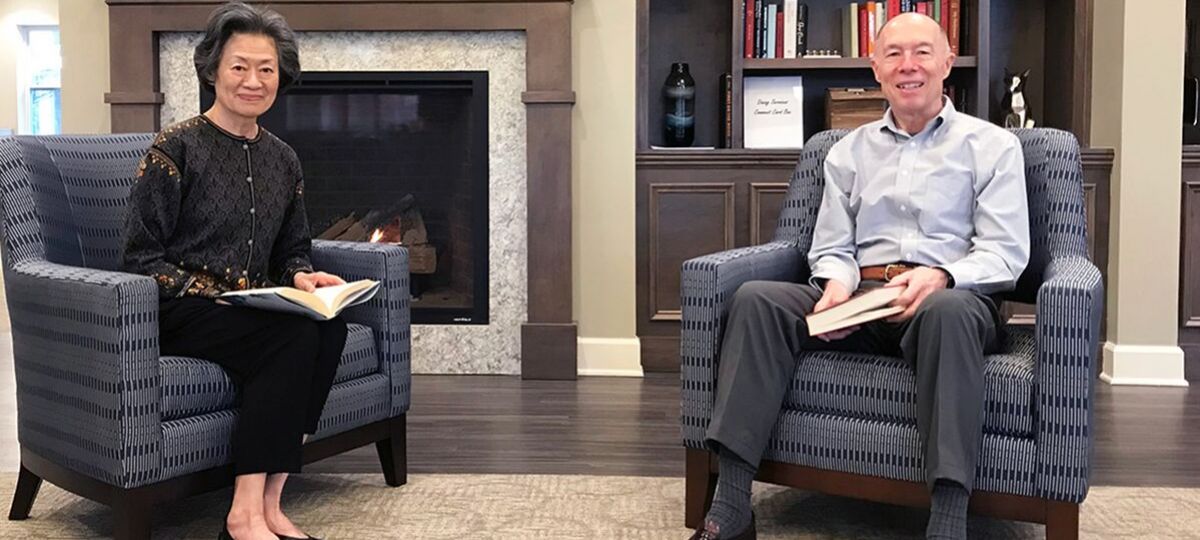 After fifteen years of splitting their time between the east and west coasts, Terry and Evelent Cox decided that cross-country travel wasn't what it used to be. So, they set out in search of an amenity-rich community where they could enjoy a vibrant social life now and have peace of mind for the future. Lantern Hill, the Erickson Senior Living community in New Providence, N.J., turned out to offer the best of both worlds.
"We are only in our early seventies. We decided to move sooner rather than later so that we could enjoy ourselves and take advantage of the amenities and lifestyle at Lantern Hill," says Terry. "And now, we benefit from knowing that we don't have to move anywhere else if our health needs change."
Amenity-rich, worry-free
Every apartment home at Lantern Hill is maintenance-free, eliminating the hassles of homeownership and granting residents the freedom to spend their time on things they enjoy most - whether that's making new friends, traveling, pursuing hobbies and interests, volunteering, or learning something new.
The stylish apartment homes at Lantern Hill feature one-level living in a variety of floor plans to fit every budget. A predictable monthly service package gives you greater control over your expenses by consolidating bills like electric, mortgage, water, and cable. And the 90% refundable entrance deposit allows you to secure your nest egg and promote a financial legacy for your family.
"One of the things that makes Lantern Hill unique is the ability to meet friends for dinner, pick something up at the market, and see your doctor without ever going outside, which is an even greater benefit when the weather is less than ideal," says Sales Director Brian Cassidy. "Everything residents want and need is within our residential buildings - just a short walk down the hall from their apartment home."
The 26-acre campus features distinctive amenities, including three on-site restaurants, an all-season pool and fitness center, art studio, library, theater, outdoor bocce court, on-site medical center, and secure underground parking.
So much to do
Terry, a retired environmental consultant, appreciates the range of activities.
"I retired in the middle of 2019 when we started downsizing. I was used to being super busy all the time," he recalls. Now, Terry says, "It is nice to have a less stressful lifestyle! I've never been a swimmer, but after I saw the giant swimming pool, I started swimming laps three days a week. I also use the machines and weights in the gym. And I was recently elected to the Resident Advisory Council."
Evelent agrees. When she isn't in their apartment home playing her concert grand piano or playing mah-jongg with friends, she also takes advantage of the fitness center and enjoys swimming in the pool.
"I think the best part of living at Lantern Hill is the ability to meet and make new friends with the people who live here," says Terry. "It's a wonderful community of fascinating people. We have friends all over the country, but since moving here, we have made many new friends. If you want to meet people you can enjoy being with on a day-to-day basis, you can't beat Lantern Hill."
Perfect location
Lantern Hill is located in Union County, between Summit and Berkeley Heights, just 50 minutes by train to midtown Manhattan. The community's perfect location gives residents easy access to New York City's cultural attractions and entertainment. In fact, when Terry and Evelent sold their Seattle, Wash., condo and moved to Lantern Hill, they kept their apartment in Manhattan as a second home.
"We take the train from our apartment home here at Lantern Hill to our apartment in the city, where we go to concerts at Carnegie Hall or to the opera. We usually stay for days at a time. It works well because we don't have to worry about our apartment home here - it's well taken care of, even when we aren't home," says Terry.
"One of the things we often hear from new residents is, 'I should have done this sooner!'" says Cassidy. "We want residents to enjoy the Lantern Hill lifestyle as much as they can. By eliminating all the work that comes with repairing and maintaining a home, residents have more time to enjoy the things they want to do, not those they have to do. There is no reason to wait."
Invest in your future self at Lantern Hill. From top-notch amenities to affordable, maintenance-free apartment homes, you are sure to live your retirement to the fullest. Request more information today!
Back