The Right Home for Your Retirement
Rachel Donohue
February 23, 2022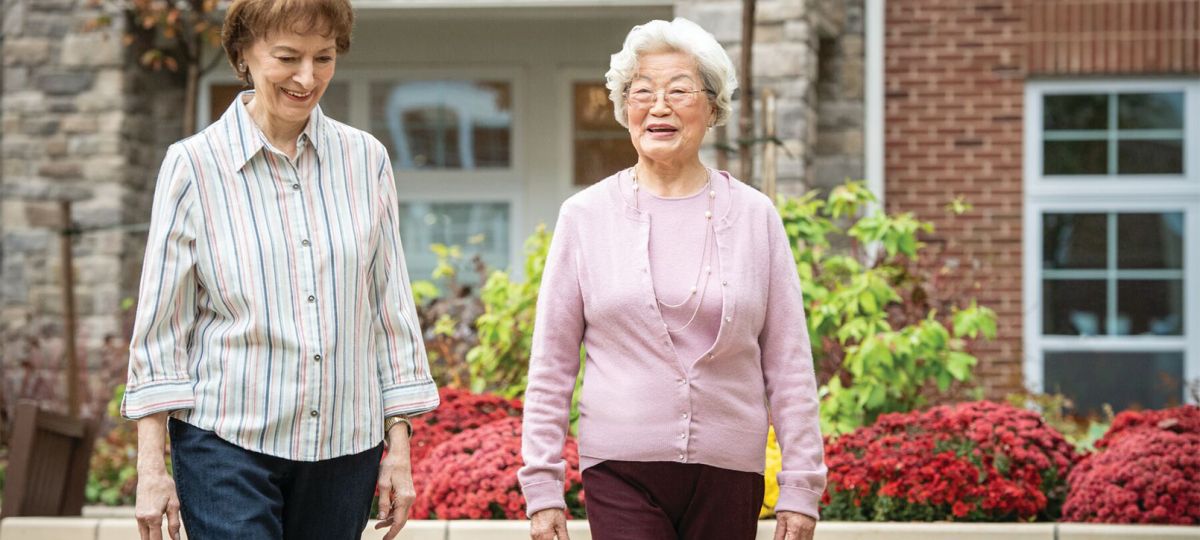 In Northern New Jersey, you'll find an array of senior living options. From 55-plus communities with detached homes to rental senior apartments, the choices can be overwhelming.
And even among senior living communities, there are crucial differences. According to AARP, retirees are attracted to continuing care retirement communities (CCRCs) because they offer "a wide range of care, services, and activities in one place, offering residents a sense of stability and familiarity as their abilities or health conditions change."
As a CCRC, Lantern Hill, an Erickson Senior Living community located in New Providence, N.J., combines that continuum of care with top-notch services and amenities to infuse retirement with fun, freedom, and peace of mind.
Choosing the right one
"Finding the right home to spend your retirement in isn't about just cost or amenities or the food. It's about all of those things," says Sales Director Brian Cassidy. "It's about finding a home that offers you the most for what you pay. Among retirement living options, CCRCs are most likely to provide everything you want - and in one place."
Many residents of Lantern Hill say they prioritized three primary factors when choosing a senior living option: amenities and services, financial value, and continuing care. Lantern Hill checked all three boxes, and when they considered the community's location, customizable apartment homes, and vibrant lifestyle, they easily envisioned themselves living there.
Amenities and services
"Lantern Hill removes the worry and maintenance associated with owning a house," Cassidy adds. "And with all the time they gain, residents are able to enjoy tons of clubs and social opportunities. It's no wonder that Lantern Hill has been the right choice for so many seniors."
Across the community's 26-acre campus, residents can walk to a variety of restaurants, a marketplace, a fitness and aquatics center, a salon, an art studio, a theater room, events and entertainment, medical care, continuing education, and numerous clubs and activities without stepping foot outside, thanks to enclosed, climate-controlled walkways that connect buildings together.
'Incredible value'
"People may assume Lantern Hill is out of their means," notes Cassidy. "But when they add up the expenses of owning and maintaining a large home, the price is often far more than the cost of living here."
Residents also appreciate the predictable costs associated with the community. The financial structure at Lantern Hill has two components. The first is a onetime entrance fee, which is 90% refundable, and the second cost is a monthly service package. Lantern Hill's Residence and Care Agreement outlines these in detail.
Each monthly service package covers most day-to-day expenses, including apartment home maintenance, property taxes, heating and air-conditioning, weekly housekeeping, basic cable TV, a Wi-Fi and phone service, regularly scheduled transportation, 24-hour security, plus access to a wealth of campus amenities.
Quality health care
A major advantage of moving to a CCRC is access to increased levels of care within the same community. Residents appreciate the opportunity to only move once, even though their needs may change in the future. And because Erickson Senior Living communities function on a "pay as you go" basis, residents only have to cover those additional levels of care if or when they need it.
Tailored to you
Lantern Hill's financial structure, as well as its apartment and amenity options, exist to suit the varying needs, desires, and budgets of every resident.
Whether you choose a one-bedroom apartment home because you know you're going to be out and about spending time with neighbors, or a two-bedroom design to accommodate visiting grandkids, you are guaranteed to find a floor plan that fits your lifestyle.
For some residents, making a homemade meal in the comfort of their own modern, upgraded kitchen may be an enjoyable way to pass the time. For others, not having to think about cooking and doing the dishes - by visiting any of Lantern Hill's on-campus restaurants - is a weight off their shoulders. Having the option to do both, residents say, is ideal.
"We're here to customize the Lantern Hill experience to your needs," says Cassidy. "You've earned your retirement years, and we want you to live them to the fullest."
To learn more about affordable, independent senior living at Lantern Hill, request your free brochure to get the scoop on amenities, floor plans, and so much more.
Back