Residents at Lantern Hill Enjoy the Great Outdoors
Kate Streit
August 26, 2021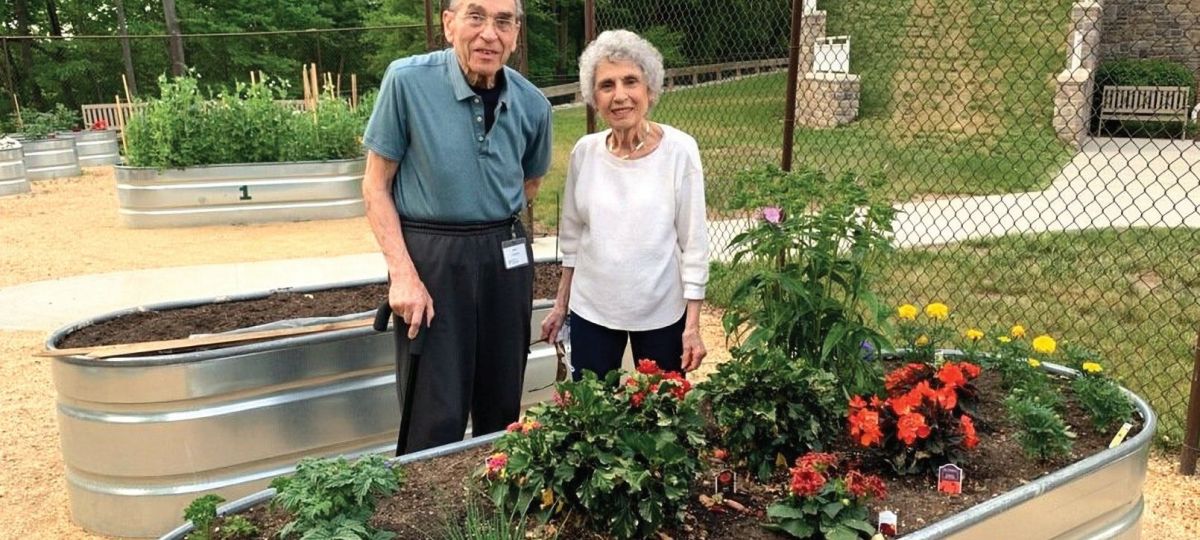 Fresh air and exercise are just two of the benefits of spending time outdoors. Enjoying nature and sunshine is great for both your mental and physical health and has been shown to improve everything from immune function and sleep patterns to interpersonal relationships. At Lantern Hill, an Erickson Senior Living-managed community in New Providence, N.J., residents have access to 26 acres of green space, complete with lush gardens, picturesque courtyards, and well-maintained walking paths. There's no shortage of ways to enjoy the great outdoors.
In the zone with gardening
Barbara Troianello has been gardening since she was a child. She was active in the Gardeners of Watchung Hills, a gardening club that provided three scholarships to students at Rutgers Cook College. Her husband, John, was the son of the owner of Troianello Greenhouses, one of the largest greenhouses in the state of New Jersey. When they moved to Lantern Hill in 2016, they were glad to have the opportunity to continue to exercise their green thumbs. They maintain two rose gardens as well as a window box of yellow pansies. "When we had our home, we had an acre of property, three-quarters of which was a garden," says Barbara. "It was like going through a small arboretum. Gardening takes you into your own zone. You may have a million things on your mind, but when you get in the garden, you can have a completely clear mind." While Barbara enjoys the solitude that comes with gardening, she also likes that it's a hobby she shares with her husband. "John and I can work for hours side by side in the garden," says Barbara.
Garden bins
Along with residents Dave and Valerie Marr, Barbara and John were instrumental in creating the Gardeners of Lantern Hill. The community garden is home to 18 bins, where residents maintain everything from flowers to vegetables. "Everyone's gardens are doing wonderfully," says Barbara. Barbara emphasizes that the garden is a team effort, and she is grateful to the woodshop on campus, which provided the bins. "Director of General Services Wilson Quintero is amazing," says Barbara. "He ordered everything we need to keep the garden running smoothly, such as hoses and wagons." Barbara shares her love of gardening with her fellow residents by writing a monthly column on the topic, "From my Garden Gate," for Lantern Hill's resident newsletter, "The Spotlight." In the latest issue, she shared advice on repotting house plants.
Staying active
In addition to gardening, Barbara enjoys taking Pilates classes at the fitness center and walking on Lantern Hill's walking paths. In May, Fitness Coordinator Melissa Sullivan led residents on an hour-long walk around campus to celebrate spring and help kick-start a walking routine. "Walking on our paths is a great way to stay fit and enjoy nature," says Sullivan. "Many of our residents regularly utilize them for exercise."
So many options
The community garden and walking paths are just two of the ways to enjoy the outdoors at Lantern Hill. Bocce ball is a fun option for those who like team sports. Other residents bike or practice their golf game at the putting green. Lantern Hill also has community fire pits, which serve as a popular venue for getting together with friends. Outdoor concerts in campus courtyards offer an opportunity for entertainment and socialization in the fresh air.
Explore more, nearby
Should residents choose to venture off-campus, there are further options for outdoor exploration, such as the nearby Watchung Reservation, the largest nature reserve in Union County with a six-mile hiking trail. New Providence also has several playgrounds and parks. "Whether it's a special event like a tree planting on campus for Arbor Day, a game of bocce with friends, or a day spent hiking off-campus, life at Lantern Hill offers a variety of ways for residents to stay active and truly enjoy the great outdoors," says Executive Director Craig Karczmer. "We're proud of the health and well-being benefits our residents reap from Lantern Hill's many outdoor amenities."
Consider being part of a strong and caring senior living community like Lantern Hill. Beautiful walking paths, gardens, resort-style amenities, an on-site medical center staffed by full-time medical professionals, and new friends await. Request a brochure or a visit now!
Back