One-Bedroom Apartment Homes Offer Value and Flexibility
Gregory J. Alexander
July 14, 2023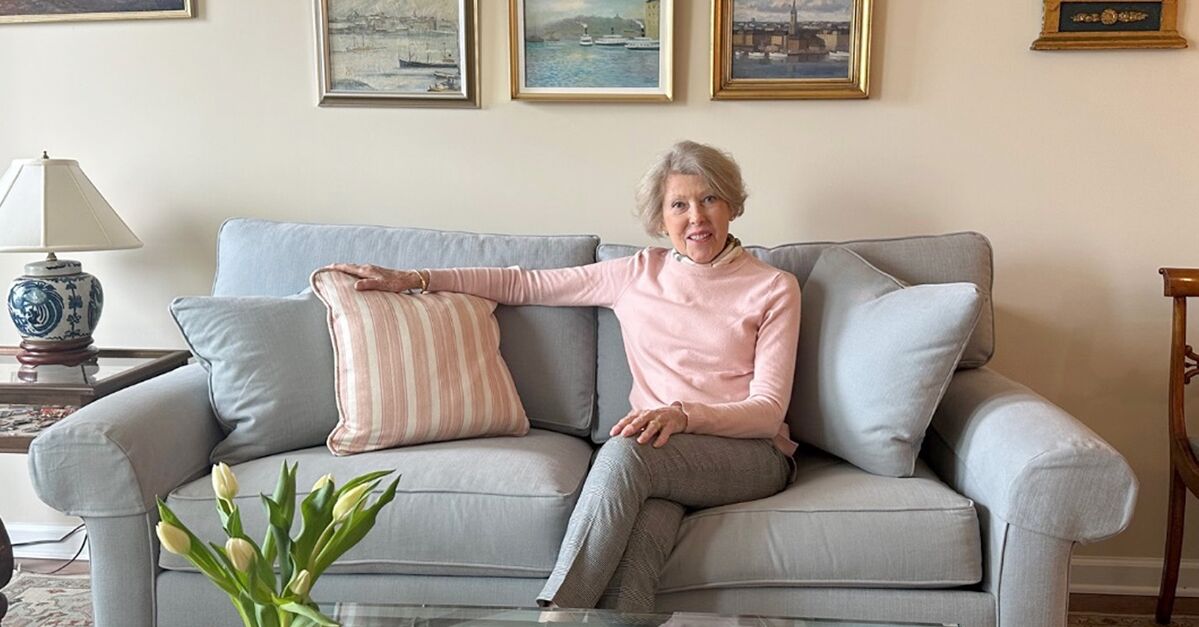 Ann Hedengren loves everything about her apartment home at Lantern Hill, an Erickson Senior Living community in New Providence, N.J. 
"My home here is quite spacious! It's a one-bedroom apartment home, but I can still have a sit-down dinner for six people. I was able to bring my favorite furniture with me, and it all fits perfectly," she says.
Ann and her husband Dag had the community on their radar for many years. 
"One of my friends was one of the first residents at Lantern Hill, and we visited the campus in 2014 before construction was even completed," she recalls. Sadly, Dag passed away last year. 
"After he passed, I knew it was time for me to move to Lantern Hill," explains Ann, who was looking to be a part of a supportive, active community of peers. 
Out and about
Ann, a native of Stockholm, Sweden, lived in Morristown, N.J., before moving to Lantern Hill. 
"I toured different one-bedroom apartment homes, but when I saw the view from one in particular, I was sold. My windows overlook a nice wooded area and I have incredible sunset views. I enjoy sitting on my screened-in porch to watch the sun go down," she says.
Ann, who wanted to spend the majority of her days immersed in community life, appreciates all there is to do. She goes to the fitness center daily, plays bocce and mah-jongg, and has joined the garden club as well as a knitting group that meets twice a week. 
"One of the great things about Lantern Hill is that no matter what size apartment home you're in, you get to enjoy all the amenities we have to offer," says Sales Counselor Kathy Banks. "You are not going to be in your apartment home 24/7, so many residents see the entire community as their home-with a fitness center, library, restaurants, pool, and a movie theater." 
'Very welcoming'
Joe and Cathy Ochs, who have been happily married for 51 years, have lived most of their lives in New Jersey.
"Our kids started asking us, in a very supportive way, 'So, what's next?' Health issues had started creeping up for both of us, so we decided to look around at different retirement communities in the area," Joe recalls. "When we visited Lantern Hill, the staff was so nice, and the residents were very welcoming."
For Joe, one factor tilted the scales-the salmon. "After meeting with Kathy Banks and going on a community tour, we were invited to stay for dinner at one of the restaurants and try the salmon, which I love. If the salmon wasn't good, then our decision would have been easy," he jokes. 
Well, the salmon was phenomenal, so Joe and Cathy moved in two months later. Just as Ann did, they chose a one-bedroom apartment home, but with a den.
The perfect home
While the Ochs knew they were going to be out and about in the community, a den would allow them to host visiting family and provide a place for Joe to work comfortably. 
"Only two of our kids live in New Jersey," explains Joe, "so when the other two visit, they now have a place to stay."
Joe, a licensed professional counselor who meets with clients via Zoom, is thankful that the den doubles as a home office. "I was able to give up my office lease in Scotch Plains, N.J., and do all of my work from home," he says. 
Banks notes that other residents have chosen to convert their den into a large walk-in closet, art studio, or hobby room. 
"Some have added a sleeper sofa to create a second bedroom for guests, while one resident, who takes care of her grandkids one day a week, turned her den into a playroom," she notes. 
Safe and secure
Now, Joe and Cathy are making the most of their worry-free lifestyle.
"I like having one monthly bill and no maintenance," says Joe. "And, there are so many activities to take part in!"
The continuing care services offered on-site are another plus-for the couple and their children. 
"Health care services are here if we need them, which makes our kids feel good. And when the weather is bad, we can walk anywhere through the climate-controlled walkways. This was the right move for us."
To learn more about senior living at Lantern Hill, request your free brochure to get the scoop on amenities, floor plans, and so much more.
Back