Lantern Hill Staff Members Go Above and Beyond to Help Residents Thrive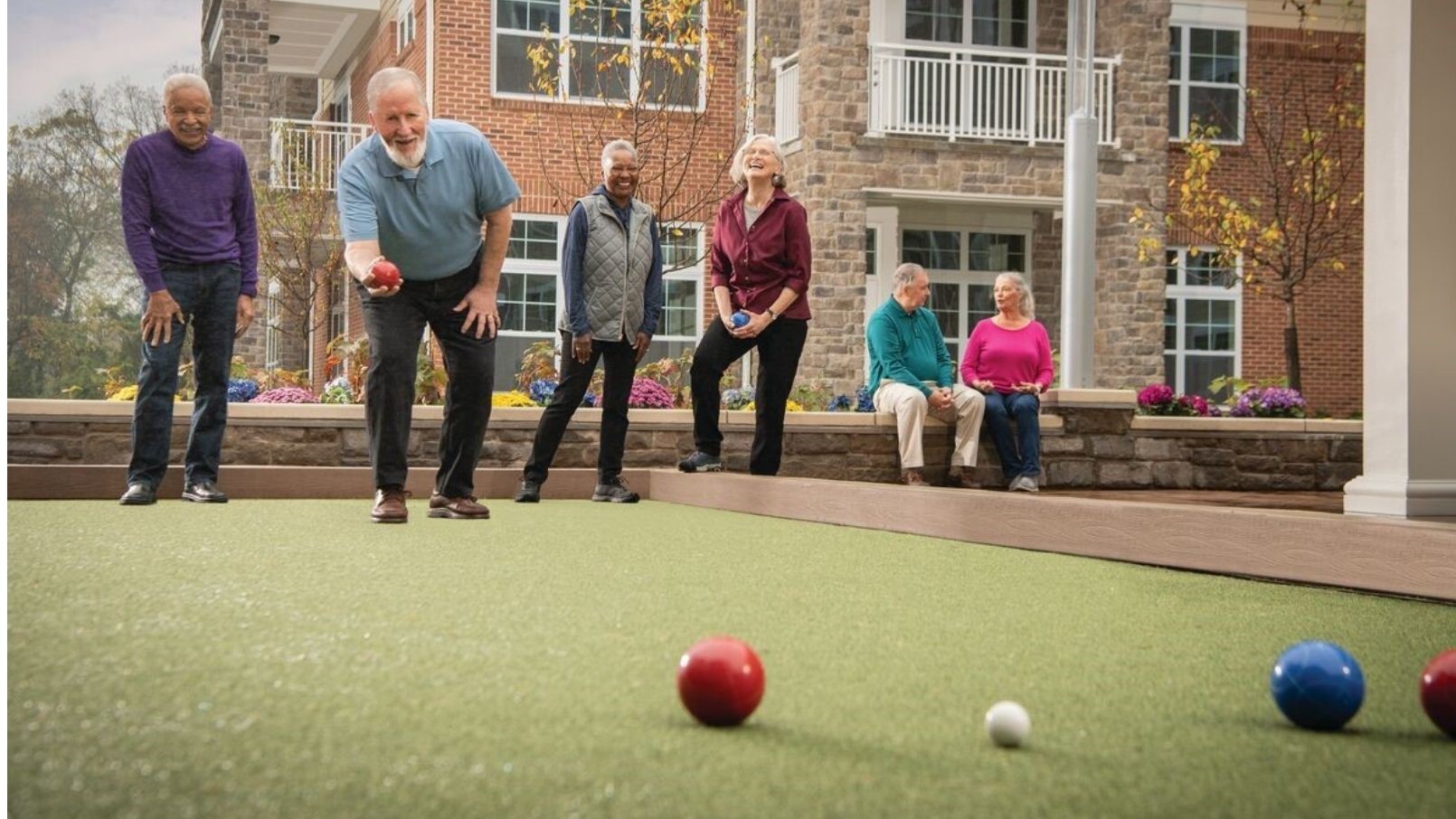 Despite the unprecedented circumstances of the past year or so, some people have thrived during that time, particularly residents of Lantern Hill, an Erickson Senior Living community on 26 beautiful wooded acres in New Providence, N.J. just minutes from Summit.
Doug and Linda Smith are a perfect example. They moved to Lantern Hill in December 2019, and say they were impressed with the community's dedication and service from the very beginning.
"Not only was Lantern Hill helpful in providing downsizing support, they also helped find an excellent real estate agent, movers, and senior move manager, who were especially helpful with packing and unpacking," says Doug.
Room with a view
They chose their apartment home in part for its central open area and screened-in balcony that looks out on the woods with New Providence in the distance.
"There is plenty of room for us to maintain a comfortable lifestyle," says Linda. Staff members at Lantern Hill provided great assistance in making the necessary decisions to help them downsize, she adds. "Especially helpful was an enlarged floor plan and layout of how our basic furniture would fit in the apartment."
The Smiths moved into their new home a week before Christmas, which could have made for a hectic transition.
"Everyone was so friendly and helpful, though, that we quickly felt at home," says Linda. Soon after arriving on campus, they became involved in fitness and balance programs, Tai Chi, weekly current events discussions, and a variety of educational opportunities.
Culture of excellence
"Personal attention and outstanding customer service is part of our culture at Lantern Hill," said Executive Director Craig Karczmer. "We make sure to hire team members who believe in our mission of providing best-in-class service so our residents can have the best possible retirement lifestyle and live their lives to the fullest."
Going above and beyond
"We take great pride in our culture of service and operational excellence here at Lantern Hill," says Continuing Care Administrator Ryan Fitzpatrick. "We have received numerous accolades for 'going above and beyond' in meeting the expectations and needs of our residents, especially during the past year of the pandemic—delivering meals, providing personalized on-campus medical care, and creating a sense of family. We continue to show that we're all in this together."
Indeed, in 2020, Lantern Hill received the Suburban Chamber of Commerce Good Neighbor Award. Its continuing care neighborhood received a five-star quality rating for the Centers for Medicare and Medicaid Services and honored by U.S. News & World Report.
When the pandemic hit last year, the Smiths were grateful for the adaptations Lantern Hill quickly put in place to ensure that life on campus continued to run smoothly.
"Lantern Hill offered daily fitness programs and a variety of activities on the in-house TV channel when it was not possible to gather in person," says Linda. "Food was offered by two different restaurants with daily menus and delivery to our door, and there was outdoor entertainment in the courtyards as well."
There are three particular staff members the Smiths feel are worthy of special mention.
"Monique Davis in housekeeping does an excellent job of cleaning our apartment on a weekly basis," says Linda. "Mike Esemplare is capable of fixing almost everything, and Melissa Sullivan runs an excellent fitness program in addition to supporting almost every activity around here."
In keeping with safety guidelines, Lantern Hill has hosted a number of creative and socially distanced events, like a "grab-and-go" hot chocolate giveaway as well as Lunar New Year and Valentine's Day celebrations.
Early vaccine access
When the vaccine arrived, the Smiths were impressed with its swift and organized distribution. Thanks to a strong partnership with CVS/ Omnicare, 97% of Lantern Hill's independent living population is now fully vaccinated, promising a happy return to normal.
"Vaccinations have been given to every interested resident with the entire staff ensuring that the process went very smoothly and efficiently," says Linda. Staff too, have been vaccinated, meaning the Smiths' favorite employees can get back to doing what they do best, knowing they are safe and protected.
"I'm so glad to take this step toward herd immunity," says Fitness Coordinator Melissa Sullivan. "We all want to get back to normal as soon as we can. I feel blessed to have the vaccine."
Consider being part of a strong and caring senior living community like Lantern Hill. Beautiful walking paths, gardens, resort-style amenities, an on-site medical center staffed by full-time medical professionals, and new friends await. Request a brochure or a visit now!
Back