Lantern Hill Restaurants Serve Up a Stellar Dining Experience
Greg Alexander
September 14, 2022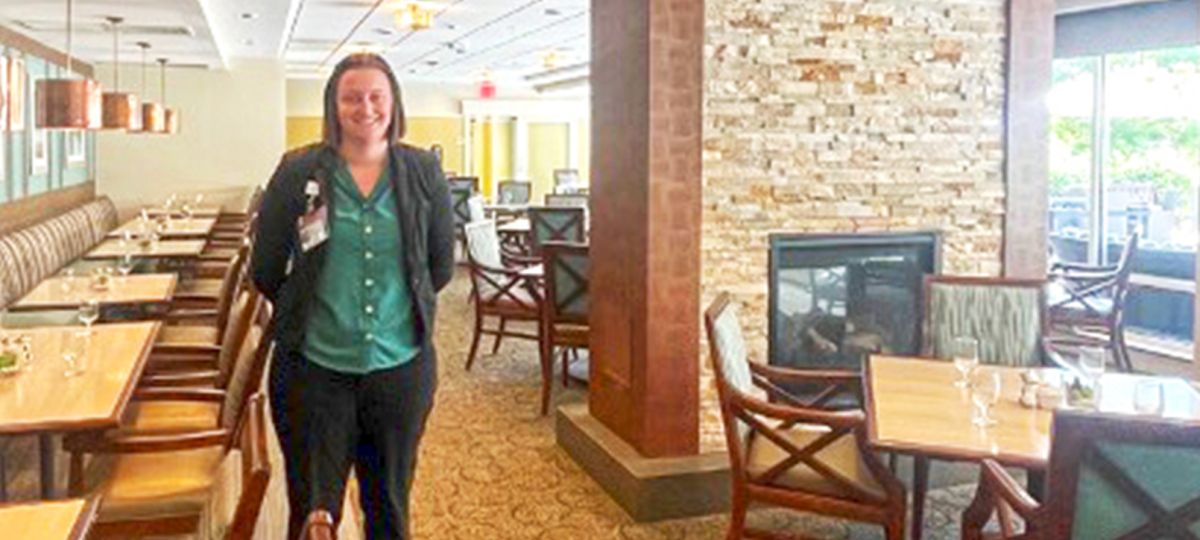 At Lantern Hill, an Erickson Senior Living community located in New Providence, N.J., residents savor tastebud-tingling dishes at the community's on-site restaurants every day of the week.
Thanks to Lantern Hill's Signature Dining program, which emphasizes preparing high-quality, cooked-to-order dishes, culinary professionals are serving up flavorful meals, crafted with the freshest ingredients.
Lantern Hill strives to use locally grown produce whenever possible to support the surrounding community, Director of Dining Services Kate Stewart notes. "We are always looking for opportunities to expand our base of local vendors, so our residents and their guests get to taste the freshest local flavors from this part of New Jersey," she says.
Residents' place at the table
Rightfully so, community members have a say when it comes to their delectable dining choices - thanks to the resident-led dining committee of the Resident Advisory Council (RAC).
John Battles, who chairs the committee, moved to Lantern Hill in 2021 with his wife Mary. "We lived in Cranberry, N.J., for 16 years, near Princeton, but now we are only 15 minutes from our children instead of an hour," says John.
"As a rookie, I was surprised that I was elected to the RAC. There was an opening for dining committee chair, and although I don't have direct culinary experience, I have learned a great deal from the experience." John says he appreciates how respectful and engaged residents are in filling out dining comment cards.
John says that once he joined the dining committee, he learned about the intense application and training processes that culinary staff undergo. "It's evident in the quality of the food. We are very pleased with our meals here."
Variety of options
Tall Oaks, only open for dinner, is the largest full-service restaurant on campus, with an expansive menu including items such as shrimp cocktail, chopped salad, fish and chips, and penne pesto chicken, as well as delicious desserts like classic apple pie and carrot cake.
At Chef's Table, open for lunch and dinner, residents can enjoy their meals fireside. The menu focuses on fresh, seasonal foods and features appetizing options, such as roasted duck with hoisin glaze and Indian curry vegetables.
For those meals when time is of the essence, Bistro 1720 is a counter-service venue that offers a variety of popular diner-style choices, like club sandwiches, smash burgers, flatbreads, and pasta. At Northpointe Marketplace and Café, residents can pick up house-made meals and treats, while also stocking up on groceries and sundries.
If residents are looking to sip on cocktails with friends, Embers Wine Bar and the Crown Bar and Lounge are wonderful options. Getting together over dinner and drinks is a great way to socialize and get to know each other, residents say.
Residents at Lantern Hill can make reservations at any on-campus restaurant through the My Erickson® app, available to all community members on a smart device, or by phone. Nutritional information about all entrées served can also be found on My Erickson®, under the My Nutrition section. Whether residents have dietary restrictions or are simply watching their waistlines, Lantern Hill makes it easy for them to achieve their nutritional goals.
Making it special
The dining team always ensures that special occasions are celebrated with fun, festive menu additions and events. Just this past spring and summer, residents enjoyed Mexican cuisine for Cinco de Mayo, a Mother's Day brunch, rocket popsicles for Independence Day, and an ice cream social for National Ice Cream Day. At Christmastime, Santa Claus visits campus and, of course, cookies and milk are served for the occasion. For Hanukkah, residents are treated to traditional chocolate gelt.
Residents can also dine privately at the Gold Leaf dining room, perfect for celebrating birthdays and anniversaries with friends and family. For those who like to entertain, Lantern Hill offers the ability to host events in the Metropolitan dining room - residents can request on-site catering for any private event of their choosing.
Friendly faces
In April, Ron Pericone joined Lantern Hill as executive chef, overseeing all of the restaurants on campus. "My favorite part of my job at Lantern Hill is working with staff to ensure we're consistently offering a superior dining experience and using the latest cooking techniques," says Pericone. "It's doubly rewarding because working to develop my staff's talents increases resident satisfaction in our restaurants."
And Stewart agrees. "I love the positive atmosphere here at Lantern Hill. I'm able to build relationships with residents and fellow staff," she says. "Seeing residents enjoy a meal with their family or friends is incredibly rewarding."
Invest in your future at Lantern Hill. From top-notch amenities and activities to affordable, maintenance-free apartment homes, you'll enjoy living your retirement to the fullest. Request more information today!
Kate Streit contributed to this article.
Back