Lantern Hill Residents Thrive One Year After Pandemic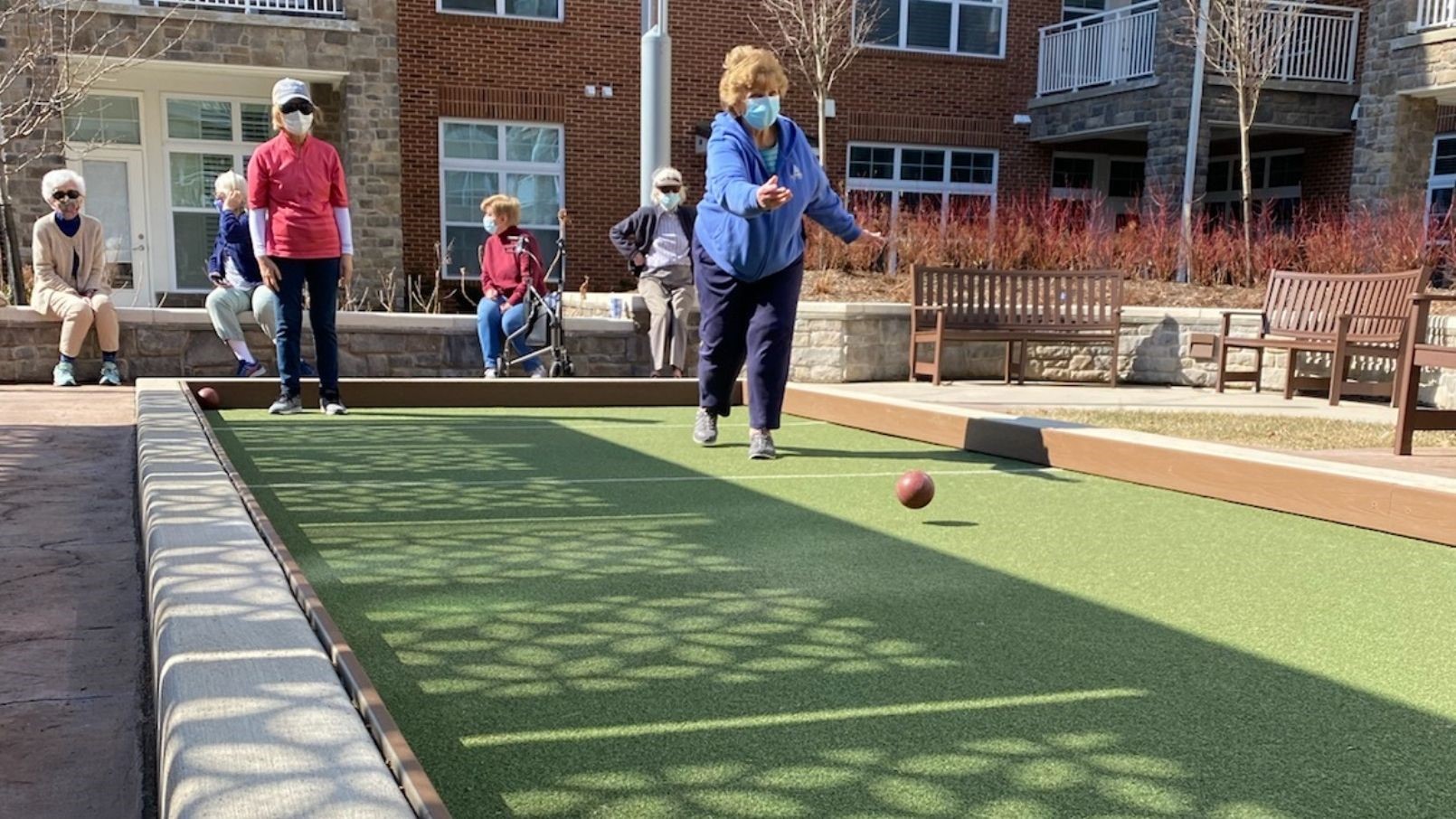 COVID vaccines for seniors at Lantern Hill help the community turn a corner
Better days are ahead as 97% of the Lantern Hill senior living community has received the COVID-19 vaccine
When the coronavirus pandemic hit, all of our lives changed drastically. Now, as we approach the one-year anniversary of living with the virus, the residents and staff at Lantern Hill, an Erickson Senior Living community in New Providence, N.J., are reflecting on this difficult and unique time period. Although it has posed unprecedented challenges, the Lantern Hill community is proud of its perseverance in the face of adversity.
Lantern Hill staff adapts to prioritize the health and safety of its residents
"As soon as news of COVID-19 came out, the community had one priority — the health and safety of our 400+ residents," says Sales Director Brian Cassidy. "Employees from every job role and department shifted gears to focus on ways to support our residents. Everything from mail to meals to groceries was delivered right to our residents' front doors."
Catherine Mendrzycki has lived at Lantern Hill since 2016, and she's more grateful than ever to call the community home. In addition to keeping residents safe and making sure they always had access to essentials, Catherine was impressed by the staff's efforts to ensure the community retained the vibrancy for which it's known.
"Executive Director Craig Karczmer and the entire staff worked so hard to keep our spirits up throughout this challenging year," says Catherine. "From exercise videos broadcast on the in-house TV channel to decorating the halls for every holiday and special occasion to little treats just for fun, we were never short on ways to enjoy ourselves, even during this extremely difficult year."
Vaccine distribution reaches far and wide at Lantern Hill
Now that the vaccine has arrived, Catherine is thankful for Lantern Hill's excellent management of its distribution.
"The way the staff organized to quickly administer the doses was truly an outstanding team effort," says Catherine. "So many of my friends in Bronxville and elsewhere have had so much difficulty trying to get an appointment for the vaccine, and many still have still not been able to access it."
Indeed, nearly 97% of residents at Lantern Hill have now been vaccinated.
"I have so much pride in our team from the beginning of the pandemic through to the vaccine effort," says Executive Director Craig Karczmer. "We have made so much progress in the past year, and now with the success of our vaccine clinic, we can look forward to a brighter future in which our residents can continue to take advantage of all Lantern Hill has to offer."
Residents enjoy Lantern Hill's senior living amenities once more with cautious optimism
Joslin and Jack Ruffle moved to Lantern Hill in November 2019 and immediately began to utilize the community's amenities and activities, including the multiple on-site restaurants, pilates class at the fitness center, and a current events discussion group.
Although life certainly changed for the Ruffles in March 2020, their confidence in their choice of Lantern Hill did not.
"We were at a place where we could feel safe, secure, and very well-cared for," says Joslin.
When they arrived at Lantern Hill, the Ruffles were able to begin care with a doctor at the on-site medical center, a benefit they were particularly appreciative of during the pandemic. They're now looking forward to once again resuming the activities that make the community such a special place.
Amenities are open on campus with safety precautions in place including restaurants, fitness center, all-season pool, art studio, and woodshop.  Residents are enjoying a variety of activities such as poker, art classes, yoga, ping pong, bocce, putting green, and more.
Peace of mind and staff that goes above and beyond to exceed residents' expectations are just a few of the aspects that make Lantern Hill an ideal independent living community for seniors. Request of a brochure, or schedule an appointment to get to know Lantern Hill a little better.
Back