Lantern Hill Residents Find the Key to a Healthy, Happy Life
Gregory J. Alexander
October 27, 2022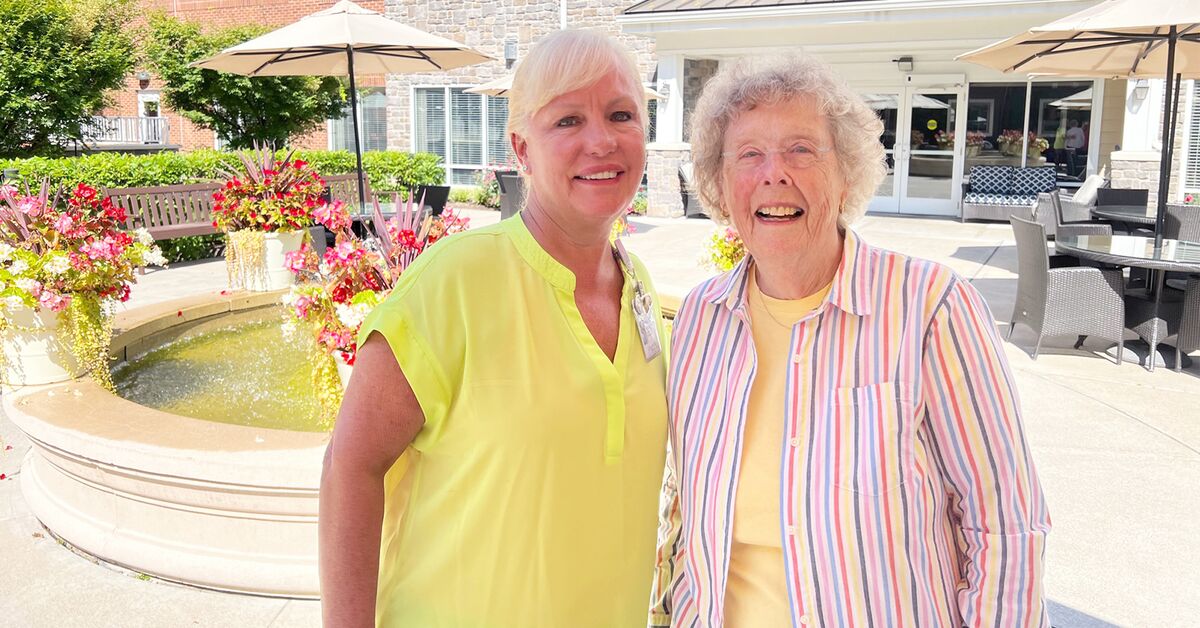 Kathey Coombs loves to start her day off strong - literally. "I am in the fitness center by 9:15 every morning, usually on the NuStep machine to warm up my arms and legs," says Kathey, who lives at Lantern Hill, an Erickson Senior Living community in New Providence, N.J.
Kathey also enjoys taking personal training sessions twice a week. "There is new equipment at the fitness center, and Melissa Sullivan is so helpful in teaching me how to use it."
She's found that Sullivan, Lantern Hill's fitness coordinator, is a real people person. "Somehow, she knows everyone's name, even if they don't work out with her!" Kathey says.
"I try to engage with our residents on a personal level," says Sullivan. "Working out here is a social experience - I like to call it a bar without the booze," she laughs.
Staying active
Kathey, who moved to Lantern Hill in 2018 with her husband Fred, says she's always been active. "Even when I was raising our four daughters, I still found time for tennis and golf. When we moved to Lantern Hill, I started swim classes."
However, when Fred became ill, she was hesitant to leave him alone for long periods of time, so she reduced her activity level. When Fred sadly passed away, Kathey knew she "had to get up and start moving again."
Kathey says that since she began working out with Sullivan, her back health has improved, and now she is focused on strengthening her knees.
"I'm trying to avoid having a knee replacement by getting injections for pain and improving my leg strength," she says. She also intends to start water aerobics classes soon.
Personalized care
"Melissa is always encouraging us to try new activities," notes Kathey. "I had some balance issues, so I signed up for the Balance Class. Now, I'm always busy!"
"Those who work out regularly have increased balance, better overall health, and get out of their apartment homes to socialize," says Sullivan. "Our focus is on mind, body, and wellness."
Two fitness centers are available 24/7 to residents and their guests, and there are an average of 30 fitness classes each week. Daily Aqua Fitness, Mat Pilates, and Cardio and Strength classes prove to be pretty popular. In the afternoon, residents find relaxation at Gentle Yoga, Tai Chi, Balance, and Meditation classes. Table tennis, well-known for its friendly competition, adds to the fun in the evenings.
In addition to the fitness centers, residents at Lantern Hill benefit from the on-site medical center, staffed with full-time providers. Regularly scheduled religious services and prayer groups, for a wide variety of denominations, also support residents on their wellness journeys.
Enhanced well-being
This year, Erickson Senior Living provided a multimillion-dollar investment, through its Well-Being Fund, to support the addition of enhanced health and well-being programs and services to residents.
Incorporating findings from the company's research partnership with Harvard University and the Benson Henry Institute (BHI) for Mind Body Medicine at Massachusetts General Hospital, these additions are designed to enhance the physical, emotional, and social well-being of residents.
In 2021, residents at selected Erickson Senior Living communities participated in the Embrace Well-Being and Flourish study, which used the BHI's SMART (Stress Management and Resilience Training) curriculum to provide them with practical strategies for managing stress and improving resiliency.
Results of the study showed statistically significant changes, including increases in resilience, coping, and positive emotions, while decreases in distress and social isolation were seen.
"Through the Well-Being Fund, we are able to apply evidence-based research to further enhance the programs, amenities, and services available to better enable residents to achieve optimal health outcomes," notes Dr. Margaret Kimbell, vice president of community living for Erickson Senior Living.
Residents at all Erickson Senior Living communities now have greater access to tools and strategies that support resilience and overall health and well-being. Examples include Wellbeats, a new fitness app that allows residents to participate in on-demand and live exercise, yoga, and meditation classes from any location.
Fun and fitness
In addition, community fitness centers are being updated with NuStep and Matrix elliptical machines, recumbent bikes, and treadmills, as well as Echelon bikes, rowers, and Reflect fitness mirrors. Enhanced indoor and outdoor amenities include meditation spaces, refurbished putting greens, and more.
"Many residents tell me how much they appreciate all there is to do here," says Sullivan. "And living in a community that supports your overall well-being is a game changer."
Invest in your future self at Lantern Hill. From top-notch amenities to maintenance-free apartment homes, you are sure to live your retirement to the fullest. Request more information today!
Back