Lantern Hill Residents Bond Over Shared Interests and Experiences
Gregory J. Alexander
January 5, 2023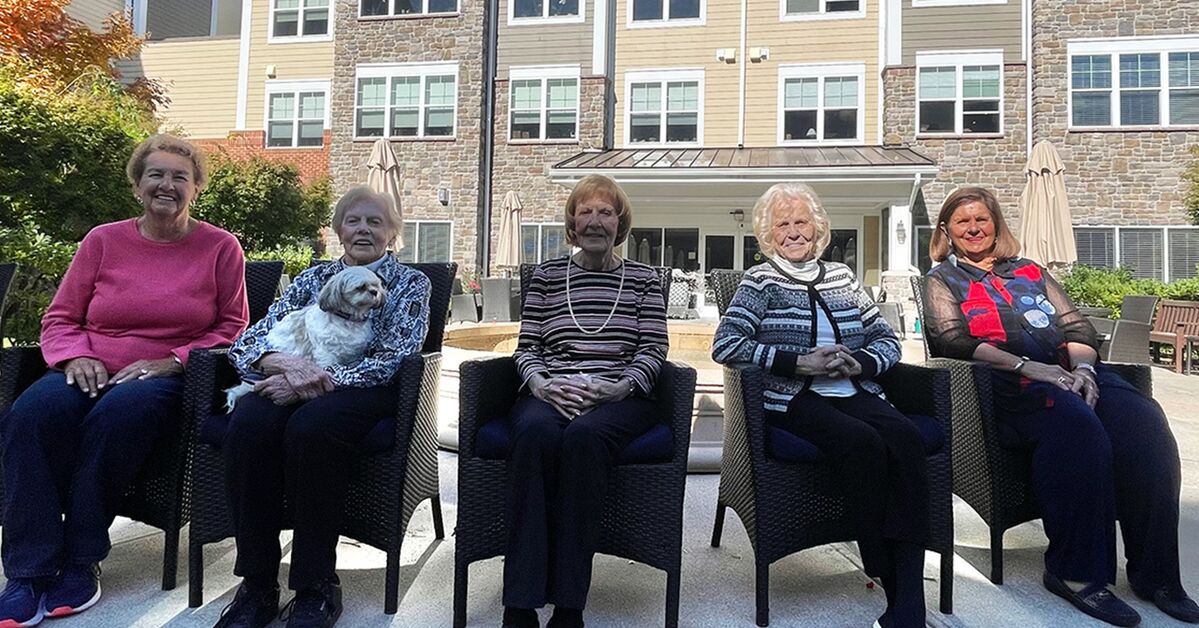 Sandra Arace, a lifelong New Jersey resident, still gets together with friends she's had since grammar school. At the same time, she says, she's also grateful to meet so many new friends while living at Lantern Hill, an Erickson Senior Living community in New Providence, N.J.
"It's the best of both worlds--to have my friends from back home and my new friends here," she says. "It keeps my daughters happy, seeing how busy I am."
"Having enjoyable social connections is an important, yet often overlooked, aspect of personal health and well-being," says Dr. Matt Narrett, chief medical officer at Erickson Senior Living. "From a robust calendar of events and dozens of clubs to sharing a meal together with friends, our communities are designed to maximize social engagement opportunities."
Wine and dine
One way Sandra stays busy is by participating in a group called the First Floor Girls, a group of women who live on the first floor of the Maple Glen building.
"During the pandemic, we couldn't do much," she recalls, "so we started having happy hours. We would sit in our chairs--safely apart--outside of our apartment home doors, enjoy a glass of wine, and talk to each other. Then, once we could go back to the restaurants on-site, we all started going together. Someone started calling us the 'First Floor Girls,' and we thought it was funny."
Home sweet home
When Sandra was exploring her senior living options, she wanted to stay close to her two daughters, but most of all, she wanted a place to "hang her hat."
"I did not want to be a burden to them," Sandra says. As the primary caregiver for her father and her mother, who lived to be over 100, she faced several challenges over the years. "It was hard. I decided that while I am still capable, I want to settle my future."
Sandra was sold on Lantern Hill the day she toured the community. "It looked like a fancy hotel!" she says. "I talked to a sales person immediately, and I never looked elsewhere."
A helping hand
Soon after her decision, Sandra reached out to Lantern Hill's realty and moving services for assistance in planning what furniture to bring and selling her house. "I tell others, 'I didn't procrastinate,'" she jokes.
Now, Sandra enjoys spending time in her one-bedroom apartment home--and no wonder. "I have a nice living space, dining area, a den that is like a second bedroom, a state-of-the-art kitchen, and a balcony."
Built-in friend groups
Donna and Jack Walcott, who lived in Summit, N.J., for over 50 years, also wanted to find a senior living option that was close to home.
Impressed by the idea of social, vibrant retirement, they made the move to Lantern Hill when it opened in 2016. And with several friends moving to the community at the same time, they were eager to embrace their new active lifestyle.
"Everyone from my bridge group moved here," says Donna, as well as most of a Twig group--hospital volunteers--she's belonged to for over five decades. While the Walcotts were thrilled to maintain old friendships, they seized the opportunity to expand their social circle.
"Joining committees is a wonderful way to make friends," notes Donna. "I have been a member of the facilities committee for many years, and I initiated the events committee, which facilitates off-site and on-site activities for residents."
Jack is a member of the writers' club and has volunteered with the health, safety and security, and finance committees.
"We also have dinner with different people almost every night," Donna says. "There are very intelligent people here, so during dinner conversations, you learn a lot. All of these activities are great ways to make friends!"
Facilitating friendships
Carla Brady, manager of resident services at Lantern Hill, notes that the residents are the driving force behind the community's welcoming environment.
"People have a natural desire to socialize and create bonds with others, especially at Lantern Hill," says Brady. "Many residents volunteer for our 'Neighbor to Neighbor' program. When a new person is moving in, we will share their interests with our volunteers. Current residents, with similar interests, are always quick to reach out and offer a warm welcome. The kindness at Lantern Hill is inspiring."
Invest in your future at Lantern Hill. From top-notch amenities and activities to affordable, maintenance-free apartment homes, you'll enjoy living your retirement to the fullest. Request more information today!
Back