Lantern Hill Dining Careers Offer Creativity and Opportunity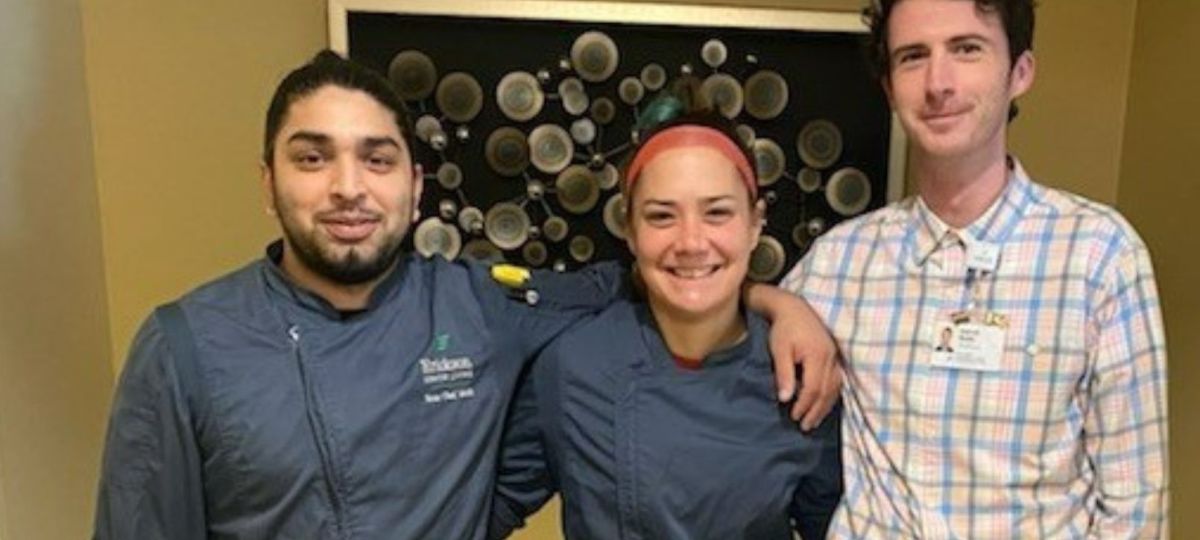 When Jenine Miller was in culinary school at Brookdale Community College, she was fearful about working in a restaurant where she would prepare the same dishes over and over. "I didn't want a job where I didn't have the freedom to be creative," she says.
At the time, Miller worked part-time as a prep cook at Lantern Hill, an Erickson Senior Living community in New Providence, N.J., and after graduation, she was promoted to line cook. "I let them know that I would work hard, and I wanted to continue to grow and foster my relationship with Erickson," she recalls. Recently, she was promoted again to sous chef.
"I love working here as everything is made from scratch, the menu changes constantly, and we get fresh produce daily. There is a real commitment to quality at Lantern Hill." Miller is also excited about the NetMenu software that allows her to create and submit recipes. "If they are approved, all Erickson chefs can use them, and you feel accomplished and recognized for your talents."
Zain Malik, who started as a line cook before being promoted to sous chef, also likes the ever-changing menus at Lantern Hill. "We have exciting menus, specials, wine pairings, and themed events. The beauty of working at Erickson is that they don't put you in a box; you are encouraged to be creative," he says. "The opportunity for advancement is a driving force for me being here; it aligns with my career goals."
Lantern Hill Sales Associate Patrick Brady worked part-time as a server at Lantern Hill while attending college at St. Joseph's University (PA) and says working as a server forced him to get out of his comfort zone. "You learn everything quickly, from seating to serving and hosting," he says. "I loved the relationships I formed with residents, who became like grandparents to me, and seeing the smiles on their faces made it all worthwhile. Best of all, I was on a first-name basis with upper-level management, as I saw them daily."
After graduation, Brady applied for and got a sales associate position. "I interviewed and then went back to work the dinner shift," he laughs. He adds that his boss, Brian Cassidy, sales director at Lantern Hill, also worked as a server, so they have bonded on that shared experience. After his promotion, Brady says several residents came to his office to congratulate him.
Miller, Malik, and Brady concur that Lantern Hill employees' generous benefits are a big draw. These include tuition reimbursement, 401K, paid time off, including for volunteering, Erickson Senior Living University class offerings, advancement and leadership opportunities, and much more. Additionally, those joining the dining services team may qualify for a sign-on bonus. "I love the work/life balance. The latest the restaurants here close is 8 p.m., so you are not getting home late," says Miller, who adds that she plans on taking advantage of the free online training offered by Erickson through Rouxbe Online Culinary School.
Director of Dining Services Kate Stewart says the advancement opportunities are limitless. "We have three restaurants, so you get to work with different teams, and with new restaurants planned at Lantern Hill, there will be new opportunities to grow. The free learning opportunities offered are an incredible resource, and we will work with you to help you advance up the ranks," she says.
Miller says she likes building relationships with residents. "I know their food allergies, whether they like garlic or not, and the open kitchen concept allows me to greet them. At the end of the day, we're here for the residents and to make them feel special."
Anyone interested in exploring dining services or other exciting career opportunities at Lantern Hill should browse the company's careers website. 
Back