'It's All About the Residents' at Lantern Hill
Gregory J. Alexander
August 4, 2022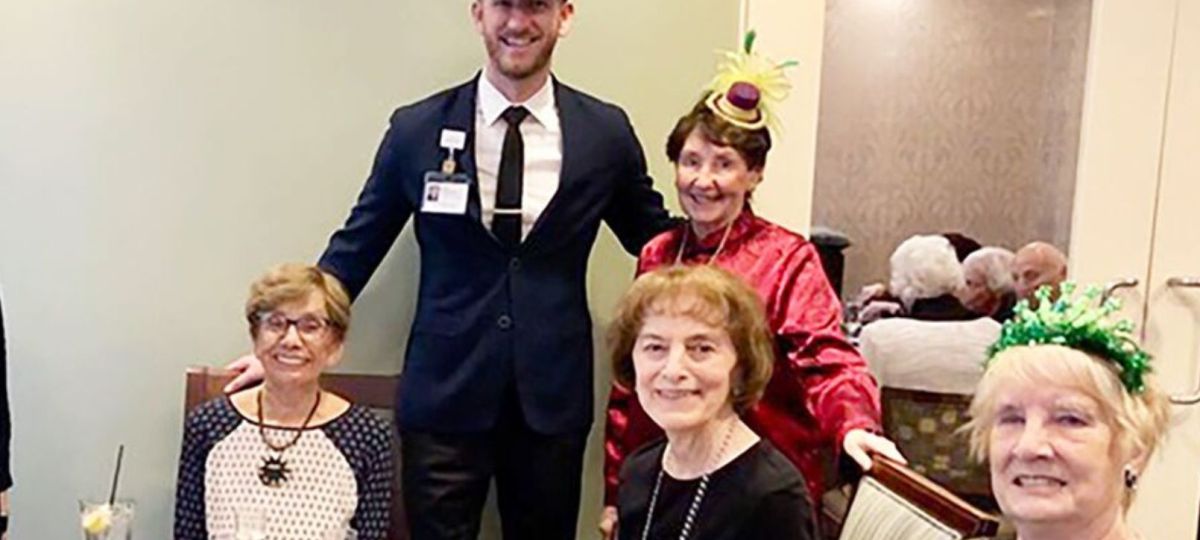 Ryan Fitzpatrick, who was recently named associate executive director at Lantern Hill, an Erickson Senior Living community in New Providence, N.J., has been with Erickson for 12 years. As he has held many roles in his Erickson career, he always remembers where he started - as an intern.
He recalls that he was originally drawn to Erickson Senior Living's mission of providing quality continuing care services, noting that his mother, sister, and grandmother were all registered nurses.
A career begins
"I started at Erickson as an intern and then moved onto the operations associate management training program for recent college graduates, where you move around to different departments, such as finance, accounting, and human resources," he explains.
After completing the program, Fitzpatrick became a personal care administrator at Ann's Choice, another Erickson Senior Living community, in Warminster, Pa. There, Fitzpatrick was promoted to manager of home support services before entering Erickson's administrator-in-training program at Cedar Crest in Pompton Plains, N.J.
Living at Cedar Crest
"It was a two-hour commute each way from where I was living," says Fitzpatrick. "Monday through Friday, I lived in a furnished apartment home on campus and then returned home on weekends."
He adds with a laugh, "I got some strange looks from residents at first - here is this young guy, leaving an apartment home at a retirement community to go to work in the morning."
It worked out well for him, though, he remembers. "Once they got to know me, they were insisting that I have dinner with them."
Heading to Lantern Hill
In 2017, Fitzpatrick accepted the assistant administrator position at Lantern Hill. The opportunity to be part of a new community, Fitzpatrick adds, is one of the main reasons he was interested in the job.
In less than a year, he was promoted to director of continuing care at Lantern Hill - before becoming associate executive director last August. "My job now focuses more on general services and resident needs," he explains.
Fitzpatrick now handles many areas of community administration - recruitment, staffing, capital expenditures, infection prevention, operations of food delivery, and more. His vast experience helps him take on these new challenges and he says that it's been a natural progression.
Supportive colleagues
"I'm fortunate … at Erickson, you have colleagues that support you, and you have so many resources at your disposal. You definitely don't feel like you are on an island. It's been such a great journey."
Fitzpatrick says that in whatever role he's filled, he always remembers the importance of listening to residents.
"I'm from Philadelphia, so I love to sit down with residents and discuss what's happening with the Eagles, but I also want to hear their concerns. I am fortunate enough to still have a grandmother in my life, and if she had concerns about her living situation, I'd want them addressed. If I approach my work in that manner, I feel like I will always have the drive to serve residents to the best of my ability," Fitzpatrick says.
Keeping residents happy
Lantern Hill holds monthly town halls that include a Q&A session as well as biannual "Be Heard" meetings, he says.
"We hold 13 sessions, in groups of 20 people, in each clubhouse. It's an open forum - no subject is off limits. We also have an open-door policy, so we encourage residents to come and give us feedback anytime."
Fitzpatrick adds that monthly meetings with members of the Resident Advisory Council (RAC), who serve as information liaisons and provide updates to residents, provide further transparency.
"Being available to residents is really the key. You have to get out of the office, be on campus, and get to really know the residents in a genuine and authentic way."
Fitzpatrick recalls a recent social event - for staff and residents - that was modeled after a Captain's Dinner on a cruise ship. "Staff members put on captain's hats to serve prime rib, flounder, and champagne. All the residents got dressed up. The next day, while walking around campus, people kept saying to me, 'What a lovely evening that was.' Hearing that is all that matters."
Loving the life
His new job isn't the only thing Fitzpatrick loves about joining Lantern Hill. Since moving to the New Providence area, he and his family have enjoyed all the local spots. They especially appreciate the proximity to the beach, spending time in North Wildwood, N.J., and embracing total relaxation.
"It's great to spend time with extended family, decompress, and soak up the much-needed vitamin D!"
To learn more about affordable, independent senior living at Lantern Hill, request your free brochure to find out more about amenities, floor plans, and so much more.
Back