The Incredible Value of Living at Lantern Hill
Gregory J. Alexander
April 14, 2022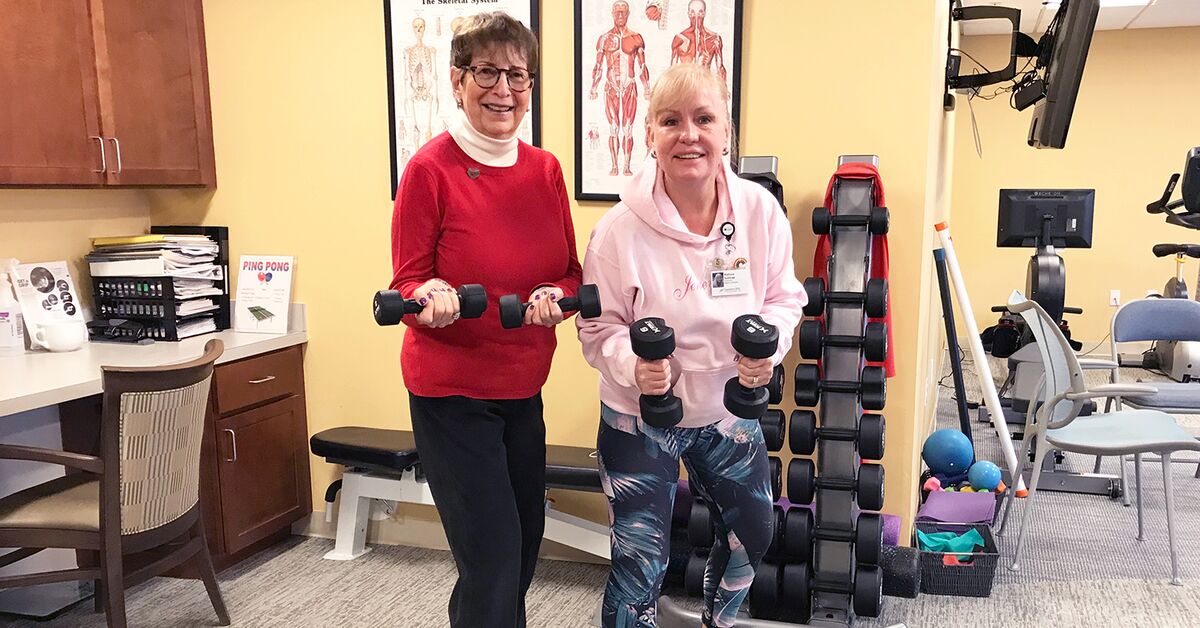 Setting a monthly budget and sticking to it is important, but often that's difficult to do. Unplanned expenses arise, and suddenly your carefully crafted budget plan is out the window.
Fortunately, for those who live at Lantern Hill, an Erickson Senior Living community in New Providence, N.J., it's easy to budget each month, as residents know that their monthly living expenses will remain consistent throughout the year.
Four-year resident Lee Nowikas Landau is just one of the many retirees who sees the great value of living at Lantern Hill.
Plenty to do
When Lee was first married, she recalls, she lived just a few blocks from where Lantern Hill would be built in 2016. Although she and her husband moved several times over the years, she returned to the New Providence area and later moved into Lantern Hill.
Now, she appreciates the opportunity to attend lectures and the Current Events Club, but she spends most of her time exercising by attending Tai Chi, gentle yoga, cardio, and water aerobics classes - not to mention strolling along the community's walking paths.
"I try to take advantage of all the activities here, including the wonderful entertainment. There is so much to do that I have to pick and choose. For example, the book club may be at the same time as a cardio class I enjoy, so I have a decision to make," she laughs. "It's important to stay busy and active."
Lee has plenty of time to pursue her interests, because she no longer has to worry about paying a stack of bills every month or making house repairs, thanks to the monthly service package.
Budgeting with ease
The monthly service package at Lantern Hill bundles expenses like electric, property taxes, water, cable, and maintenance. It also includes flexible meal plan options that offer residents the opportunity to dine in the community's multiple on-site restaurants.
Lee notes that she enjoys dining at the various restaurants and appreciates having the option to take her dinner back to her apartment home. "The food at Lantern Hill is really good, and I love all the dining options - you can invite friends to lunch, have a sit-down dinner, go to the buffet, or grab something quick to go. I can't complain - having no shopping or cooking to do is nice."
"Residents at Lantern Hill are able to set a budget in advance because they know that the monthly service package will not increase over the entire year. There are no surprise costs, such as a water heater that needs to be replaced, a roof that needs repairing, or increased costs to maintain the landscaping. It's also easier to plan when you just get one bill each month," says Brian Cassidy, director of sales at Lantern Hill.
Bang for the buck
Lantern Hill's 90% refundable entrance fee* provides another level of financial security for residents. This policy ensures that a portion of a resident's estate will be returned to them or their beneficiaries.
Cassidy notes that many residents at Lantern Hill sell their former homes, in the area, rather quickly before moving to Lantern Hill.
"The real estate market in this part of New Jersey is hot," says Cassidy. "When we call one of our real estate partners and let them know that someone is looking to sell their existing home to move to Lantern Hill, they typically respond, 'No problem. We will get it sold.'"
He adds, "Home values are so strong here that people can take the proceeds from the home sale and easily pay the entrance fee at Lantern Hill. In many cases, the sale of their existing home results in having additional money to put into their retirement savings."
More than a home
"When you move to Lantern Hill, you're getting more than a place to live; you are getting a worry-free lifestyle. We have three restaurants, two bars, a salon, two fitness centers, an indoor saltwater pool, and countless clubs and activities - all right on campus," notes Cassidy.
"It's so easy to find people who share your interests and make friends. And making dinner plans is simple - call one of your friends and walk down the hall to one of our restaurants."
Cassidy continues, "When people move to Lantern Hill, they always say that the one regret they have is, 'Why didn't I do this earlier?' They realize that by giving up all the things they had to do, they now get to do the things they want to do. You've earned this time; now it's time to enjoy it."
Invest in your future at Lantern Hill. From top-notch amenities and activities to affordable, maintenance-free apartment homes, you'll enjoy living your retirement to the fullest. Request more information today!
*As per the Residence and Care Agreement.
Back