Good Times in the Great Outdoors at Lantern Hill
Gregory J. Alexander
August 3, 2023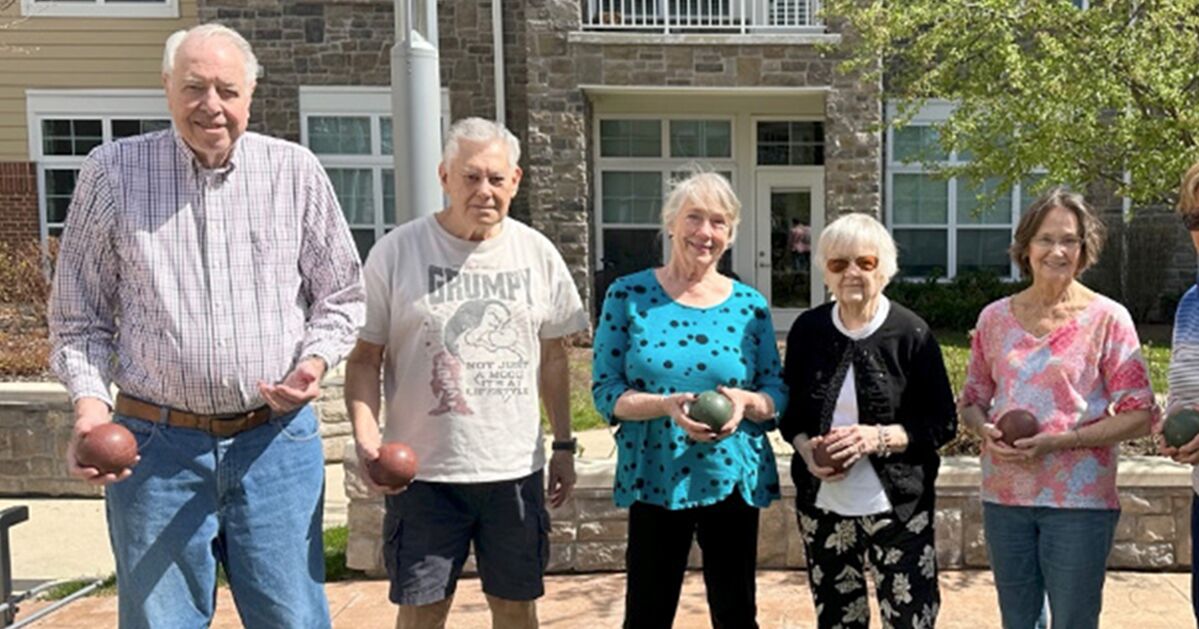 Jean Tama moved to Lantern Hill, an Erickson Senior Living community in New Providence, N.J., two years ago to be closer to her daughter in Millburn, N.J. 
"Shortly after I moved here, my daughter moved to Colorado," she laughs, "but I have two granddaughters still in the area."
Jean quickly got involved in activities at Lantern Hill, visiting the fitness center often and participating in aqua aerobics. 
She especially relishes any opportunity to spend time in nature-bocce and qigong, which uses exercises to optimize energy within the body, mind, and spirit, are her favorite outdoor activities. 
"When I play bocce, it's just for fun-as it should be! I also enjoy my coffee in the morning with some friends. We talk and laugh a lot," says Jean, who couldn't be happier in her new scenic home.
Outdoor amenities abound
"Residents really enjoy the many outdoor gathering spaces at Lantern Hill," says Carla Brady, manager of resident services. "We are known for hosting monthly putting contests, bocce tournaments, disc golf, and fitness classes outside."
Erickson Senior Living prides itself on offering safe, accessible outdoor environments that encourage residents to get active and socialize, enhancing their overall well-being. 
The benefits of spending time outdoors are well documented, as recent studies confirm that being outside at least two hours a week leads to better physical health and cognitive well-being.
Research also shows that seniors who frequent the outdoors feel more energized, have greater focus and stamina, and recover from injuries more quickly.
Plenty to enjoy
In addition to nearby walking trails and the local Reeves-Reed Arboretum, filled with flowers in bloom, Lantern Hill has 26 wooded acres for residents to explore.
The patio, which features a beautiful fountain, Union Square Courtyard, and the Bell Pavilion are go-to spots for a game of chess or some casual cocktails and conversation. The indoor pool even has doors that open, so residents can soak up some vitamin D.
"As soon as it warms up in the spring, we move our biweekly concerts to the courtyard. In June, we have a car show and a Pride Walk," she says. "We also hold a dog parade for our pet parents. We find a number of ways to help residents get outside, stretch, move, and grow as a community!"
Investing in well-being
As Lantern Hill continues to grow, community leaders plan on utilizing the Well-Being Fund to bring even more outdoor amenities and activities to residents. 
Recently, Erickson Senior Living has provided a multimillion-dollar investment, through its Well-Being Fund, to support the addition of enhanced health and well-being amenities and services to residents in its communities across the country.
"It's such a wonderful investment," adds Brady. "More outdoor spaces, perhaps a dog park or an outdoor meditation garden, will be incorporated into the plan."
Hitting the links 
Jean, who started playing golf when she was in her early 30s, appreciates the array of golf courses nearby. As a member of Lantern Hill's Bogey Bunch, she plays golf on Thursday mornings at Summit Municipal Course, a nine-hole, par-three golf course. 
"It's so nice to be outside and play golf with friends. Nine holes of golf is very manageable for me, and everyone in the group just wants to have fun and get some fresh air. We don't even keep score! In fact, I'm not sure we would want to know what our scores are," Jean says, with a laugh. 
Life in a community
Jean says she's happy she made the move to Lantern Hill. "It's so beautiful here. There are several restaurants, a movie theater, and a salon to get your hair done. My daughter and I looked at other places, and nothing compares to Lantern Hill," she says. 
"Especially if you are going to live alone, it's better to be in a community where you will meet new people, stay active, and laugh a lot," she continues. "I've met so many interesting people here who have such great life stories-where they came from and what they did for a living-and amazing backgrounds." 
Jean recalls a recent karaoke party at Lantern Hill. "The staff and residents sang, and it was so much fun."
To learn more about the ways residents are enjoying the great outdoors, request more information today!
Back