Enjoying the Freedom of a Fun and Flexible Lifestyle at Lantern Hill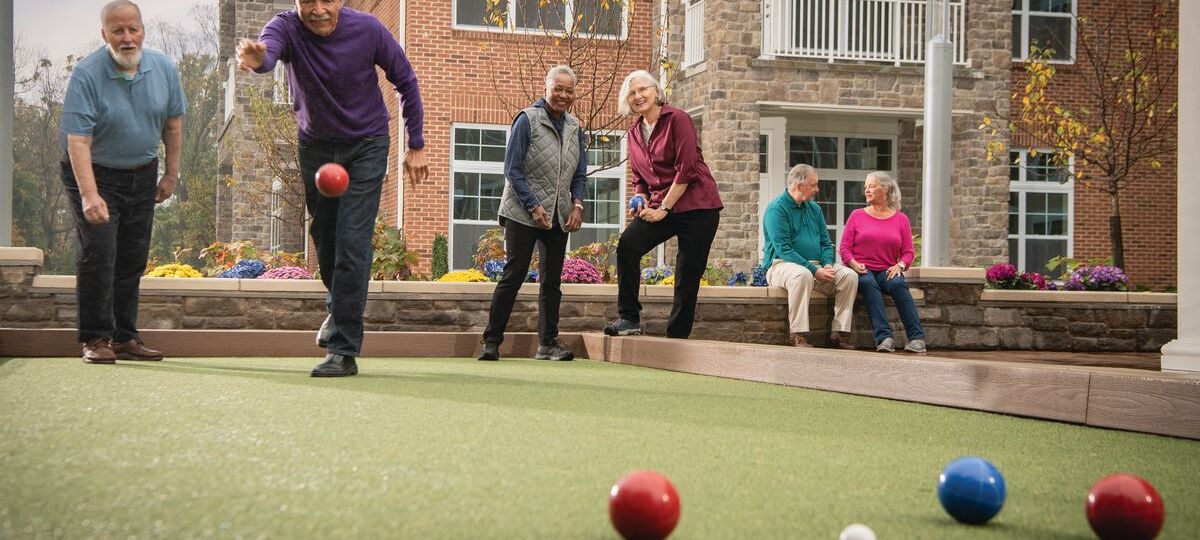 Lantern Hill, an Erickson Senior Living-managed community in New Providence, N.J., is a popular choice for seniors who want the convenience of onsite amenities as well as the freedom to pursue hobbies and leisure activities off-campus.
Marie Power was living in Rockville, Md., in 2014 when she became a widow. Her daughter lives in Summit, N.J., and she was planning to move closer to her when Marie learned about Lantern Hill. The senior living community is located on 26 wooded acres just minutes from Summit and Morristown. After attending some events on campus, she decided it was the perfect fit. Marie first moved to an apartment in nearby Morristown in 2015 until construction was done at Lantern Hill, and she became a resident at the community in 2017.
A smooth new start
"I was looking for an independent lifestyle with all the amenities, new friends, and no cooking!" says Marie. She got all that and more when she moved to Lantern Hill, including freedom from the kitchen. With their choice of several unique onsite dining venues, residents enjoy a vast menu of chef-prepared options cooked to order.
Lantern Hill referred a moving company and movers, who unpacked, made her bed, set up the TV, and took away boxes, making the big day stress-free.
"Everyone was so helpful," says Marie. Marie chose a two-bedroom, two-bathroom apartment home with a balcony, where she loves to spend time enjoying the picturesque view of the woods.
Marie began taking watercolor painting classes 15 years ago. At Lantern Hill, she became an active member of the art group. Her pastel painting of a Maine coon cat as well as four winter scenes are currently on display at the art room on campus. "Painting allows me to relax and let go of all the problems of the world," says Marie.
Encouraging art
She's managed the art display cases at Lantern Hill for the past three years and is always looking for new residents to share their talents in the form of crafts, artwork, or photography, which also offers her the opportunity to meet new friends. She changes the display every two months, giving everyone on campus a reason to stop by and see what's new.
"My favorite part of life at Lantern Hill is meeting new residents and hearing their life stories and why they chose to call our wonderful community home," says Marie. An avid reader, she's also an active member of a book club.
She serves on Lantern Hill's Resident Advisory Council and keeps in shape by participating in exercise classes at the fitness center. "I chose to live at Lantern Hill because it's so easy to keep busy learning new things," says Marie. "Between the classes, clubs, and the resident-run activities, we have so many great choices."
Research has found that engaging in a variety of activities holds the key to longevity. A study published in The Journals of Gerontology reports that "older adults who interact with people beyond their usual social circle of family and close friends, are more likely to have higher levels of physical activity, greater positive moods, and fewer negative feelings."
Flexibility to explore off-campus
Marie also relishes the flexibility she has to enjoy the greater New Providence area as well. She's a member of the Morristown Newcomers' Club, a group for women who are new to Morristown and surrounding communities, offering opportunities for neighbors to get to know each other, socialize, and enjoy recreation. Marie also takes a pastel painting class at the Morris County Museum.
"Lantern Hill is close to a lot of shopping, so I'm very fortunate to be able to drive and take advantage of that," she says. A mother of three and grandmother of seven, she's also close enough to visit with one daughter who lives in Summit and another in Brooklyn.
"Like Marie, many residents at Lantern Hill love the freedom and flexibility offered by the lifestyle here," says Director of Sales Brian Cassidy. "If you're an active senior looking to start your next chapter, our community is an amazing place to call home."
Consider being part of a vibrant senior living community like Lantern Hill. Beautiful walking paths, gardens, resort-style amenities, an on-site medical center staffed by full-time medical professionals, and new friends await. Request a brochure or a visit now!
Back