Design Your Dream Dwelling at Lantern Hill
Greg Alexander
May 8, 2023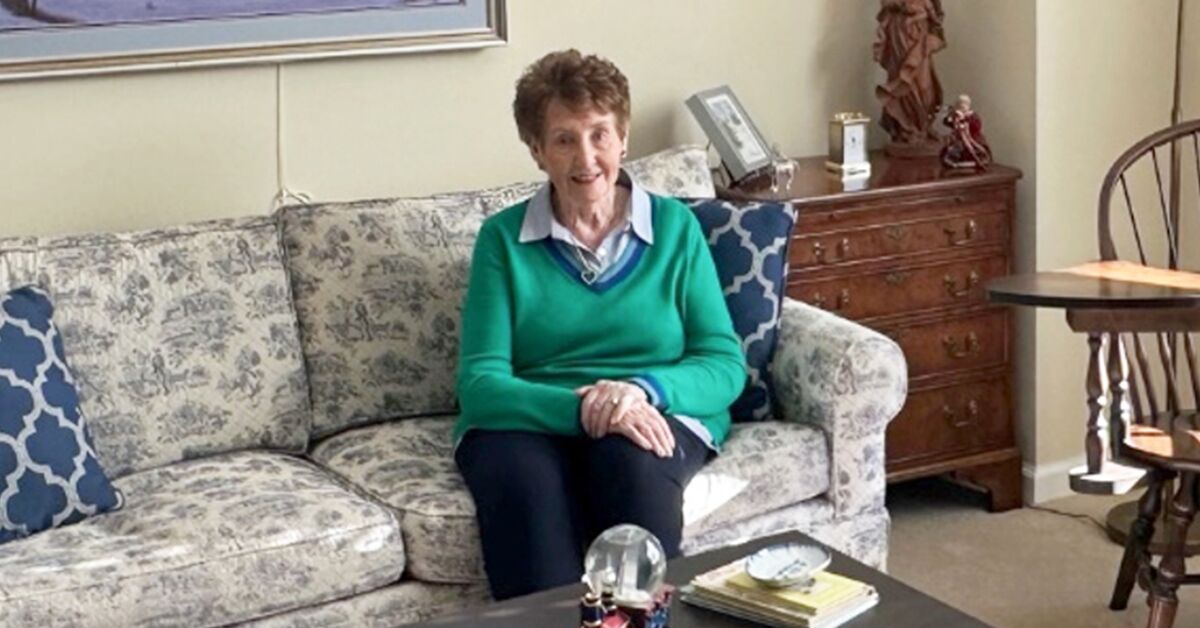 When Catherine Mendrzycki was preparing for her move to Lantern Hill, an Erickson Senior Living community in New Providence, N.J., six years ago, she embraced the opportunity to reimagine her living space. 
"I had lived in a large home, with a lot of furniture, for 40 years," she notes. "I stayed in my home in Bronxville, N.Y., for over two years after my husband passed away, but I realized it was too big for me." 
Looking for guidance, Catherine welcomed the experience of a planning and moving consultant from Lantern Hill.
"She measured everything," Catherine recalls. "She measured my dining room table and told me that if I took out the leaves, it would fit, but I didn't believe her. She was right on target, though, so I moved it. Every piece fit perfectly!"
Expert help
Brian Cassidy, sales director at Lantern Hill, notes that these planning and moving services are crucial to providing a seamless experience for many new residents.
"Our planning and moving consultants and senior move managers help future residents figure out the best way to arrange items," he says. 
During a home visit, these experts point out high-volume areas, take measurements of cherished items, and then sit down to discuss how furniture and décor will look their best in the apartment home.
Cassidy notes that requests for apartment home customizations are increasing as well. 
"We have people ask, 'Can I change the paint color, hang wallpaper, remove a door, or hang artwork on the wall?' And our answer is, 'Absolutely, and we can help you make that happen through vendors like interior designers and painters,'" says Cassidy. 
He adds, "When you move to a senior living community, you want a home that suits your new lifestyle. Especially if you've been living in a large house, maintaining rarely used spaces, you'll appreciate a place that is perfectly suited to your current wants and needs."
Customize your space
Some Lantern Hill residents choose a spacious, two-bedroom apartment home and use the second room as an office, craft room, or guest room. 
Others may choose a one-bedroom apartment home, knowing that they will spend most of their time out and about, enjoying the community's amazing amenities and social activities, which are easily accessible via climate-controlled walkways. 
"A lot of people love having family come visit, so that second bedroom can be helpful," says Cassidy. 
"Others use the second bedroom as a TV room with comfy couches and then use the living room as a more formal space. We have also had residents use the den or second bedroom as an art studio, as there is amazing natural light in some of those rooms." 
Catherine moved into a two-bedroom, two-and-a-half-bath apartment home and transformed the second bedroom into a den with a pullout couch for overnight guests. 
"Now, I spend a majority of my time in the den!" says Catherine. "There was also a large closet that I did not need, so I had that made into an office."
More beyond your door
After moving to Lantern Hill, she immediately got involved in various activities. She served on the Resident Advisory Council and received training as a bereavement facilitator to help others in need. 
"I also love to play bridge, and I just started taking line dancing lessons!" she says. 
Catherine appreciates the cultural opportunities at Lantern Hill as well. She recently took advantage of a group outing to see My Fair Lady at the State Theater in New Brunswick, N.J., and is looking forward to an upcoming Brazilian jazz concert that will be held on campus. 
Catherine says that, in addition to the array of on-site activities, one of the main draws of moving to Lantern Hill was being close to two of her three children - her daughter lives in New Providence and one of her sons lives in Chatham. 
A carefree retirement
"Having a wide range of amenities to enjoy on- and off-campus is an important complement to residents' personalized living spaces," Cassidy notes.
In fact, some residents say they are surprised at how little time they spend in their apartment home - because they're busy dining with friends, walking the beautifully landscaped grounds, and participating in clubs and activities. 
At Erickson Senior Living communities, many people like Catherine appreciate the opportunity for a fresh start - and the ability to create a beautiful space where they can live the carefree retirement they've always imagined.
Invest in your future self at Lantern Hill. From top-notch amenities to affordable, maintenance-free apartment homes, you are sure to live your retirement to the fullest. Request more information today!
Back