Charitable Giving at Lantern Hill
Dorrie Anshel
December 21, 2021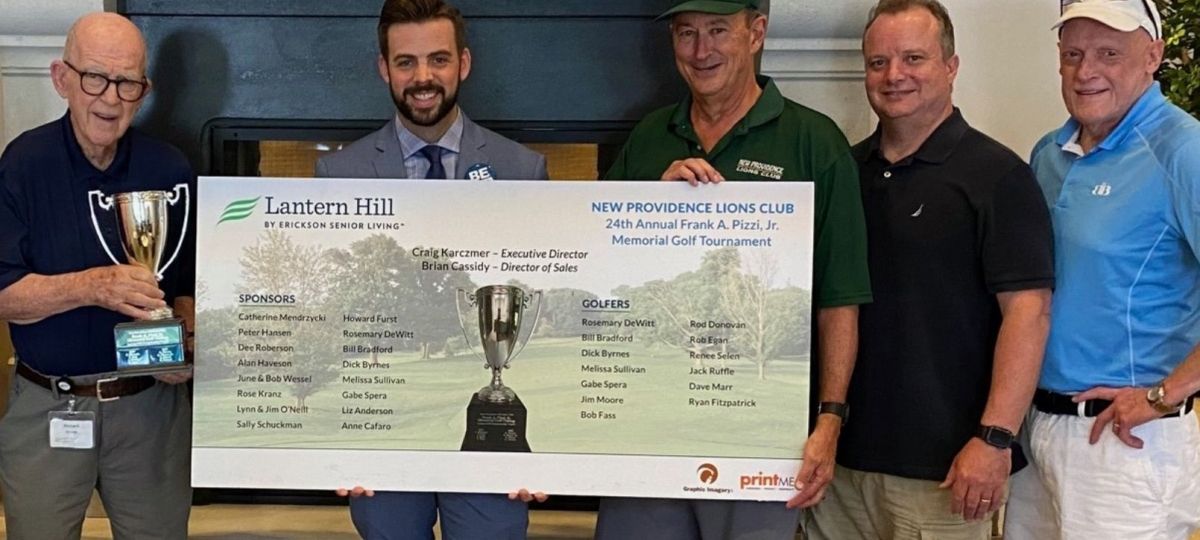 Every year the residents of Lantern Hill, the Erickson Senior Living community in Union County, NJ, don their finest pink apparel and walk to raise awareness for breast cancer. Their goal is to promote early screening at any age, and to encourage donations to organizations that offer patient support and conduct research.
According to Residence Life Manager, Carla Brady, the walk perfectly captures the spirit of giving that permeates the active community year-round.
"Our residents often tell me how grateful they are for the lives they've led, and now it's their time to give back," she says. "Whether it's participating in group events like the walk, or finding other causes that fuel their passions, they are uniformly generous with their support and donations."
She points to June Carver, a resident at Lantern Hill for five years. June and several friends knit hats and shrugs for newborns and donate their work to Overlook Hospital. "Every newborn needs some basic layette items," she says, "and I love doing it. To be honest, I've lost track of how many I've knitted, but it feels good to know you're helping a new family get off to a good start."
She also has been involved for many years with New Eyes for the Needy, an organization that provides funds to purchase prescription glasses for those who cannot afford to do so. June has been a dedicated volunteer in the resale shop, which offers real and costume jewelry and upscale decorative items. "Unfortunately, the shop is closed now due to Covid, but we can't wait for it to reopen. To be able to give someone the gift of better vision is so gratifying," she says.
For over 50 years she has staffed rummage sales at the Community Congregational Church in Short Hills, which raise funds for a variety of charities in the area. Like the New Eyes Resale Shop, the sales are on hold for now, but she looks forward to the day when they resume. She says, "I love the fellowship and being able to contribute my time and energy to a good cause."   
June has had an incredible life, including an eight-year run as one of the original models on "The Price is Right" with Bill Cullen. Now her focus is on giving back. "You just feel that you want to be useful," she says. "It's fun to volunteer. You meet wonderful people, and you get so much more than you give."
Swinging for a Cause
Lantern Hill has many clubs and activities on campus, and the Lions Club is one of the most popular. Dick Byrnes, a resident for five years, decided to get involved with the annual golf outing because he wanted to do something for the New Providence community and because he's a self-proclaimed golf nut.
"When I heard about the tournament, I thought it was the perfect fit," Dick says. "I work with Bob Campbell and his committee at the New Providence Lions Club to put on the tournament each year. It's a lot of fun, and we always raise a good bit of money for local charities."
Held the first Monday in June at the Fox Hollow Golf Club, the tournament takes months of planning. "We start in late January," notes Dick, "and that's when I start promoting it to my friends and neighbors at Lantern Hill. Even those who don't golf give generously, and their support is greatly appreciated."
Erickson Senior Living's Director of Operations, Jeff Watson, says, "Lantern Hill residents are so generous with their time, talents, and treasures, not only to do good in the world, but to also feel good in the world. It's this spirit of kindness that always radiates throughout our campuses and enables those who call Lantern Hill home to make a joyful difference in the lives of so many."
Consider being part of a strong and caring senior living community like Lantern Hill. Beautiful walking paths, gardens, resort-style amenities, an on-site medical center staffed by full-time medical professionals, and new friends await. Request a brochure or a visit now!
Back