High-Rise Living to Meet Abundant Green Space in the Heart of Bethesda
By Gregory J. Alexander
June 28, 2023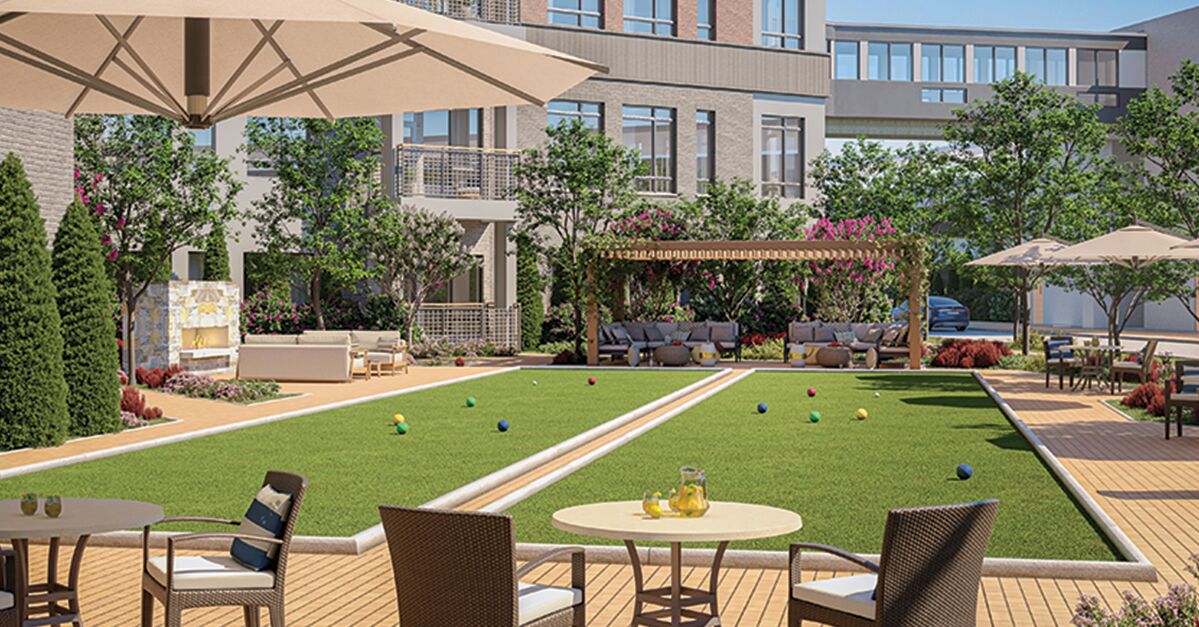 The Grandview, an Erickson Senior Living community coming to the heart of Bethesda, Md., offers an attractive opportunity: An upscale, high-rise lifestyle enhanced by a wide range of on-site features, amenities, and activities-just what today's retirees are looking for.
A key component of the appealing atmosphere, says George Mishraky, sales director for The Grandview, will be the incorporation of abundant outdoor and open-air spaces.
"Throughout the 33-acre community, we were very intentional about integrating 'green' and outdoor activity spaces," Mishraky notes. "We have designed The Grandview so that every outdoor amenity will have tables, umbrellas, and space to gather.
For example, he explains, "At other Erickson Senior Living communities, we've seen that bocce matches draw a significant number of spectators. So, around our bocce courts, there will be tables so that residents can watch their friends play."
Stepping out
Every apartment home in both residential buildings will have a terrace, so that residents can easily soak up some sunshine and take in the scenic views. The terraces vary in size by floor plan, ranging up to 23 feet.
"It's important to put your name on The Grandview's priority list so that you have the best chance to find the floor plan-including an outdoor terrace-that works best for you," he says. "Joining the priority list allows you to reserve the apartment home of your choice before the general public and take advantage of special events, opportunities, and perks along the way."
The Grandview will also offer plenty of ways to enjoy the entire campus, including a walking trail encircling the community.
"The walking trail runs alongside a stream that we're restoring from a neglected state," Mishraky says. "It's such a great feature, so we felt compelled to make it as beautiful as it once was. The waterway flows into two ponds that will also be restored."
The Grandview's landscape was also carefully designed to preserve an existing stand of mature trees.
An on-site "urban park" will have picnic tables, table tennis tables, outdoor fitness equipment, and a playground for visiting grandchildren. Residents will also be able to participate in yoga classes outside, play on the bocce courts, or take their four-legged friends to the enclosed dog park.
Other outdoor amenities include a pavilion for events and several common areas with firepits and chairs to relax.
Sustainability matters
These green spaces will promote not only outdoor activity, but also sustainability, which is showcased in a number of other ways throughout the community.
"Green roofs will be installed wherever possible, and a 'living wall' will be placed on the terrace outside the fitness center," says Mishraky. "In an urban setting like ours, we wanted to create many places for residents, their friends, and family to gather outside together and enjoy the beautiful campus."
Dining al fresco
Erickson Senior Living's Signature Dining program promises resort-style dining options for residents featuring made-to-order cuisine. At The Grandview, restaurants with outdoor seating will make these meals even more special.
A restaurant on the main lobby level will have a covered outdoor terrace, while a rooftop restaurant and wine bar will feature outdoor seating for dining or lounging.
"Even if you're sitting inside, during nice weather, the glass panels can be opened to create an indoor- outdoor experience. It's going to be gorgeous," says Mishraky.
The surrounding area provides even more opportunities to enjoy vibrant outdoor activities.
The Cabin John Stream Valley Trail has over four miles of natural surface trails and two miles of hard surface trails, while the Bethesda Trolley Trail offers a four-mile path linking Bethesda and North Bethesda.
Meanwhile, athletic fields, tennis, tai chi, and an enclosed ice rink (operational during the summer months) can be found at the nearby Cabin John Regional Park. The park also offers environmental nature programs, playgrounds, and picnic areas.
"Clearly, there's so much to do outside at The Grandview!" says Mishraky.
To learn more about senior living at The Grandview, request your free brochure to get the scoop on amenities, floor plans, and so much more.