New Executive Director Takes The Helm at Devonshire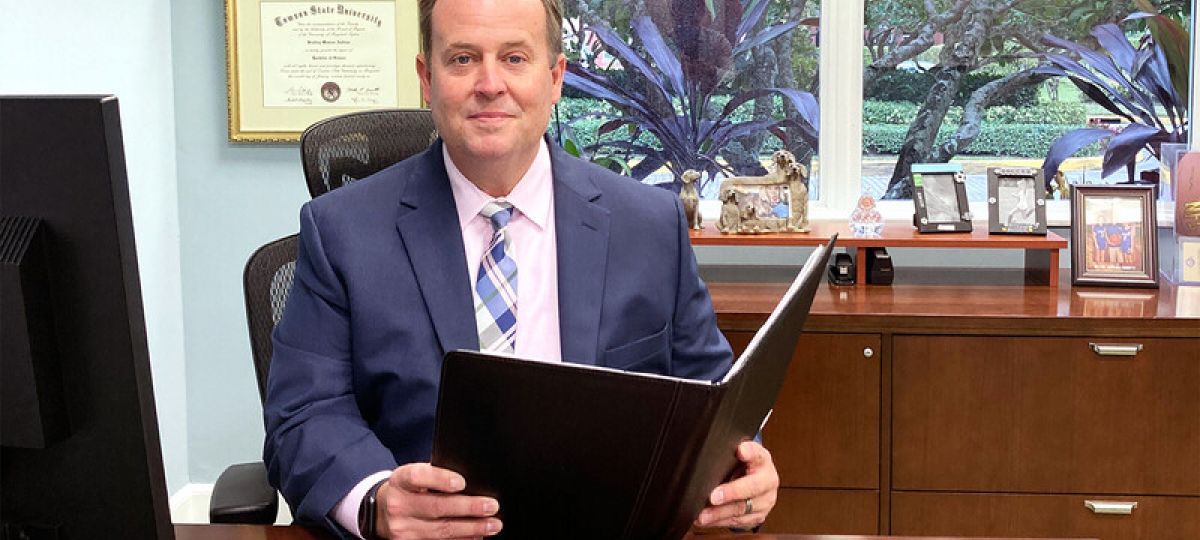 Earlier this year, Brad Andrus, an integral part of Erickson Senior Living's leadership team since 2002, took the helm at one of the company's Florida communities. Devonshire, located at PGA National in Palm Beach Gardens, Fla., is thrilled to welcome Andrus as its new executive director.
"I am blessed to be a part of an organization that is committed to sharing our gifts, so that we can create communities that celebrate life," he says. "2022 is an exciting time at Devonshire, as we work together to add new, state-of-the-art amenities and services to further enrich the lives of our community members." 
Prepped for success
A Maryland native, Andrus completed his undergraduate career at Towson University and earned two master's degrees, one from the University of Maryland Baltimore County (UMBC) in management of aging services and one from Notre Dame of Maryland University in business management. He is also a Fellow of the Leading Age National Leadership Academy.
He began his career with Erickson Senior Living at Charlestown, the company's first community, which is located in Catonsville, Md.
Building on the successful management style he developed while working in sales and philanthropy roles at Charlestown, Andrus worked in different executive leadership roles with two other senior living organizations for seven years before returning to Erickson as the associate executive director at Greenspring, another community located in Springfield, Va.
In 2019, Andrus and his family moved to South Florida to serve as associate executive director at Devonshire.
Jumping right in
"My greatest pleasure comes from being part of Devonshire's experienced and dedicated team of professionals - all of whom are committed to exceeding residents' expectations each day," Andrus says.
"Devonshire is an intimate community, which provides residents and staff the opportunity to connect and communicate," he adds. "These relationships truly make our community unique. Devonshire community members have led such successful and accomplished lives. It's exciting to share in their stories and build our relationships!"
Since joining the Devonshire team in 2019, Andrus has jumped into community life by reaching out to community members, participating in daily activities, and ensuring open lines of communication.
"Since Brad's transition to Devonshire, he has been a champion for creating the finest quality lifestyle and services for residents, while also promoting a dynamic and rewarding environment for his coworkers," says Kerry Jones, Erickson Senior Living's vice president of corporate operations. "His industry knowledge, business acumen, and passion for collaboration and innovation is crucial in guiding Devonshire through its next proud chapter."
Shared experiences
The shared experience of moving to a new location, Andrus says, is one way in which he connects with community members. Moving from his former home in the Washington, D.C.-area, he understands first-hand, how overwhelming the moving process can be. As a result of his experience, Andrus works diligently to ensure that Devonshire has programs in place to support future community members.
"Having just gone through the moving process myself, I understand what goes into transitioning to a new home," he says. "Our sales team works with each new community member to remove obstacles and make personal connections, both of which are so helpful when going through the moving process. We've also developed a robust Welcome Home program, designed to help new community members assimilate to their new apartment home and the community during the first month."
Acclimating quickly to life as a South Floridian, Andrus and his family - his wife Christy and twin teenage daughters, Macy and Madison - enjoy taking full advantage of everything their new home provides.
"I love living in South Florida's warm weather climate," he says. "I like staying active outdoors, year-round, whether it is playing golf or biking with Christy and the girls. Together we also enjoy intercoastal boating, fishing, and visiting the local beaches."
Door is always open
As for his new role as executive director at Devonshire, Andrus prioritizes making time for potential and current community members.
"I enjoy any opportunity to talk with people interested in learning more about life at Devonshire," he says.
He points to a couple of the community's popular events, such as the recent priority list luncheon, which offered priority list members the unique opportunity to ask questions both to staff and current residents. "If I am able to help in any way, I'm happy to do so."
Andrus, along with the rest of the sales team at Devonshire, is continuing the rich tradition of service, excellence, and innovation that the community has established.
To learn more about affordable, independent senior living at Devonshire, request your free brochure to get the scoop on amenities, floor plans, and so much more.
Back