Retire Your Worries at Avery Point
Michele Wojciechowski
September 8, 2023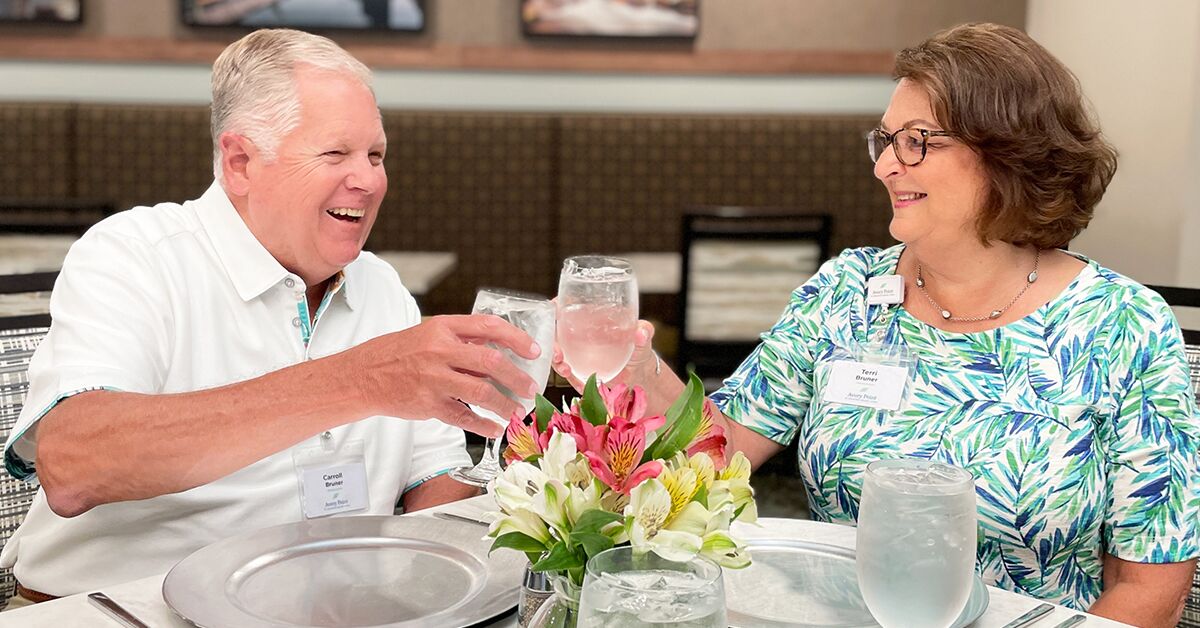 When Carroll and Terri Bruner were researching continuing care retirement communities, they considered all their options carefully, wanting to ensure their choice represented the highest standard of fiscal responsibility.
That was a significant factor in their decision to select Avery Point, the new Erickson Senior Living community in Short Pump, Va., as their new home.
"We really felt like Erickson Senior Living was a strong, financially secure company," says Terri. 
Predictable expenses
With nearly 40 years of experience, Erickson Senior Living and its growing national network of communities boast an economy of scale that keeps costs down.
Avery Point offers a predictable and affordable monthly service package, helping residents manage their budgets with ease. 
"The biggest adjustment was accepting the fact that I'm writing one check a month instead of 10 or 20!" says Carroll. "With everything covered in the monthly service package, it helps with your planning, your budgeting, and it makes life a lot easier."
The package includes all utilities, including phone and internet; heating and air conditioning; a chosen meal plan at on-site restaurants; access to the fitness center and pool; 24-hour security and emergency response; maintenance, including repair and replacement of appliances, and much more.
"There is one variable in the monthly service package - your bar bill!" notes Carroll, with a laugh.
Maintenance-free living
The Bruners are happy living in a maintenance-free apartment home, which saves them money and eliminates worry. 
"If an appliance needs to be fixed, it's covered. It's nice to be able to pick up the phone, make a call, and you've got somebody there," Carroll says.
Sales Manager Kailey Viray notes that the convenience of having a general services team on site is a huge draw for prospective residents. 
"Residents don't have to stress about finding reliable labor when something goes up. They can spend their time with friends or going on trips - and not waiting for a return phone call!" she says. 
Viray adds, "People who move here from 55-plus communities tell us they thought they were living maintenance-free, but found out that they really weren't. For example, a community may not cover everything both inside and outside of their dwelling. At Avery Point, you are truly living maintenance-free."
Peace of mind
Lou and Judy Belinkie, who were among the first retirees to move to Avery Point when it opened in 2022, appreciate the community's fee-for-service model. "With other places, you pay a whole lot more to get in the door. You pay for care that you may never use," explains Lou. "But Avery Point doesn't work that way. If I need more serious care in the future, I will pay for it then."
"This means that you get to hold onto your assets," says Viray. "We're not pre-charging you for care you may never receive. You're saving tens of thousands of dollars each year while you're in independent living, because that's all you're paying for."
When people move in, they have the choice of an 80% refundable entrance deposit* and a nonrefundable entrance deposit. 
"Many choose the 80% refundable entrance deposit, knowing that, if or when they leave the community, their investment is returned to them or their beneficiaries," says Viray. "It provides peace of mind for you and your family."
High value
Having lived in a house only three miles from Avery Point, the Bruners still visit their favorite spots - when they're not taking advantage of the community's top-notch amenities. 
"Avery Point is only a year old, but even more new amenities are already on the way," says Viray. "Our library group told us that they wanted more bookshelves in the library, so Executive Director Todd DeLaney responded to that. And because the fitness classes are so popular, we've added more of them."
Access to these amenities and activities come at no additional cost to residents. 
"We're pleasantly surprised by the level of participation," says Carroll, who now enjoys a vibrant, active lifestyle with Terri. "We're already outgrowing spaces where our groups are meeting, which is a good problem to have!" 
You've worked hard to save and plan for a financially stable retirement. For people like the Bruners and the Belinkies, Avery Point makes it easier to enjoy this next chapter.
Invest in your future self at Avery Point. From top-notch amenities to affordable, maintenance-free apartment homes, you are sure to live your retirement to the fullest. Request more information today!
*As per the Residence and Care Agreement.
Back