Out And About at Avery Point
Michele Wojciechowski
October 13, 2023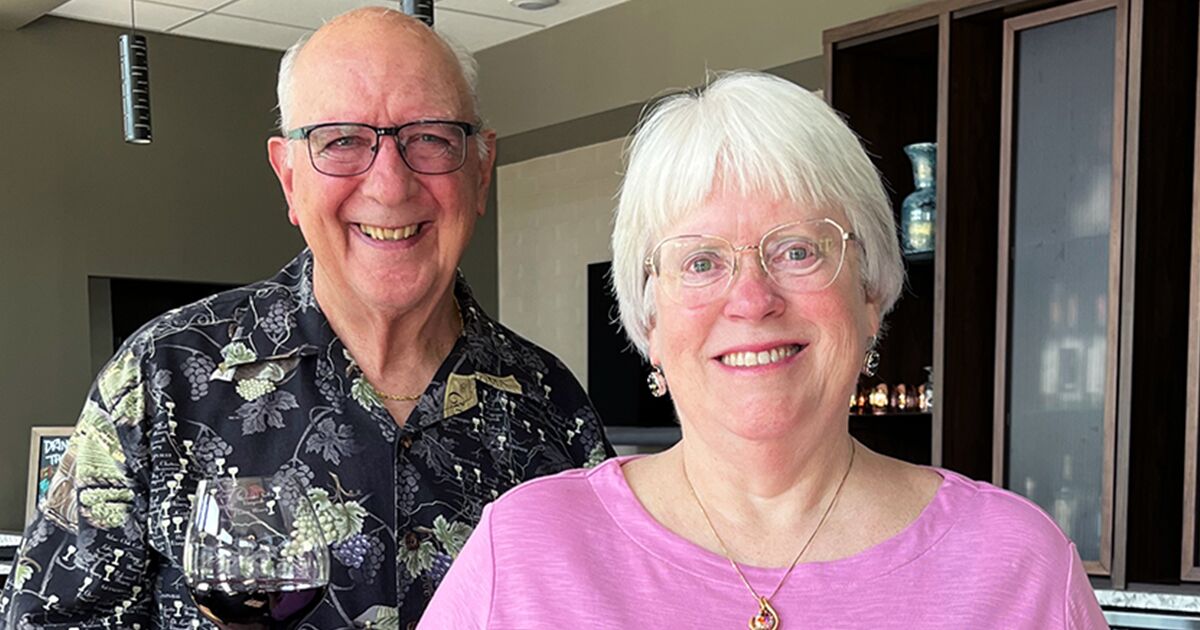 When Joann Reynolds retired, she and her husband John Roach moved to Avery Point, the Erickson Senior Living community in Richmond, Va., to be near her mother.
While the couple was initially attracted to Avery Point's convenient location, the community's active, social lifestyle was also appealing. 
As founders of the community's Educational Wine Club, which meets monthly to taste and discuss various wines, Joann and John have made many personal connections. 
"We have friends everywhere," says Joann. "We even formed a partnership with the woodworking group--they built our tasting trays!"
At Avery Point, there's no shortage of ways to get involved, both on and off campus. From on-site clubs and fitness classes to local volunteer and cultural events, residents like Joann and John find lots to love! 
Active and involved
When the couple isn't busy organizing the Educational Wine Club's next tasting, they're planning the next Kickback Friday--an opportunity for residents to mingle over homemade potluck dishes. 
As cochair of the Special Events Committee, Joann held a Galentine's Party for 80-plus residents and a July 4th Party for more than 200. She also cochairs the Diversity, Inclusion, and Belonging Committee, takes water aerobics and stability classes, and tends to her personal garden space.
John, an avid photographer, started the Men's Conversation Group. Off-campus, the couple is just as involved.
With fellow baseball lovers, Joann and John formed the Silver Squirrels--a group of residents who go to the Richmond Flying Squirrels' Minor League Baseball games. 
They attend St. Michael the Archangel Catholic Church, where John is a Eucharistic minister. And since 2008, they've belonged to the Wine Club of Cooper's Hawk Winery & Restaurants, a national business with a Richmond location.
Joann and John are also members of The Cultural Arts Center at Glen Allen, the Lewis Ginter Botanical Garden, the Virginia Museum of Fine Arts, and the Virginia Opera. In their rare free time, they volunteer at the Modlin Center at the University of Richmond, which debuts plays and holds musical events.
"We love having a life inside and outside of Avery Point," says Joann. 
'Something for everyone'
"We really have something for everyone at Avery Point," says Resident Services Manager Abby Fuller. "The community opened a little over a year ago, but we already have more than 40 clubs and groups! Residents really appreciate the social lifestyle here."
The on-site fitness and aquatic centers, where residents can use strength and cardio equipment, swim in the heated indoor pool, or take an exercise class with friends, are becoming increasingly popular. 
Outdoors, residents frequent the pickleball and bocce ball court, as well as the firepit near Magnolias Bar--the perfect spot for sipping on cocktails while catching up with neighbors. 
Itching to plan a day trip? An array of activities is just a short drive off campus.
"Short Pump, Va., is known for its shopping and restaurants. You can find American, Italian, Chinese, Mexican, and Indian food nearby," says Fuller. "People also go to great museums and concerts at Richmond's many theaters, like the Richmond Symphony. For sports lovers, we have the Richmond Kickers soccer team and basketball through Virginia Commonwealth University."
She adds, "It's so convenient for residents to access the greater Richmond community. Having all these opportunities nearby makes it easy to stay active and social."
Time to thrive
Dennis Young, a resident of Short Pump for over 30 years, now lives in a spacious two-bedroom, two-bath apartment home at Avery Point. Like many of her neighbors, Dennis appreciates that she's been able to stay in the area she calls home. 
"I've been balancing my old life with my new life," she explains. "It's been pretty easy, mainly because there's a lot to do near and at Avery Point."
On Tuesdays and Thursdays, Dennis plays golf at a local course with a group of women she's known for years. Two or three times a week, she goes out on her boat, which she keeps in a boatel on the Rappahannock River.
"I love to cruise and water ski," she says. "I take friends with me!"
On campus, she takes cardio-strength, stability, and water aerobics classes; participates in line dance and Latin dance classes; attends poetry club meetings; and goes to Tuesday Movies at the community's theater with her new friends. 
"This is a place where people come to thrive, and that's what I want my life to be like--filled with good things, nice people, and fun activities," says Dennis.
Invest in your future self at Avery Point. From top-notch amenities to affordable, maintenance-free apartment homes, you are sure to live your retirement to the fullest. Request more information today!
Back