New Resident Hilda Kelly Talks About Why She Chose Avery Point
Michele Wojciechowski
January 3, 2023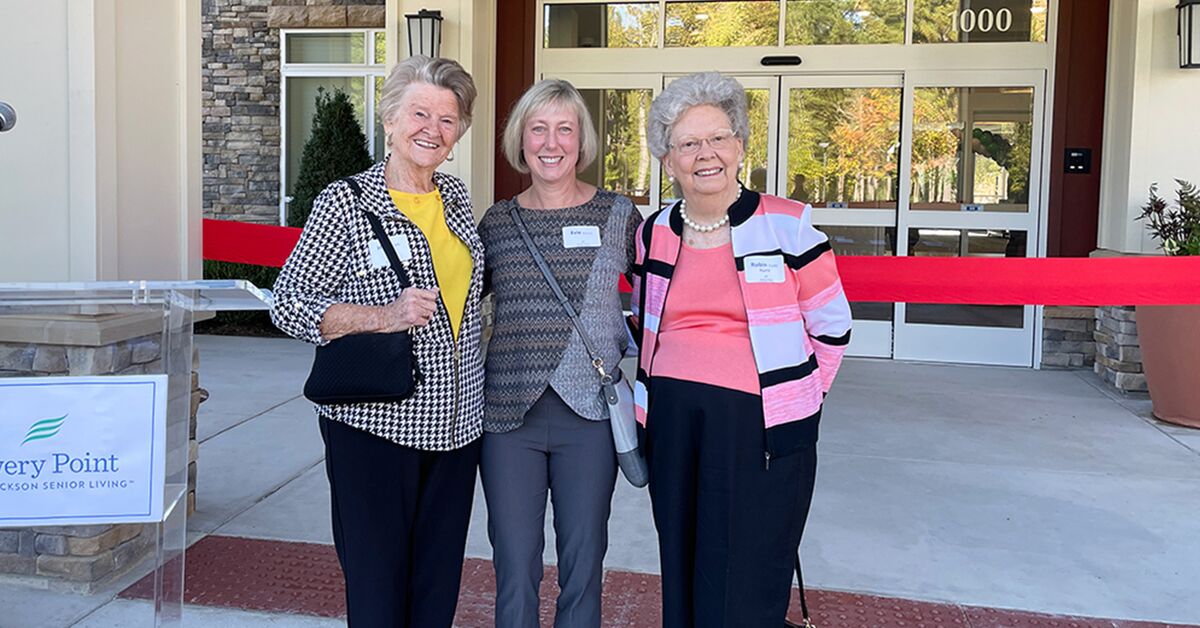 Just a month after Avery Point's grand opening, Hilda Kelly moved into her one-bedroom, one-and-a-half-bath apartment home, overflowing with excitement.
"My apartment home is so beautiful," says Hilda. "The large living space is unbeatable. It has a huge window in it, which brings the outside in. I'm looking forward to entertaining family and friends. It's just lovely."
Hilda notes that the Erickson Senior Living community in Short Pump, Va., equipped with top-notch amenities and bustling with resident activity, has come a long way since she first visited campus.
"When I first visited the sales office, Avery Point hadn't been built yet," Hilda recalls. "But I was greeted by the friendliest staff, and they immediately made me feel comfortable. They were interested in all of my questions too."
In what seemed like the blink of an eye, says Hilda, she is now enjoying the community's vibrant, worry-free lifestyle to the fullest.
'What I wanted'
After her husband passed away in 2015, Hilda started researching and visiting senior living communities.
"I had lived in the same house for 50 years. In my next chapter of life, I wanted limited responsibilities," she explains, pointing to the maintenance and repairs she was handling herself. "I've had a single retirement goal for a long time: I wanted to take care of myself and I wanted to know where I was moving ahead of time."
Hilda discovered that by moving to a continuing care retirement community (CCRC), she wouldn't have to worry about her financial future and, better yet, could remain independent.
"I've seen adult children so stressed about their parents - including myself. Sometimes, adult children have to frantically look for places for their parents, and there's nothing available," she says. Even though Hilda and her husband eventually helped her parents find the assistance they needed, it was quite burdensome.
She adds, "I didn't want that to happen to my kids."
As a CCRC, all levels of care will be directly available on Avery Point's campus, and, all health care services will be covered on a pay-as-needed basis. Drawn to Avery Point's security and quality continuing care, Hilda began imagining herself there.
When she discovered that two on-site restaurants would be open to residents as soon as they moved in, she was sold.
"I thought, 'My goodness! Why would I ever want to leave campus?'" quips Hilda. "I looked for a long time before I found what I wanted, and what I wanted was Avery Point. I feel so relaxed, knowing that all of my needs will be taken care of here."
Staying active
Hilda, an avid bridge player, is looking forward to playing the card game with new friends at Avery Point. 
"There are so many other things that I enjoy doing too," she says. "I like walking, I enjoy exercising, and while I usually don't like the water, I want to try water aerobics!"
She may even try knitting - again. "I wasn't a very relaxed knitter," she says, laughing. "When I started a project, I felt like I had to finish it rather quickly. By pursuing a carefree life at Avery Point, maybe I'll want to take it slow!"
While Hilda has a handful of friends who will be moving to the community, she already knows some of her neighbors through the pre-opening events she attended, like the ice cream social, cocktail hours, and a paper-shredding event.
"I'm always open to meeting new people and joining activities, but I really appreciate that residents can be as social as they'd like," says Hilda. "I want to have time to sit in my pretty apartment home and enjoy it!"
Her dream retirement
When asked about her new life at Avery Point, Hilda radiates appreciation. "The peace of mind I've gained since moving to Avery Point is a tremendous benefit. It's what I've always wanted," says Hilda.
And with so much on the horizon for the brand-new community, she's excited to be a "pioneer" through it all.
"Being one of the first residents here has been such a unique opportunity. Without the responsibility and worry of maintaining a home, it's all going to be fun and food and family!" Hilda says.
To learn more about affordable, independent senior living at Avery Point, request your free brochure to get the scoop on amenities, floor plans, and so much more.
Back