Making A Smooth Move to Avery Point
Michele Wojciechowski
September 8, 2023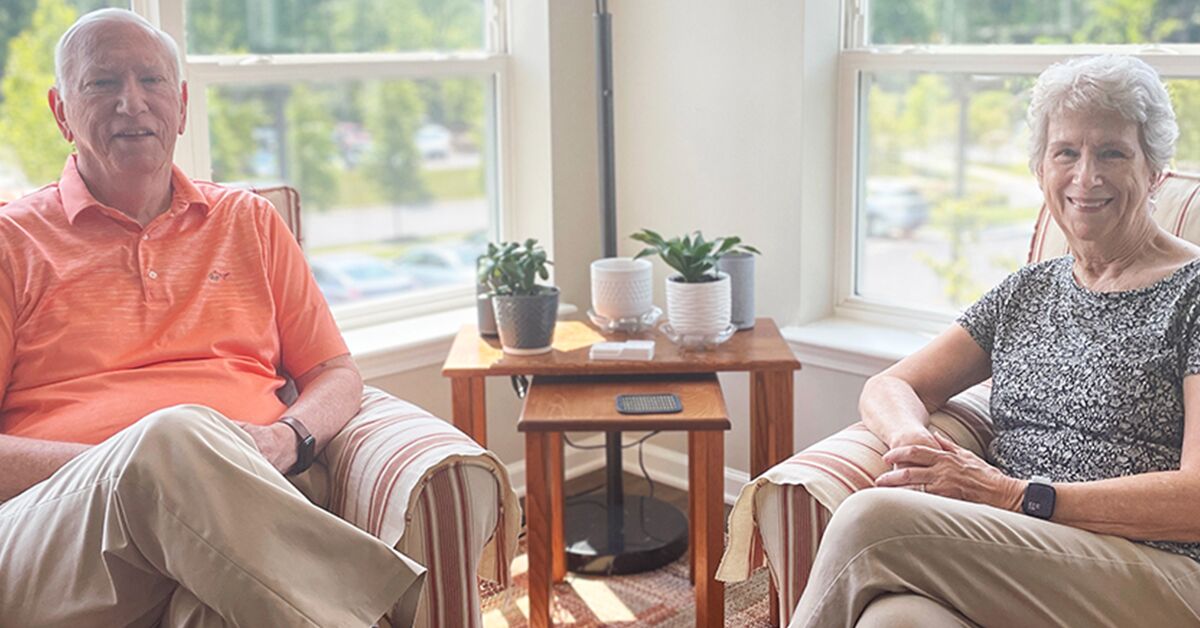 If someone has spent decades working for the Navy, you might think they know everything there is to know about packing and moving efficiently.
But when veteran Charlie Anderson and his wife Sharon were preparing for their move to Avery Point, a new Erickson Senior Living community in Short Pump, Va., they were excited to learn even more tips - courtesy of the Erickson Realty and Moving Services program. 
"We moved with the Navy for over 33 years. I would've loved to have had this type of assistance!" jokes Sharon. 
Erickson Realty and Moving Services connects retirees with trusted resources including preferred real estate professionals, downsizing and packing experts, and moving companies to make the move as streamlined and worry-free as possible. 
Plan your layout
After reserving a two-bedroom, two-bath apartment home, the Andersons asked Jacquelyn Weir, leader of the Erickson Realty and Moving Services program at Avery Point, for some help with downsizing, packing, and moving. 
First on the Andersons' to-do list was a home visit from Weir, who partnered with one of the program's preferred vendors. Together, they helped determine what layout was going to work best in the couple's new apartment home, building around their favorite furniture pieces.
"They were meticulous about measuring everything and asking us what furniture we wanted to take," recalls Sharon. "We were just amazed that they were able to configure everything! We brought a lot more with us than we thought we could."
Charlie adds, "Without their help, I think we would've gotten rid of more of what we wanted to keep. We would've been disappointed when we got here and realized we could have brought more."
Downsize with ease
Next, the Andersons sifted through their belongings to decide what items deserved a new home. 
Once they solidified their "sell" and "donate" piles, the vendor connected the couple with resources to make the process easier for them. 
"We were put in touch with an organization that has two consignment sales each year. On two separate occasions, we got rid of some furniture that we decided that we either didn't want to bring or couldn't bring," says Sharon. 
"For the first sale, we had them come out and pick up our items and deliver them to the consignment," says Charlie. "For the second sale, we could just pack the items and take them ourselves. We ended up not only finding a new home for those things, but also getting a little bit of extra money out of it!"
Thoughtful packing
Charlie and Sharon also had an Erickson Reality and Moving Services-recommended senior moving specialist do all of their packing, moving, and unpacking for them. 
"They did it all!" says Sharon. "It was a dream."
"I was very impressed with them," says Charlie. "We've had a lot of experience with moving, but there were a couple of times where I was saying, 'I can't find this thing.' I was amazed that the people who packed it said, 'That's in the box over there.'"
When the movers were unpacking the Andersons' things, everything was gently carried and thoughtfully placed. 
"They were careful not to make any marks or anything on the doorways and walls," Charlie says. "They went well above and beyond what we were used to having when we moved."
Seamless move
Like the Andersons, Faye Holland took advantage of a preferred vendor's offerings when she was preparing for her move to a one-bedroom, one-and-a-half-bath apartment home with a den at Avery Point. 
"For my home visit, they brought a magnetic board with pieces that resembled my apartment home layout. They showed me what would and wouldn't work in a room," says Faye. "This process gave me time to decide what I was going to do with the furniture and items that I wasn't going to bring."
Once she created her own "sell" and "donate" piles, a moving company stepped in to handle the rest - almost.
"I sold some things, gave some to friends, and gave lots to nonprofits that had stores - so it would raise money for them," says Faye, who was happy to help the local community first. "Then, they took items and gave them to charities. That way, I would not have to make all the arrangements myself and move everything."
On move-in day, all hands were on deck to get her settled in as quickly as possible. 
"Erickson Realty and Moving Services was nice enough to give me some extra hours of unpacking through the moving company. That was extremely helpful!" she says.
'Do it!'
Charlie, Sharon, and Faye agree that they look back on the downsizing, packing, and moving process fondly. 
If you're thinking about utilizing Erickson Realty and Moving Services and their professional vendors when you're planning your move to Avery Point, Sharon has some simple advice: "Do it!"
To learn more about affordable, independent senior living at Avery Point, request your free brochure to get the scoop on amenities, floor plans, and so much more.
Back