Looking Forward to a New Lifestyle and Living Space at Avery Point
Michele Wojciechowski
November 5, 2021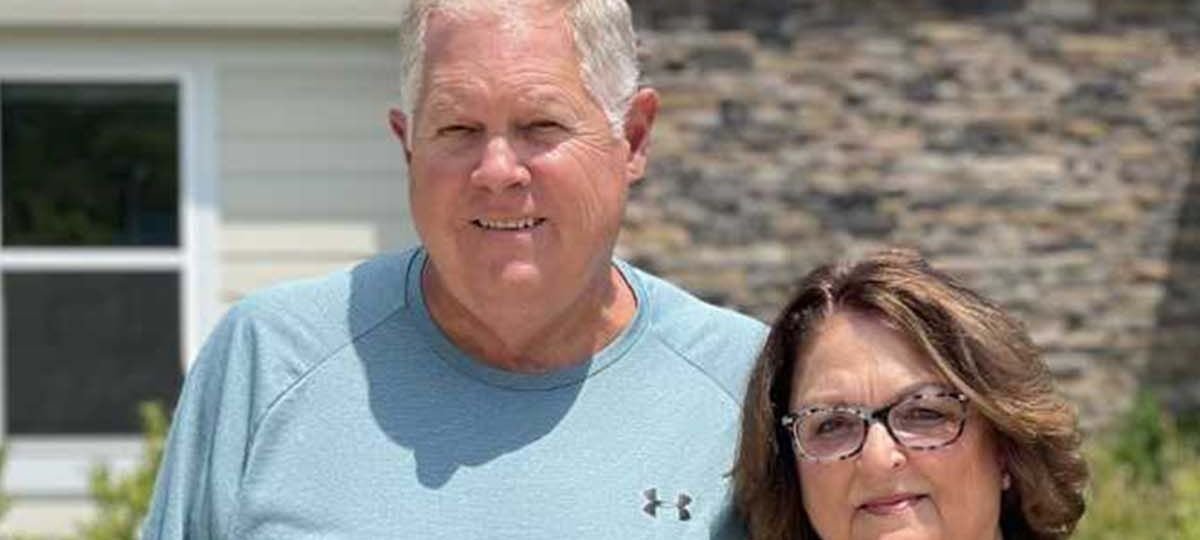 About 16 years ago, Carroll and Terri Bruner intended to downsize when they moved from a single home to a townhouse. "We actually ended up with 500 more square feet," says Carroll. Now that they've decided to move to Avery Point, the Erickson Senior Living community in Short Pump, Va., the Bruners are committed to "rightsizing"-having a more manageable space that really suits their needs.
"We probably use about half the square footage that we have right now, and our house has stairs. I'd like to get all on one floor," explains Carroll.
Since Avery Point is just a few miles from where they currently live, they know the location is perfect. "It's convenient to everything, but it's secluded. The fact that Avery Point is surrounded by woods, I think, is really pretty neat. It's very quiet there. We're still close to friends, to shopping, and to the interstate, if we want to get on there."
Well-prepared for the future
Terri says that their move to Avery Point reflects their interest in having their long-term plans established well in advance. When Terri's mother fell earlier this year, decisions had to be made on her behalf and Terri knows that she wants control of that process if something similar were to ever happen to her.
Terri and Carroll are healthy and live an active lifestyle, but they say that if they ever were to need assisted living, they are glad they wouldn't have to move into a different community. "I think long-term. Looking ahead, we did not want to burden our son with our needs in the future," says Terri.
On the move
Although they have some time before they move into Avery Point in January 2023, the Bruners have already chosen their apartment home design as well as the appliances, countertops, and paint colors. "There are a lot of floor plans to choose from!" says Carroll.
In addition, Carroll says that they're happy to have 24-hour security at Avery Point as well as a medical center nearby and a doctor on staff.
Both Terri and Carroll say that they're the type of people who like to be active and involved. "We like doing stuff. We like getting involved with people and activities," says Terri. "We don't want to go somewhere and just sit."
"We're young-acting, and we want to continue to be," Carroll says.
Variety of dining options
The Bruners also like going out to eat, and they're excited that they'll get to do that right in their own community. "We're looking forward to the dining opportunity, the fact that there's money included in the monthly service package to go towards dining. We enjoy dining out, and I think we'll take advantage of that—going to different restaurants. And it's a good way to meet more people or just to sit down and chat with them about their backgrounds."
While attending events at Avery Point, Carroll says, "We've met so many people so far in these information sessions. It'll be nice to see them at dinner, where you can really sit down—just one-on-one or two-on-two, and get to know them a little bit better."
Kudos to staff members
Besides the location, the activities, and the dining, there's something else that stood out about Avery Point to the Bruners: the staff. "The whole staff out there is just great. They're super nice, very respectful, but also low-key with no pressure. They always have good information," says Carroll. "The neat thing is they always have a smile on their face. I can't say enough about Jim [Antonakos, the sales director] and his team. They're really very good."
Their family is also happy that they're making a move—especially their granddaughter. "We were talking to her about Avery Point, and she said, 'Am I going to have a room like I do now [to visit]?'" says Carroll. "We told her that she'll have a room and added that, by the way, they will have an indoor swimming pool, so you can swim all winter when you come over. She said, 'Okay. Good! When can you move?'"
To learn more about vibrant senior living at Avery Point, request your free brochure and get the scoop on floor plans, pricing, and so much more. Ready to take a look at the endless amenities offered? Schedule a virtual or in-person visit.
Back