It's A Family Affair at Avery Point
Michele Wojciechowski
April 19, 2023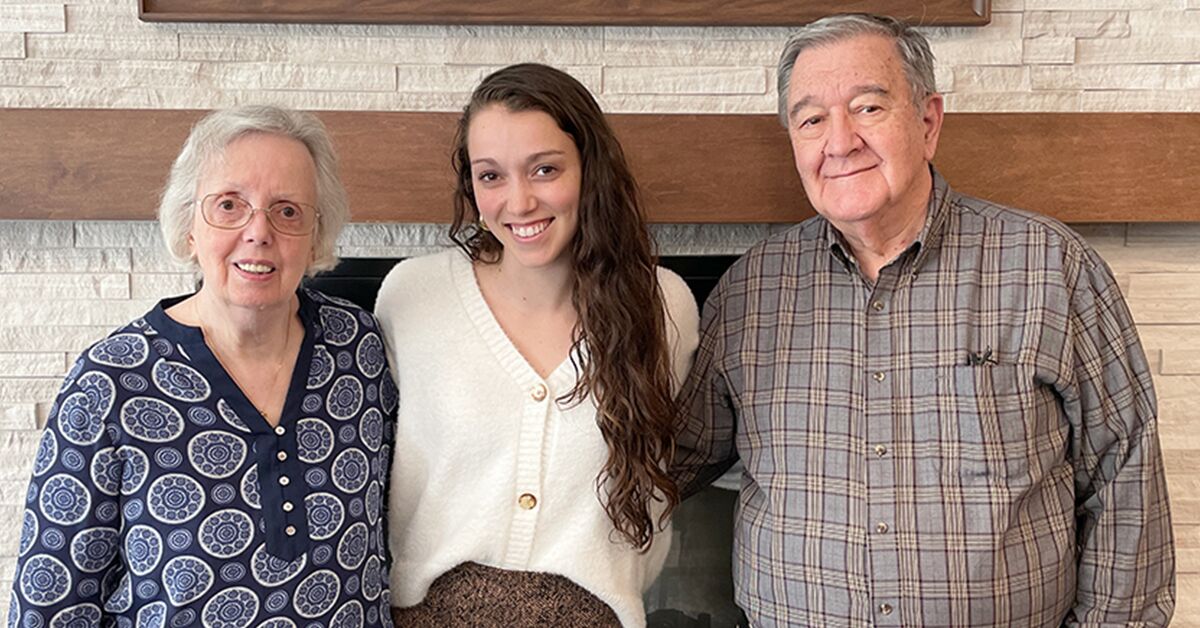 When Kailey Viray caught word that Avery Point, a new Erickson Senior Living community, was coming to Short Pump, Va. - not too far from her hometown - she decided to apply to the sales team.
Viray was offered a job as a sales associate, but because Avery Point wasn't built yet, she was encouraged to visit Charlestown - the first Erickson Senior Living community established - in Catonsville, Md.
Taken aback by the lively, vibrant atmosphere, she thought, "This is so cool. I wish I could move in!"
While Viray still has a few decades to wait, she knew of a couple who would enjoy the active, carefree lifestyle that Erickson Senior Living has to offer now - her grandparents Sue and Dave Gravino.
Viray called her grandparents to share the good news about her job - and to tell them, "Avery Point is going to be a really nice place."
"I told them that Erickson was something they should look into," she recalls. "Charlestown was the first retirement community I had seen that was full of life and active residents. I knew it would be someplace they would love because they are social butterflies."
Unbeatable value
"She said, 'Grandma and Grandpa, you need to move here!'" recalls Sue, with a laugh. "Her excitement surrounding Avery Point was quite convincing, but we really didn't think that we would qualify."
Viray encouraged her grandparents, who had both worked as teachers for years, to speak to Sales Director Jim Antonakos.
"We found out that we did qualify," adds Sue. Thanks to Avery Point's monthly service package, worries like home maintenance and repairs, property taxes, and lawn care are a thing of the past, providing an exceptional financial value.  
In preparation for their move, Sue and Dave joined Avery Point's priority list to learn about construction updates, attend exclusive events, and get to know their future neighbors.
Settling in
So, when the community opened in October 2022, the Gravinos - and their cat, Peppy - were ready to move in. And because Sue and Dave decided to take advantage of the Erickson Realty and Moving Services support available to them as priority list members, their move-in day was a breeze.
Professional movers packed up their belongings, stored them overnight, and then brought all the boxes to their one-bedroom, one-and-a-half-bath apartment home.
"The movers brought everything! They even unpacked our boxes according to the layout that had already been designed for our floor plan," says Sue. "They assembled our bed too, which was such a big help."
Lots to do!
Since settling into their new surroundings, Sue and Dave are making the most of the community's worry-free lifestyle.
They've both joined the book club at Avery Point, which formed before the community was finished being built, and Dave is helping to start another one.
Two nights a week, Sue and Dave teach English as a second language (ESL) classes, and on Fridays, they work at West End Thrift, a thrift store run by their church, West End Assembly of God.
Most days, the couple also visits the fitness center to get a workout in. Sue can be found on the NuStep while Dave pedals away on a stationary bike.
"The bikes have TVs on them, so I do 40-minute guided tours of various countries," says Dave.
With her green thumb, Sue likes to plant vegetables in her plot at the community garden and tend to potted flowers on their balcony. Dave, who has been participating in a Bible study on campus, would like to start one himself.
"I might have to retire from my volunteer job as a bookkeeper for a small Kenyan mission," jokes Sue. "I've had the position for many years, but there's just so much to do at Avery Point! Next, I want to become a member of the Welcome Home program, so I can greet prospective residents and tell them how much I love our new home."
'The best place'
Viray, who has since been promoted to sales manager, is so pleased to see her grandparents thriving at Avery Point. "Avery Point is good enough for family. It's good enough for everyone!" she says.
Sue and Dave couldn't agree more.
"We have everything we need here," says Sue. "We've been telling our former neighbors to move in. It's the best place in town! Something's always going on."
To learn more about affordable, independent senior living at Avery Point, request your free brochure to get the scoop on amenities, floor plans, and so much more.
Back