A Fulfilling Retirement at Avery Point, Fostered by Community
Michele Wojciechowski
April 19, 2022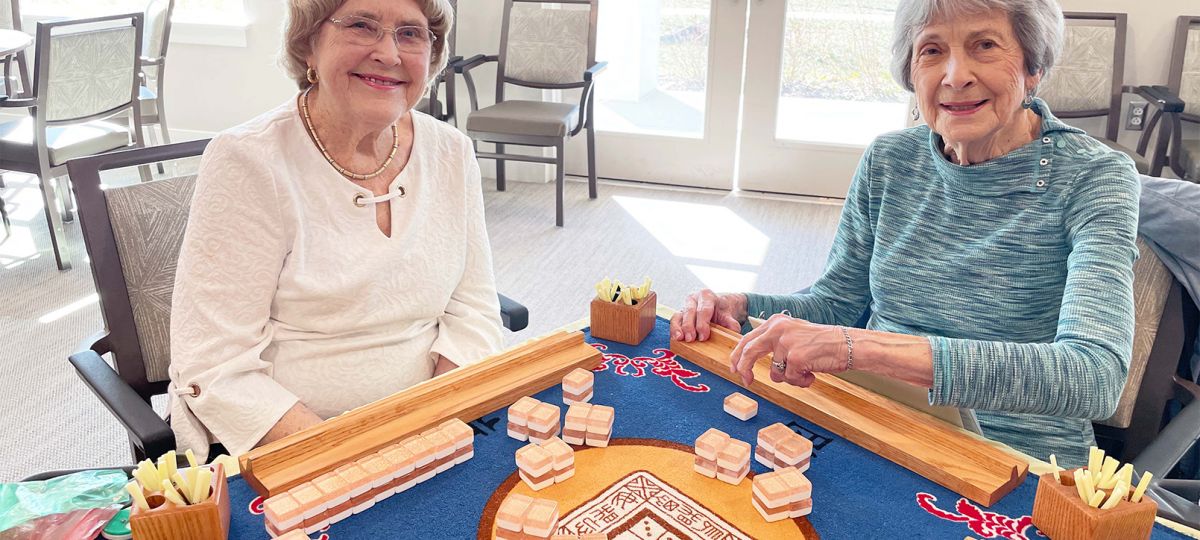 When Janet Jones reserved an apartment home at Avery Point, the Erickson Senior Living community in Short Pump, Va., it was an easy, confident decision.
Her late parents had spent many enjoyable years living at Oak Crest, another Erickson community located in Parkville, Md., and she loved visiting them.
Firsthand experience
"I went to visit them so often, and I would stay for a week at a time," Janet recalls. "So I really got a feel for what Erickson Senior Living communities are all about. I was totally taken with it."
She continues, "There was just something going on all the time, and it was a great place to meet people. If you were having a quiet day and needed something to do, you could just walk down the hall, and you'd see somebody to talk to."
So it's not surprising that when Janet heard about an Erickson community coming near Richmond, she attended the first informational meeting.
"I think the whole idea of fostering 'community' is just so wonderful," says Janet. "I like the social aspect of it all. My mother was a very social person - I guess I'm my mother's daughter!"
Social butterflies
Janet says that she's looking forward to all the activities offered at Avery Point, as well as spending time in her apartment home with friends, old and new.
She quickly made friends with about 15 people who are also moving to Avery Point during Phase I and Phase II, and she continues to expand her social circle. Janet visits the sales office at the community twice a month to play mah-jongg with future residents.
"I'm also looking forward to the meal plan, of course. I'm really excited about that. I'm tired of cooking!" she says, with a laugh. And with the convenience of on-campus restaurants, Janet will be able to chat and dine with neighbors whenever she chooses.
But Janet says that out of everything Avery Point will provide, "I'm most looking forward to just being in a new place and meeting more people. I've met so many already at socials they've held!"
A close community
Like Janet, incoming resident Joanne Livingston is also excited to be a part of a close community when she moves to Avery Point during Phase I.
The mah-jongg games at the sales center have also attracted Joanne. "I really enjoy the games and meeting people," she says. Joanne is thrilled to say that she's gained 13 friends by meeting future residents, some of whom will be moving in on her floor. "I've already met my next-door neighbor!"
As a "Life Master" player in duplicate bridge, Joanne is eager to see if she meets a worthy competitor at Avery Point. She would also like to participate in new programs, such as art and discussion groups, she adds.
Peace of mind
Joanne chose to reserve an apartment home at Avery Point for a number of reasons. She wanted to be near her children and grandchildren, some of whom live only a few miles away. The array of top-notch amenities were also high on her list.
"Although I've been very happy in my home, it's time for me to make the move," says Joanne. "I want to downsize and have my affairs in order for [my children]. I think it's kind of a favor to your children if you make it as easy as you can for them."
Joanne and her family appreciate the peace of mind that comes with knowing she'll be well cared for at Avery Point. The on-campus medical center, staffed by trained medical professionals, can cater to any health concern she may have, now and in the future.
She's also ready to adopt the community's carefree lifestyle. "I don't want the responsibility of taking care of maintenance anymore. There will be many services and activities available to me at Avery Point!"
Invest in your future self at Avery Point. From top-notch amenities to affordable, maintenance-free apartment homes, you are sure to live your retirement to the fullest. Request more information today!
Back