Experienced Staff Sets Avery Point Up for Success
Michele Wojciechowski
October 26, 2022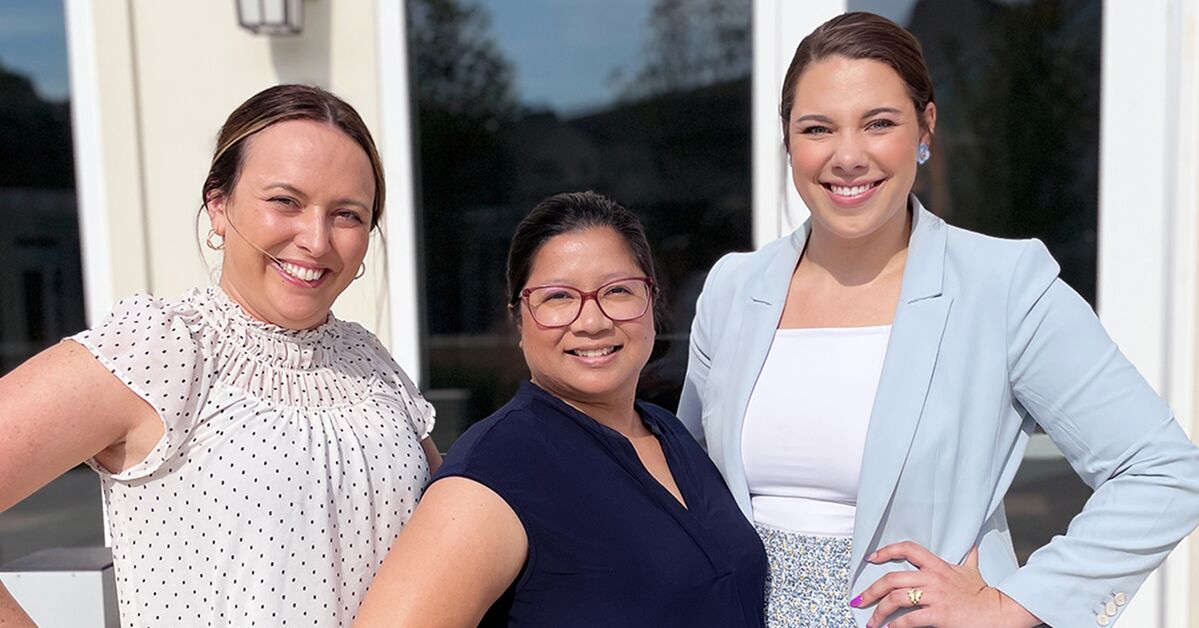 When Avery Point, the Erickson Senior Living community in Short Pump, Va., opened its doors to new residents this fall, everything was new. Well, almost everything.
A number of staff members working at Avery Point have years of experience in the senior living industry, as they transferred from other Erickson Senior Living communities along the East Coast.
"I don't ever want to leave!" says Senior Sales Associate Alyssa Himes of the company's caring culture, and many of her colleagues share the same sentiment.
Read about what these tenured Erickson employees are looking forward to in their new roles at Avery Point:
Alyssa Himes
Senior Sales Associate, 3 years' experience
For eight years, Alyssa Himes worked as a property manager for a residential leasing company in Baltimore, Md., but she wasn't happy. Eager to find a fulfilling role with a company that supported her successes, she pursued her neighbor's recommendation to check out Erickson Senior Living.
"On my first round of interviews, I knew Erickson was the place for me," Himes recalls. "Everyone I talked to at Oak Crest was so friendly!"
Himes worked at Oak Crest, the Erickson Senior Living community in Parkville, Md., from 2019 until 2022, when she accepted her new role at Avery Point.
The most inspiring thing she experienced at Oak Crest, says Himes, was receiving written letters from residents personally thanking her for the help she's given them. "It reinforced the fact that I am making a difference in residents' lives, and it reminded me why I am here," says Himes. "Everyone at Erickson is on your side and wants to see you succeed."
Looking ahead, Himes is excited to bring Erickson's worry-free, vibrant lifestyle to more retirees. "Just being able to say that I was here, to help 'start up' Avery Point, is a huge accomplishment alone," she says.
Karen Smith
Facilities Manager for Housekeeping and Transportation, 8 years' experience
Karen Smith began her career with Erickson in 2014 as the general services coordinator at Greenspring, the Erickson Senior Living community in Springfield, Va. She then took her talent a hop, skip, and a jump away to Riderwood, another Erickson community located in Silver Spring, Md.
Unlike other companies that Smith had applied to, Erickson exemplifies the standards and values she lives by.
"I wanted to be part of a company that allowed me to remain humble, while still being able to make a difference," Smith says. "I've gained a lot of experience between the time I initially starting working for Erickson until now, and I've brought the best of those experiences to Avery Point."
Returning to the state where she started her career, Smith is enthusiastic about building Avery Point's sense of community from the ground up. "I wanted to experience being a part of an Erickson community from the very beginning. It's another chance to meet new residents who have lived interesting lives, and I'm honored be there as they start their next chapter," says Smith.
Joanna Velazquez
Resident Services Coordinator II, 1.5 years' experience
After 11 years of raising her kids and working part-time, Joanna Velazquez went to work full-time at Cedar Crest, the Erickson Senior Living community in Pompton Plains, N.J., in 2021.
Although moving to Avery Point was an opportunity for career growth for Velazquez, she was also inspired by the idea of forming a brand-new community.
"I've worked for start-up organizations before, but they never got off the ground," she says. "Because Avery Point is an Erickson community, with strong leadership and a developed strategic plan in place, it will grow to reach its full capacity and potential. I want to help execute this vision and witness its growth."
There's a supportive environment for employees and management cares deeply about each employee's well-being, says Velazquez, which is what she loves about Erickson. "I'm excited! The door is wide open for Avery Point. By combining best practices, creative ideas, and brand-new resources, we'll create a wonderful community."
Jacquelyn Weir
Sales Associate and ERMS Program Leader, 3 years' experience
With Jacquelyn Weir's mother working at Greenspring for nine years, she was very familiar with Erickson's mission of helping residents live better lives.
"I used to come home during holiday breaks in college and visit her for lunch," says Weir. "I met so many staff and residents that made me feel right at home every time I came to visit. Seeing how my mom impacted so many lives here made me want to do the same!"
Weir began working at Greenspring, as well, in 2019 as a philanthropy coordinator. But when the opportunity to help establish a new community presented itself, Weir jumped at the chance.
"I'm looking forward to watching all of our pioneer residents get situated in their new community - starting groups and clubs, meeting one another, and understanding, firsthand, the benefits of living in an Erickson community," she says.
Invest in your future self at Avery Point. From top-notch amenities to affordable, maintenance-free apartment homes, you are sure to live your retirement to the fullest. Request more information today!
Back