Erickson Realty and Moving Services Can Make Your Move to Avery Point Stress-Free
Michele Wojciechowski
July 13, 2022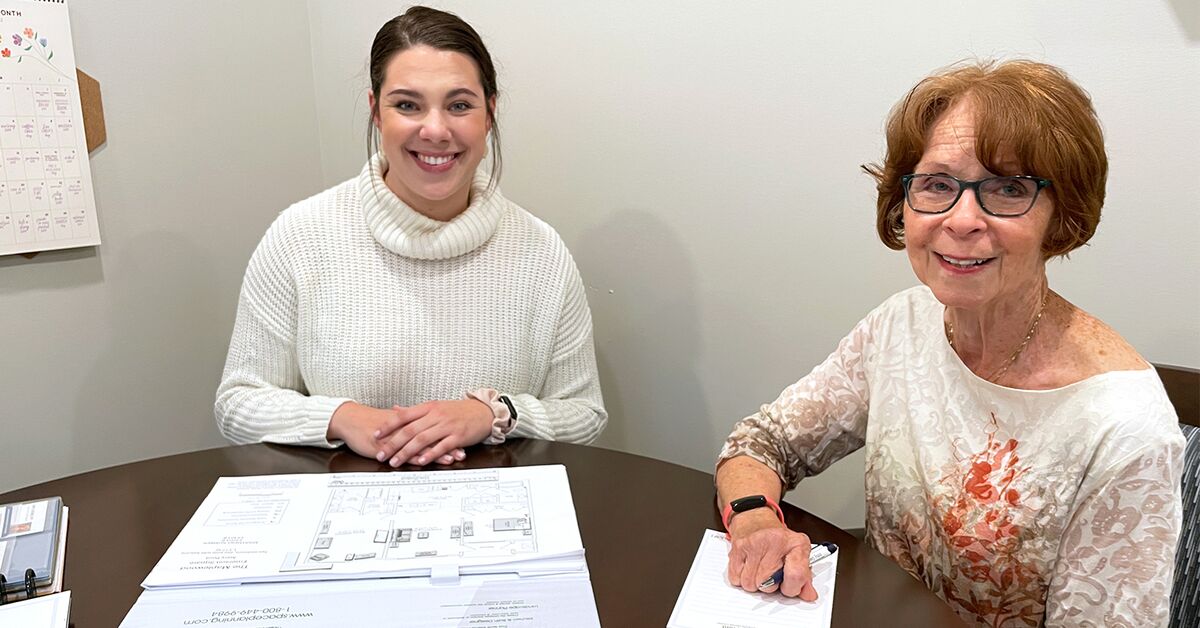 Perhaps you've been thinking about moving to Avery Point, the Erickson Senior Living community located in Short Pump, Va. Looks like a great place, right? Tons of amenities, activities, and opportunities to make new friends.
But then you look around your house. You've been living there for 30, 40, or maybe even 50 years. Like most people, you've accumulated a lot of stuff. What would you take with you? What would you donate or sell?
Suddenly, your hopes of moving seem like too much. But have no fear - Sales Associate Jacquelyn Weir and Erickson Realty and Moving Services are here, and they will make your move so much easier.
Planning your move to Senior Living
Once a prospective resident communicates interest in moving to Avery Point, a senior move manager and Weir - head of the Erickson Realty and Moving Services program at Avery Point - will visit the person's or couple's home. The duo brings along a couple of floor plan options for each home visit, regardless of whether an apartment home has been reserved.
"We measure the pieces of furniture that they're hoping to bring with them, and we plan it out on those different floor plans," Weir explains. "We literally go piece-by-piece. If they have antiques that they don't want to bring, we can connect them with people and services that will come in and take those pieces to auction for them. If they have pieces that they want to donate, we connect them to organizations that will come and pick them up."
Looking at what furniture will fit in their new apartment home, Weir says, really helps a lot of future residents. "This is the opportunity for them to visualize. They can start to picture themselves in their apartment home," says Weir.
Best of all, these appointments with Weir - the home visit, floor planning, and downsizing consultations - are at no charge to priority list members.
Senior realty and moving experts
Possibly the most daunting part of the process, Weir says, is putting up the for-sale sign. But she can assist you through this challenge as well. With more than 20 preferred real estate agents to choose from in the greater Richmond area, Avery Point has your back.
"They're from all walks of life and from completely different areas. The preferred real estate agents we choose to work with have targeted knowledge of different neighborhoods, ZIP codes, and trends in those various areas," Weir explains.
In addition, Weir says, this gives future Avery Point residents some peace of mind.
"Our preferred real estate agents go through a rigorous screening process. You won't have to work with a company that may not know the area as well - and may have no idea what they could get for their house. This further enhances the personalized experience," she says.
Need some repair work done to get the best value for your house? Don't fret. Weir comes to the rescue, yet again! With Weir's extensive list of painters, plumbers, and the like - who can help you with any project that'll get your house sale-ready - there's no need to hunt for the services yourself.
"And, just like our preferred real estate agents, you have the comfort of knowing that we have screened these handy men and women as well," adds Weir.
There's another benefit of working with Avery Point's preferred partners - saving money. Thanks to the Move On Us program, you'll be reimbursed up to $2,000 for working with a preferred real estate agent. Weir also notes that several of the partners they recommend offer discounted rates, specifically for future residents of Avery Point.
"We've worked with these service providers to help with the financial cost of moving," says Weir. "People love the convenience of having all these resources lined up for them."
Move-in day at Erickson Senior Living
You've reached the big day - time to get those boxes from Point A to Avery Point. And believe it or not, Weir has you covered for this stressful day too. Avery Point has partnered with local movers who have senior-specific divisions.
"They take very special care of everybody's personal items, because they're used to working with antique pieces," says Weir. "Also, people can be as involved as they want. If you want to do your own packing and unpacking and just pay the movers to move your items, you can do that. But if you want them to do it all, that's an option as well."
Weir adds, "We've worked with these movers; we've gone out and seen how they've worked with different households, and we definitely are able to put the stamp of approval that we support what they do. We couldn't recommend them enough!"
Erickson's Senior support system
Connecting future residents with the right resources, Weir says, is crucial to keeping the moving process going - and this includes her, as well.
"I often tell people, 'I am your resource at all times,'" says Weir. "They can even call me on the weekends. I'm here for them! We can help prospective residents do it all."
To learn more about affordable, independent senior living at Avery Point, request your free brochure to get the scoop on amenities, floor plans, and so much more.
Back