Design Your Dream Dwelling at Avery Point
Michele Wojciechowski
May 4, 2023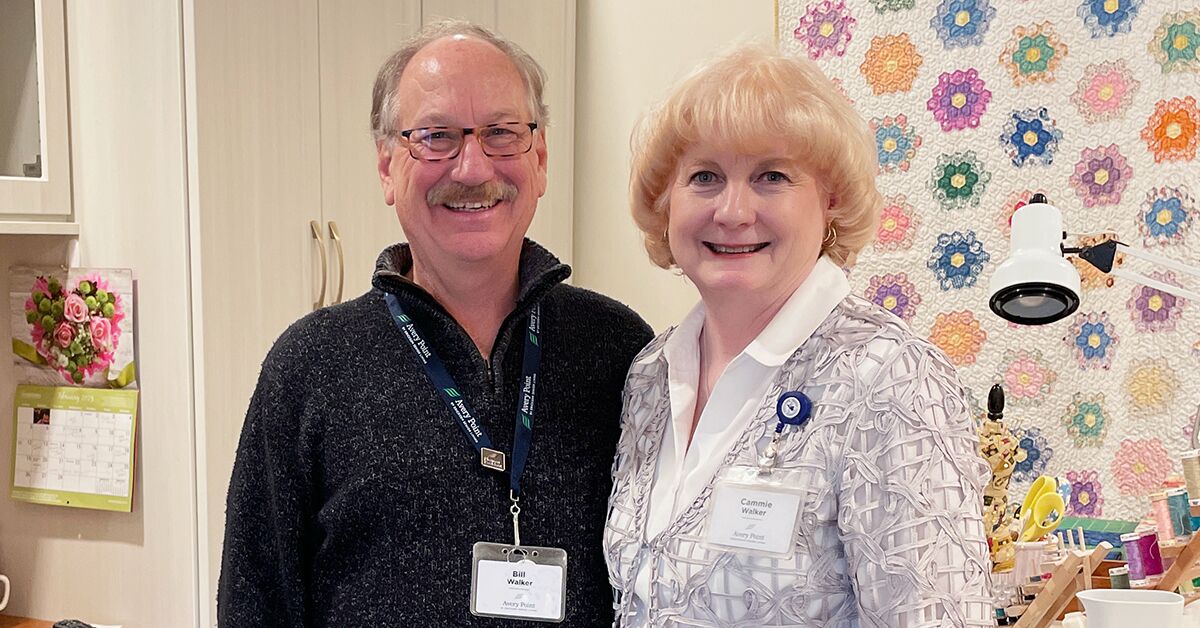 When you move to an active senior living community, you'll want an apartment home that suits your new lifestyle. And after years of maintaining rarely used spaces, you'll appreciate a thoughtfully designed living space that perfectly meets your current wants and needs. Plus, no more costly house repairs - indoors or outdoors!
That's exactly what Cammie and Bill Walker have as residents of Avery Point, a brand-new Erickson Senior Living community located in Short Pump, Va.
The Walkers were well-acquainted with the advantages of the community's worry-free lifestyle even before they moved in, since Bill's parents have lived at Ashby Ponds, an Erickson Senior Living community in Ashburn, Va., for ten years. 
"Everything Erickson and Avery Point do is just first-rate," says Bill. "It's really impressive stuff!"
Now, following in their family's footsteps, the couple is making the most of their space and the maintenance-free lifestyle that comes with it.
Making a game plan
"We're both still working full-time," notes Cammie, "so the primary reason for us moving to Avery Point right now was to simplify our life. We wanted the convenience of not having to deal with yard work and all the upkeep of an aging home."
Bill and Cammie chose an apartment home with two bedrooms, two bathrooms, and a den - with dreams of transforming some of the spaces into a sewing room and a home office. 
"I love everything about it! The layout is great. I like the fact that the main living area is open and airy, while the bedrooms are secluded away, so that you feel like you really do have privacy," says Cammie.
While attending a resource fair, the Walkers met Erickson Senior Living-approved vendors who could bring their visions to life. 
Cammie spoke with a custom closet company there because, she admits, "One of my biggest frustrations with having a sewing room in our old house was that I didn't have enough storage."
With a portfolio of contacts and remodeling ideas in hand, the Walkers curated a game plan to personalize their new home.
Customize your space
The den, which now features beautiful French doors to offer privacy when needed, serves as Cammie's sewing station and work area.
"When you quilt, you have to have different types of fabrics. You also need a big supply of thread, needles, and sewing machines," says Cammie. "So, a representative from the custom closet company designed an entire wall unit with two floor-to-ceiling cabinets. The shelving inside holds all that stuff for me!"
As a home health nurse, Cammie often has a lot of documentation to complete for all of the patients she sees throughout the day.
"We put a desk in there as well, which has been so helpful," she adds. "It gives me a workspace - not on the kitchen island anymore! It's tucked out of the way, free from distractions, and I can keep my computer set up for as long as I need to. It's just really nice." 
The second bedroom was transformed into a home office, where Bill works about once a week. 
Next to his desk are file drawers that, as Cammie says, "Keep things from just sitting in stacks here and there. It gives us an organizational spot to keep all of our personal paperwork."
'A place for everything'
At Erickson Senior Living communities, residents appreciate the opportunity for new beginnings - and the ability to create beautiful spaces where they can live the carefree retirement they've always imagined. 
But no matter what floor plan you select or where your apartment home is located on campus, you'll enjoy access to Avery Point's array of amenities and activities, all of which are just a short stroll away via climate-controlled walkways. 
Since moving to Avery Point, the Walkers have ventured out of their custom apartment home quite a bit to chat with neighbors over dinner at the community's restaurants. They're looking forward to joining clubs and activities as well. 
"They've got a wine tasting group I'm trying to work into my schedule," says Bill. 
And Cammie, who feels more organized than ever, is appreciative of all that Avery Point has to offer. 
"For the first time in my life, I feel like I have a place for everything, and it's easy to maintain," she says. "Like Bill says, it's first-rate, classy, and very welcoming. It makes us proud to say that this is our new home!"
Invest in your future self at Avery Point. From top-notch amenities to affordable, maintenance-free apartment homes, you are sure to live your retirement to the fullest. Request more information today!
Back