Communitywide Turkey Trot Celebrates Its Second Year at Avery Point
Michele Wojciechowski
November 15, 2022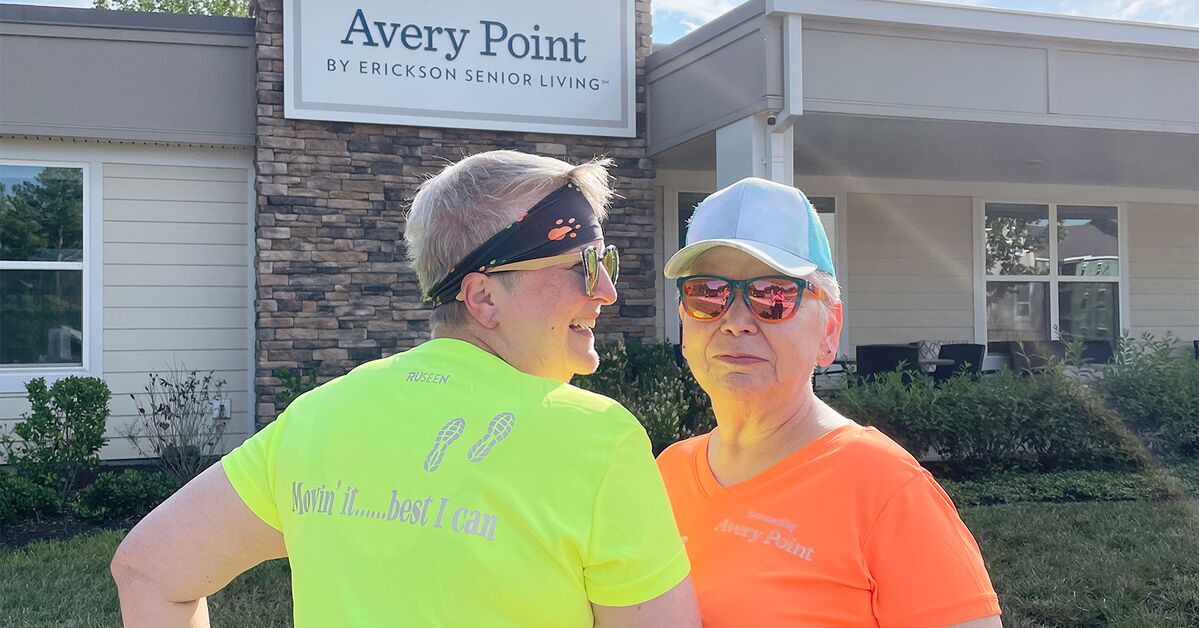 About 20 years ago, Cindy and Madonna Byrkeland decided to pursue a healthier lifestyle by changing their diets and adding exercise to their schedules. Decades later, this decision helped the couple start a new tradition.
"We started walking with some friends of ours early one Thanksgiving morning, and we've done it every year since," recalls Cindy.
Eager to share the health benefits of this tradition with others, the Byrkelands introduced their version of the Turkey Trot to Avery Point, the Erickson Senior Living community in Short Pump, Va.
Staying active
Cindy and Madonna will be moving into their deluxe one-bedroom, one-and-a-half-bath apartment home at Avery Point in early 2023.
"We thought it would be really fun if we planned a Turkey Trot for the community, so we could get to know some of our future neighbors who were a little more active," explains Cindy.
Since selling their house, the Byrkelands have been living at an apartment development nearby, where about a dozen other future Avery Point residents are staying as well.
"We kept meeting people, who were also going to be living at Avery Point, who were walking in the neighborhood at the same time as we were," says Madonna. "So we thought, 'Why not?' That's what made us think this Turkey Trot was a good idea for the community."
Gaining support
The inaugural Avery Point Turkey Trot was held last Thanksgiving. Recognizing that participants most likely had other traditions to fulfill, Cindy and Madonna encouraged everyone to walk as far as they wanted.
"People needed to be able to get home to do their cooking," explains Cindy, "if that's what they had to do!"
Everyone met at Avery Point's sales center, where the couple had their car set up with goodie bags, as well as instructions for all participants. Goodie bags contained personalized certificates to commemorate the event and brightly colored T-shirts - displaying the Avery Point logo, footsteps, and a slogan that read, "Movin' it…best I can" - that were donated by staff.
Time to trot
From the starting line at the sales center parking lot, there were several different "trails" the participants could take.
"It was great. There's no traffic on Thanksgiving mornings, so we were able to walk in the street. In fact, we called ourselves the streetwalkers!" says Cindy with a laugh.
Even people who really wanted to participate, but couldn't be there due to out-of-town travels, promised that they would walk on Thanksgiving morning as if they were there. 
"We got great reviews!" adds Cindy, who is anticipating even more participants this year, as some residents will already be living on campus by Thanksgiving.
Looking forward to having larger groups, "There will typically be someone who walks like you walk. Different people walk different paces, depending on their leg stride, leg length, and so on," explains Cindy.
Keeping up traditions
Now, the couple points to more than one reason for keeping Avery Point's Turkey Trot going.
"I enjoy walking because, frankly, after you've had a hip replaced like I have, that's what I can do. So, I just enjoy the walk!" says Madonna.
"We both believe in health and exercise and keeping that going as long as possible," adds Cindy. "Plus, I've joined almost every small group at Avery Point. I prefer to meet others in small groups because I'll get overwhelmed if there's a huge number of people. So, this was a great way to meet other new faces as well."
This year's Turkey Trot will include a number of different "trail" options to accommodate a variety of ability levels.
"It's a fun tradition. People have lots of things to be thankful for, but one of the things that we don't normally give thanks for is being able to move on Thanksgiving morning," jokes Cindy. "It's great to celebrate with the people you meet - the people you're neighbors with. There's a lot to give thanks for!"
To learn more about affordable, independent senior living at Avery Point, request your free brochure to get the scoop on amenities, floor plans, and so much more.
Back