Avery Point's Dining Staff Represents Restaurant Excellence
Michele Wojciechowski
November 3, 2023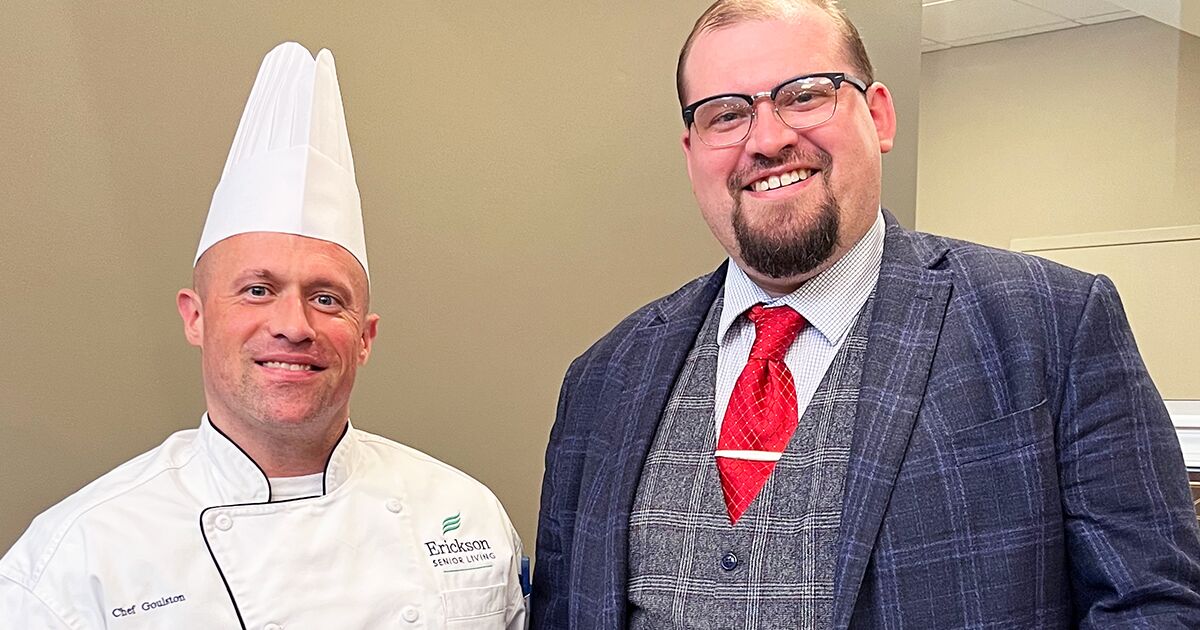 The meals served at on-campus restaurants at Avery Point, an Erickson Senior Living community in Richmond, Va., are delectable works of art--thanks to the talented dining services staff.
Dining Director Charles Stetson and Executive Chef Seth Goulston ensure that all breakfast, lunch, and dinner dishes are not only good to look at, but good for residents' health, as well. 
"I always tell people that you eat with your eyes first. Food can be delicious, but if it doesn't look appetizing, no one's going to eat it," jokes Stetson. "That's why we get produce delivered seven days a week--to make sure that it's as bright and fresh as possible."
Expect the best
Whether residents are enjoying fine dining at The Point, casual meals or Sunday brunch at The Creek, happy hour snacks at Magnolias Bar, or a full-service experience at The Fireside, they can expect the best.
In addition to using only the freshest ingredients, the dining services staff is trained to prepare food perfectly, whether it's steak, chicken, or pasta. And Stetson and Goulston work diligently to create a menu full of healthy foods that cater to everyone's taste. 
"It's the small details that really make it great," says Stetson.
Years of experience
Many people on the dining services team--85 people total--have worked and trained at some of the best local and national hotels, restaurants, and caterers. 
Goulston, Sous Chef Ahmed Yousef, and Lead Line Cook Shawn Herron all previously worked at The Jefferson Hotel, a 200-year-old, Forbes-ranked, five-diamond property in downtown Richmond that is home to three fine dining restaurants.
"Our residents love that we have chefs from The Jefferson," Stetson says. Other staff have worked at Napa Kitchen, Buttermilk and Honey, and Casa Del Barco.
But that's not all. Goulston worked privately for billionaire Dan Snyder, former owner of the NFL's Washington Commanders; at The Stables at Belmont in the museum district; and for Ridgewells Catering, whose cuisine has been enjoyed everywhere from former president Barack Obama's inaugural address to Super Bowls and tennis opens.
Star-studded career
Stetson got his culinary start as a 12-year-old "butter boy" at the Commodore Club at The Tides Inn, a resort on the Chesapeake Bay, where he would spread butter on rolls for the restaurant's diners. 
Throughout his career, he has worked at Charleys Waterfront Cafe; Cafe at Poplar Hall; and at his alma mater Longwood University, where he fed an astounding 4,500 students a day. He has also served dignitaries including several governors, NBA Hall of Famers, President Joe Biden (when he was campaigning for vice president), and superstar Taylor Swift.
Before coming to Avery Point, Stetson was general manager of The Boathouse at Sunday Park and Goulston was an executive chef at Casa Del Barco--which are owned by the same company.
"Between the two of us, we brought 18 people from that restaurant group to Avery Point," says Stetson.
'Sense of community'
Unlike many restaurants in the industry, Avery Point offers the advantages of community and work-life balance. 
"It feels good working here," says Goulston. "You get to see the same residents every day, and you build relationships with the people you work with."
"I was looking for that sense of community and belonging," agrees Stetson. "Our schedules are also unbeatable. Right now, we close at 7 p.m., and staff is home by 8:30 p.m. That's unheard of in the restaurant world."
Stetson and Goulston also ensure that the work environment is stable and supportive.
"We guarantee our employees a 40-hour work week, even during slower times. At restaurants, workers get sent home during slower hours to save on payroll," explains Stetson. "While there are good places to work in the restaurant world, many can be toxic. That's not anything Seth and I have ever been comfortable with. It's refreshing to work somewhere you feel appreciated."
Serving with a smile
While the duo looks for talented chefs who bring creativity to the cutting board, soft skills like good communication are a must. 
"We can teach skills needed for the kitchen, but we can't teach personality," says Stetson. "We hire staff who smile, are personable, and make eye contact--people who share the Erickson Senior Living culture. This is our residents' home. We might work here, but this is where they live. Happy employees mean happy residents."
"A smile is worth a thousand words," agrees Goulston. "That's what really makes Avery Point a pleasant place to be."
To learn more about affordable, independent senior living at Avery Point, request your free brochure to get the scoop on amenities, floor plans, and so much more.
Back