Serving Up Food and Friendship at Ann's Choice
Jill Dutton
September 6, 2022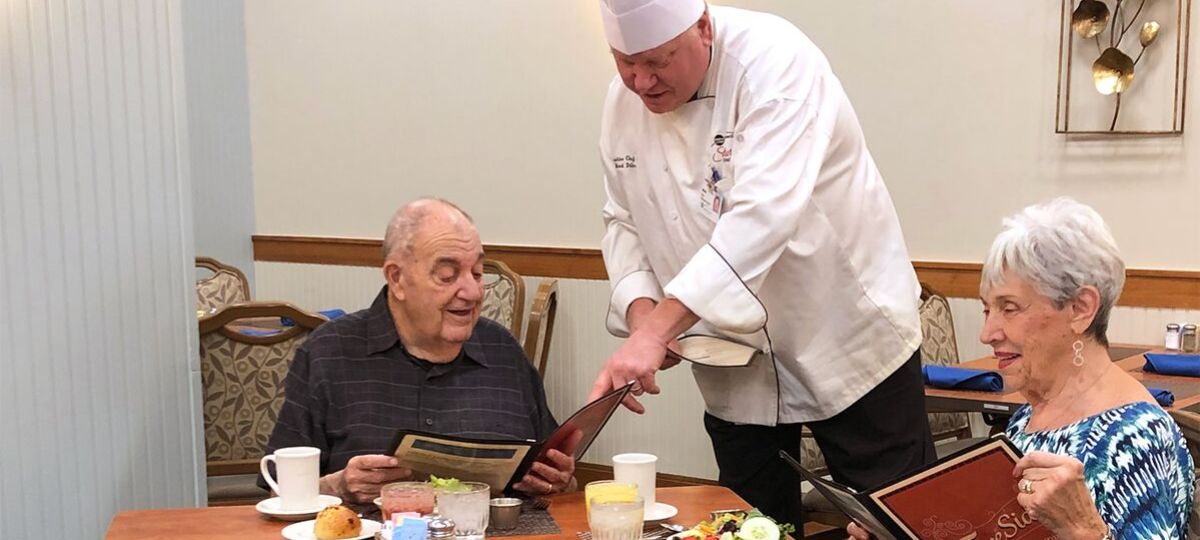 Rose Hill is quick with a response when asked what she likes best about living at Ann's Choice, an Erickson Senior Living community in Bucks County, Pa. "I like dining with my friends!" she answers.
Since moving to Ann's Choice 18 years ago, Rose and her husband Paul have created quite the social circle. "Paul and I have been here a long time. We have a combination of connections - old friends that we knew before we moved in and our new friends and acquaintances. I eat with somebody different almost every night! People invite me to have dinner with them. It's just wonderful to be able to experience all the wonderful people that are here."
And with three on-campus restaurants to choose from - plus a café and a pub - the menu options for Rose and her friends are nearly endless.
A menu for all tastes
The community's Signature Dining program, which emphasizes preparing fresh, made-to-order meals, is what draws residents in for local flavors and classic dishes.
The Signature Dining program also allows the community's culinary professionals to showcase their talents, says Chris Camacho, assistant dining services director at Ann's Choice. "It provides our culinary team with the opportunity to offer the highest quality dishes and service," he says. "By cooking meals as they are requested, our chefs are able to better meet the dietary restrictions and food preferences of residents."
The Fireside, Signatures, and The Garden Room restaurants each features a core menu, plus a variety of unique specials, desserts, and soups. Banners, the quaint café, offers handcrafted drinks and bakery items. Acorn, the pub-style venue, is the perfect place to grab a drink with friends.
"There are chicken, beef, pork, seafood, and vegetarian items - all the time on every menu in every restaurant," says Camacho. "Favorite menu items include meatloaf and crab cakes. Entrée salads are very popular too. Another big seller is the chicken parmesan."
"I like to sample a variety of foods," says Rose, "so I'm especially pleased with the many offerings. There's always something that's appealing! Finding something new to try is easy." But Rose says she also appreciates her go-to, favorite dishes.
The freshest ingredients
"We get a lot of feedback, and we tailor the menus to reflect resident input," Camacho says. "We also try to include a seasonal menu, where we incorporate in-season items that taste so fresh when we serve them."
Some fall menu items that people look forward to each year include a cream-based pumpkin soup, a pork dish served with cooked apples, and ripe produce such as acorn squash and pears.
Special events and themed dinners are a favorite among the community as well, especially for Judy Wright. "A couple of times a year, we have special events called elegant dining nights. Everyone dresses up, they have a live band, and serve lobster and filet mignon," says Judy. Holidays like Independence Day might bring food items such as potato salad, burgers, and hot dogs. "Foods you would serve yourself if you were having a cookout," Judy notes.
Camacho adds that while these festive get-togethers are always a hit, residents appreciate the care and detail that is placed into every meal on a daily basis. "Everything is made from scratch and all ingredients are fresh. We add no preservatives nor any binders to the food. Everything is cut and prepared in-house."
For those with specific dietary needs, people can use the My Nutrition section of My Erickson®, an app available to residents on a smart device, to look up nutritional information for any entrée served.
Dining and dishing
Whether residents dine to catch up with friends or meet a new neighbor, meal time is always a social event at Ann's Choice.
"Our restaurants are some of the most visited spots on campus," notes Camacho. "Typically, people are coming between one and three times a day, so the atmosphere we create - not only with food, but with décor and attentive service - really matters."
Student servers have a significant, positive impact on the dining experience at Ann's Choice, adds Judy. "The service is good. The young people that work in the restaurants are very sweet, very respectful."
"Community members develop relationships with our student servers, and they learn so much from each other," Camacho says. "We are a family here. We know each other's first names. It's a warm, inviting environment, and I think that is true for our restaurants as well."
Invest in your future self at Ann's Choice. From top-notch amenities to affordable, maintenance-free apartment homes, you are sure to live your retirement to the fullest. Request more information today!
Back