Dining Deliciously at Woodleigh Chase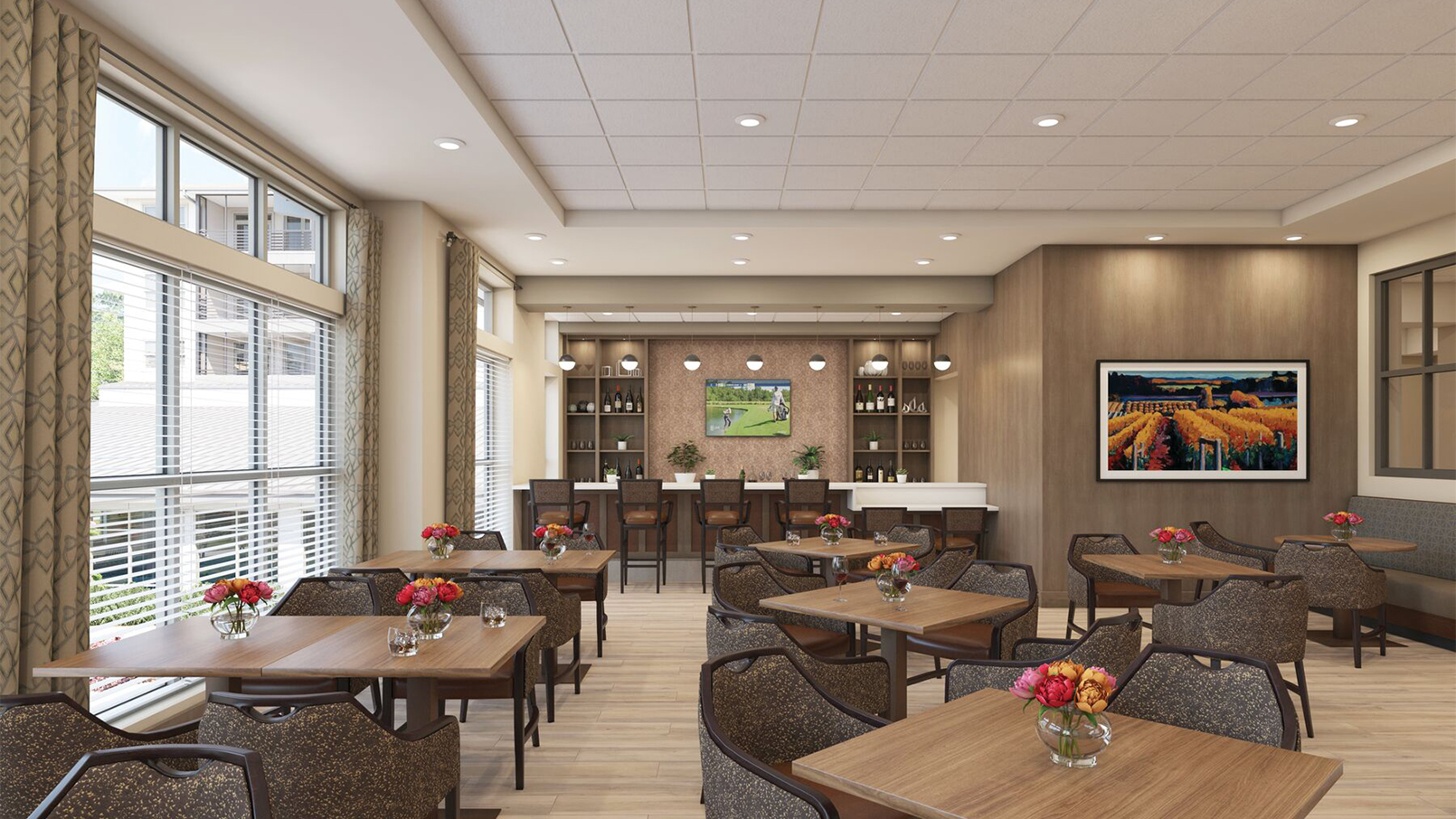 Imagine having high-quality restaurants, just a short walk away, where the meals are made to order, you can invite friends and family to join you, and best of all you never have to do the dishes afterward.
That dream will be a reality for residents at Woodleigh Chase, the new Erickson Senior Living community coming to Fairfax, Va.
Woodleigh Chase will offer a comprehensive range of activities and amenities, including a fitness center, swimming pool, dog park, and bocce court, as well as two restaurants and a pub.
Menus and venues
Like all Erickson Senior Living communities, Woodleigh Chase's restaurants will feature Signature Dining, a program that emphasizes preparing fresh, made-to-order meals, ranging from regional favorites to creative takes on classic dishes.
"I am excited to welcome everyone to the new restaurants! Not to mention the recipes that our chefs will be serving when the community opens," says David Taylor, sales director for Woodleigh Chase. "Our dining venues will provide great opportunities for social engagement, so I'm also excited to see residents enjoying a meal with neighbors and meeting new people."
While each apartment home will feature a full kitchen, residents won't have to look far when they want to try a new dish - or avoid cleaning pots and pans for a night. Come with a group or request a table with open seating to meet new neighbors. 
Made-to-order
Whether you want lunch at a casual, café-style eatery, a relaxing dinner at a full-service restaurant, or a glass of wine in the evening, Woodleigh Chase has you covered.
An executive chef will oversee the culinary program and a chef de cuisine will manage each kitchen, ensuring that each dish is cooked and plated to perfection.
"One of the features we are most proud of at Erickson Senior Living communities is that when you sit down in one of our restaurants and choose something off the menu, it is made at the time you order it," says Taylor. "You won't find any batch cooking at Woodleigh Chase! If you want your steak medium-rare and your spouse wants it well done, that's exactly how you will get it."
Flexible dining options
Woodleigh Chase's Choice Dining Plan, part of the monthly service package, gives you the flexibility to determine when and where you dine.
"Every resident will receive a dollar amount they can use in our restaurants," explains Taylor. "And you can use it however you'd like! For example, if you are a big eater and want surf and turf every night, you can do that. Or if you prefer to eat soup and a sandwich for lunch and dinner, you can do that too."
He adds, "You can also treat your guests to lunch or dinner, or use remaining dining dollars for that month towards a catered event in your apartment home. How you spend your dining plan dollars is up to you - there is so much flexibility."
Invest in your future self at Woodleigh Chase. From top-notch amenities to affordable, maintenance-free apartment homes, you are sure to live your retirement to the fullest. Request more information today!
Back