Wind Crest Offers Only the Best
By Michele Wojciechowski
May 11, 2021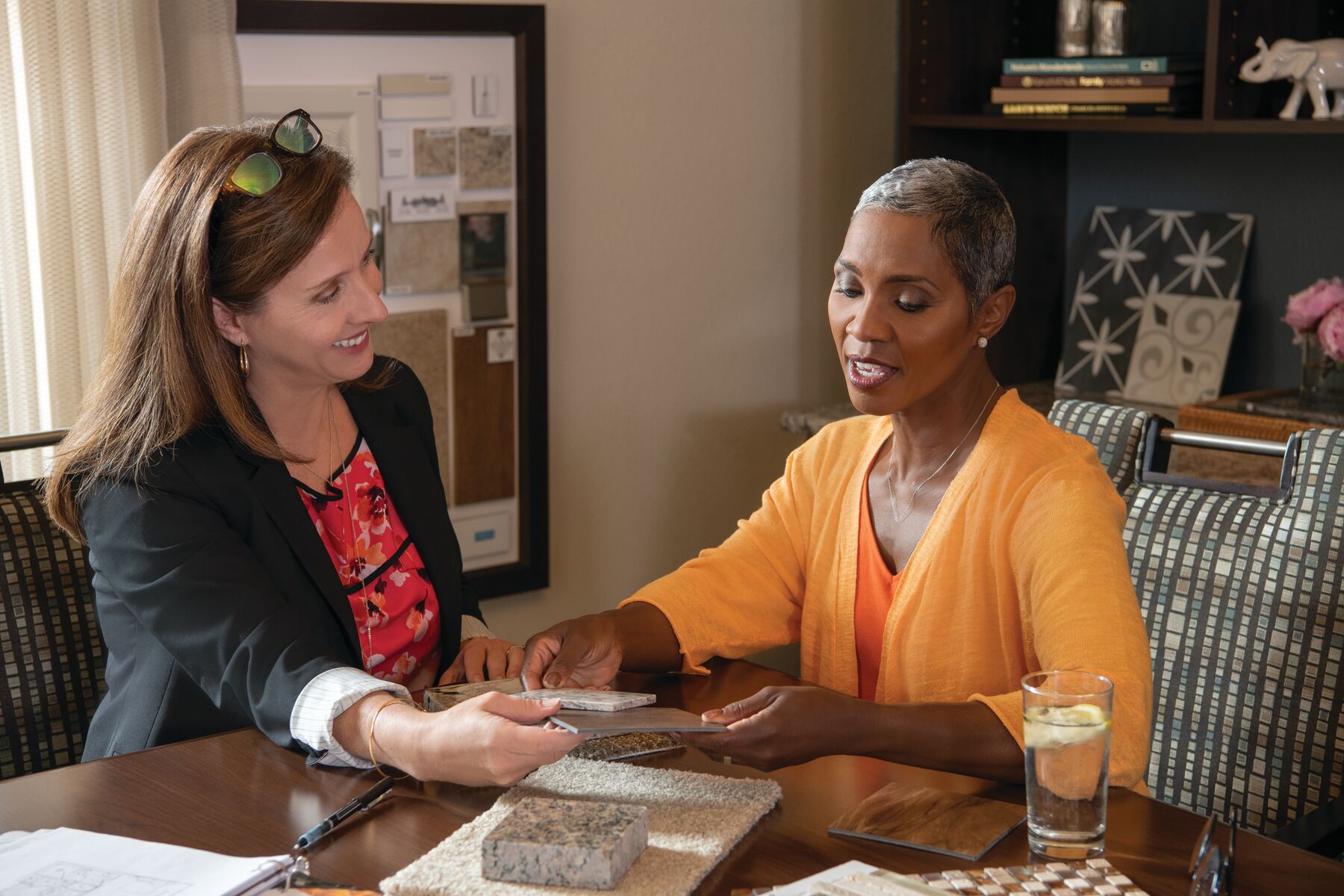 Although Jane Scherrer was thrilled to be moving into Wind Crest, the Erickson Senior Living community in Highlands Ranch, Colo., in December 2019, after all the moving was done, she found herself a bit emotional. A widow, Jane was missing her late husband, Jack. One of her daughters spent the day with her, and she felt better.
The day after she moved in, Jane heard a knock at her door. She opened it to find that Jillian Perry, a resident services staff member, was checking in to see how Jane was doing. Perry ended up staying at Jane's home for an hour, talking with Jane and listening to her. When she left, Jane felt great.
Wonderful employees
"She was such a dear, wonderful, young, sweet, perfect angel of mercy," says Jane. "I keep saying that every employee here at Wind Crest has had to have been hand-picked because they're wonderful. Every single employee that I've had any chance to deal with here has been wonderful."
Jane says that Perry kept in touch with her in the next few weeks, calling to make sure that Jane was still doing well. She would ask "Are you doing okay? Is there anything you need?" Jane says, "I felt so comfortable with her…She was so receptive, open, and available to me anytime I needed her."
Jane was so impressed with Perry that she wrote a letter to be shared with her supervisors. According to Craig Erickson, executive director at Wind Crest, offering the best customer service has always been a part of Erickson Senior Living.
"Treating everybody the same way—that's important," he says. "We treat our community members, we treat our coworkers, we treat our vendors all in that way and try to create a positive experience."
The local community has recognized Wind Crest's outstanding customer service as well. In 2019, readers of Colorado Community Media newspapers voted Wind Crest as the Best Retirement Community and Mill Vista Lodge at Wind Crest as the Best Assisted Living and Best Memory Care in Highlands Ranch in their annual Best of the Best contest.
Erickson says that the staff works hard with the Resident Advisory Council (RAC) to make sure that their residents are happy. "We all have this common goal of making the community better," he says.
Employees whom residents highlight as having gone above and beyond are celebrated at monthly meetings, with staff receiving gift cards in recognition of their extraordinary work. "People get inspired by hearing stories of their coworkers' commitment to serving residents," says Erickson.
Looking for ways to help
Because staff members are always looking for ways to help residents, they often are involved in solving large and small problems. For example, Erickson says that a community member who had had dental surgery nominated a bartender who, after he saw her struggling, got a knife and cut up her food when she was eating in a campus restaurant.
In another case, an IT employee who was helping a resident in her apartment overheard her on the phone and realized that someone was trying to scam her and helped put a stop to it.
When Jeanne and Dave Bohlin joined the priority list to secure their place in line for the apartment home of their choice at Wind Crest, they told the sales staff that they would be back in six years. Then they changed their minds. Their house had become a lot of work. "We were ready for a new adventure," says Jeanne. "We said, 'Why are we waiting? Let's go when we can enjoy it!'" One year after they saw the community, they were moving in.
Early vaccine access
When Wind Crest held COVID-19 vaccination clinics on site early this year, Jeanne says the staff made it feel like a party. The area was decorated, and there were photo booths for residents to take pictures in. The clinics were such a success that 97% of residents received the vaccine. The Bohlins quickly realized that every staff member from medical to dining would go out of their way to do whatever they could to make their lives better.
"It's not a group of people who come in and do a job and then leave. They really care," says Jeanne. "Dave and I often say, 'How did we get so lucky?'" she adds. "It makes me teary almost to think of how fortunate we are."
Want to know what makes living at Wind Crest so exceptional? Request more information today.
Back