Wind Crest Offers Great Value That You Can Enjoy Every Day
By Michele Wojciechowski
April 7, 2022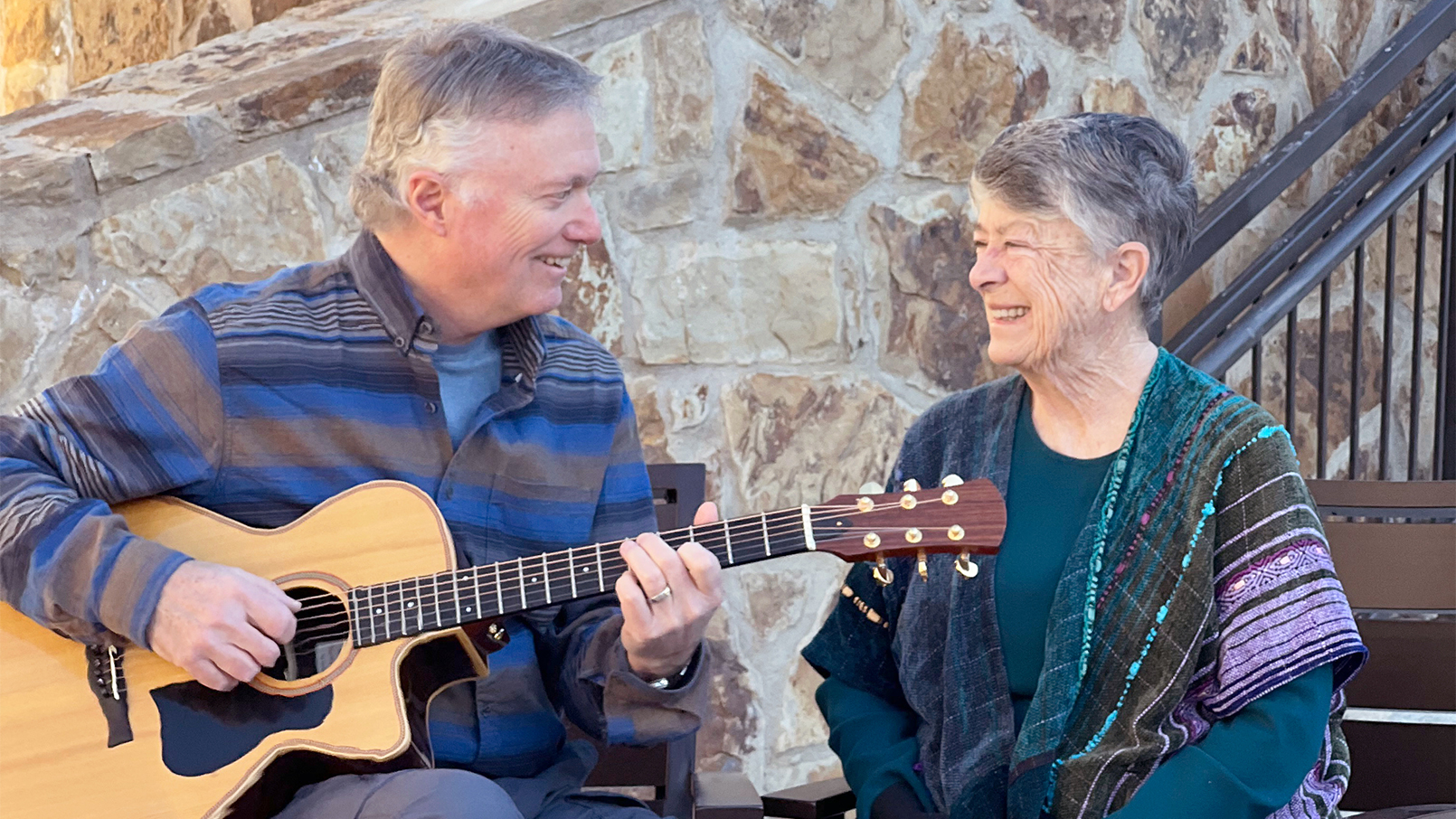 Imagine if, instead of juggling stacks of bills each month, you could just write one check, and it covered all your necessities - utilities, property taxes, water, cable, home maintenance, and more. What if it also included benefits like 24-hour security and emergency services, parking, easy access to transportation, professional landscaping, and even access to a fitness center, swimming pool, and hundreds of clubs and activities?
Sounds like a dream, right? That's exactly what living at Wind Crest, an Erickson Senior Living community in Highlands Ranch, Colo., is like, thanks to the community's financial model and convenient monthly service package.
Maintenance-free living
Randy and Karen MacFarland have been living in the Stratford, their two-bedroom, two-bath apartment home at Wind Crest, for about a year now. The predictable costs and all that is included in their monthly service package is just one of the many reasons why they chose to move there.
The MacFarlands also love that Wind Crest provides maintenance-free living, which saves them time and money. "You're not having to seek someone from outside to come fix something. Wind Crest takes care of all that," Randy says.
"People can even be away and traveling, and their home will be taken care of," agrees Sale Director Krista Wagner. "It's so convenient. Residents never have to worry about unexpected costs - like a new roof or an HVAC system - when they live at Wind Crest."
The many amenities, activities and opportunities for socialization are another major benefit of living at Wind Crest. Randy, a member of the Trail Hikers Club, attends fitness classes and participates in Bible study groups as well.
Active social life
Bill Keilt and his wife Mitzi Cline moved into the Walton, a two-bedroom, two-and-a-half bath apartment home with a den a year ago, and these social butterflies couldn't be happier. "The social life we've created here is amazing," says Bill. "This is a very active community."
Having played guitar semiprofessionally in bands during most of his life, Bill has "plugged into the music scene" at Wind Crest. He plays classical music with neighbor and cellist Rob Datsko. "It's like a dream come true for me," Bill says.
Bill also serves on the Friends of the Amphitheater Committee, an all-resident group that schedules bands, musicians, and performers for the new outdoor amphitheater. "I'm responsible for the tech side: the microphones, the PA system, the lights," Bill says. "That's fun for me because I'm sort of an avid amateur-recording, studio-musical, producer-kind of guy. This lets me work with bands in the area."
Fine dining
Bill and Mitzi also love the break from having to cook a meal every night.
"We're going out to dinner literally five nights a week with interesting people and having a blast," says Bill.
The monthly service package includes flexible meal plan options to enjoy Wind Crest's multiple on-site restaurants, which offer fresh, flavorful dishes that make it easy to enjoy quality dining.
"I like eating breakfast and lunch at home, but we just walk to one of the multiple dining venues every night and get a nice dinner," Bill notes. "You can't put a price on that."
Quality care
When Randy and Karen moved to Wind Crest, one of their three sons said to them, "You gave us a gift," recalls Randy. "Being close to additional care, if we eventually need it, just took a tremendous burden off of the family."
Sales Director Krista Wagner knows about this firsthand, as her parents moved to Wind Crest nearly two years ago. "The biggest gift that my brother and I could have ever received was knowing that they're living in a safe community, and that they have lots of things to do," she says.
One of the most unique aspects of Wind Crest's financial model is the community's Resident Care Fund - a commitment to residents that if they happen to deplete their financial resources, through no fault of their own, they still have a home for life.*
Strong housing market
Given the ongoing strength of the Denver-area housing market, now is a great time to consider a move.
"If you're thinking of moving to Wind Crest and want to get top dollar for your home, it's definitely worth looking into," says Wagner. "We work with preferred real estate agents who have experience working in this market, so they know it well and can provide great advice and direction. We've worked with them for 15 years, and they have expertise working with our customers."
Invest in your future at Wind Crest. From top-notch amenities and activities to affordable, maintenance-free apartment homes, you'll enjoy living your retirement to the fullest. Request more information or schedule a visit today!
*As per the Residence and Care Agreement.
Back