This New Year, Embrace Well-Being at Wind Crest
By Michele Wojciechowski
January 26, 2022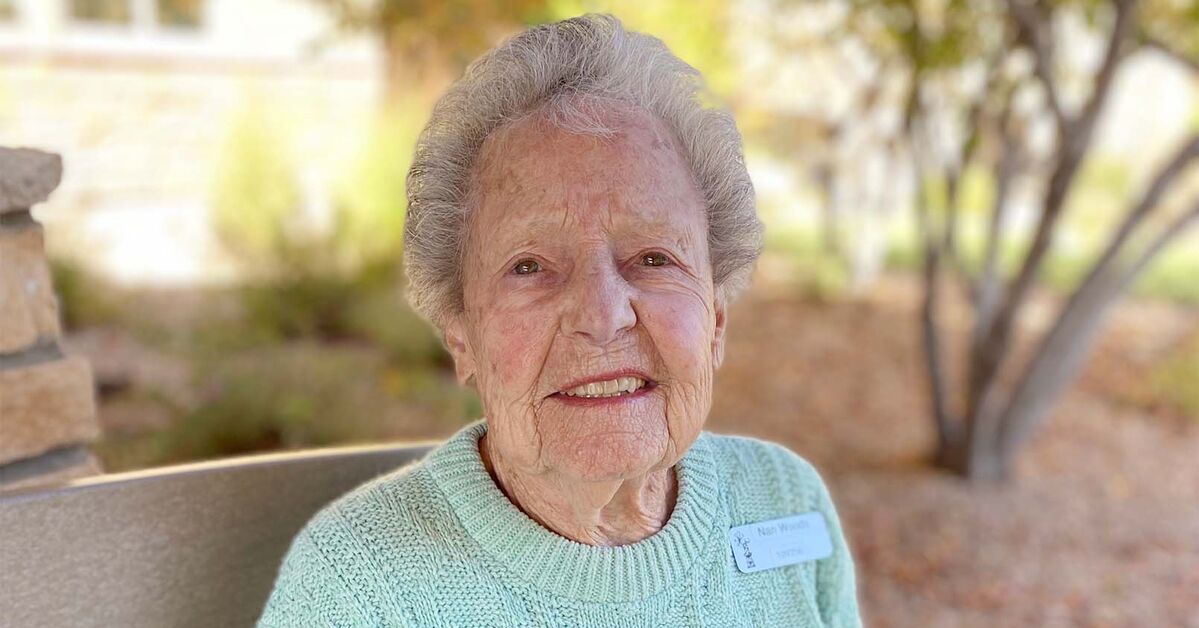 The new year is a great time to make sure you're doing all you can to maintain your physical health and mental well-being. Living at Wind Crest, the Erickson Senior Living community in Douglas County, Colo., makes it easy to stay fit, engaged, and relaxed; with well-equipped fitness centers, beautiful walking paths and trails, a variety of clubs and activities, an on-site medical center staffed by experienced providers, pastoral resources, and more.
Keeping active is easy for Nan Woods, who moved to the community thirteen years ago. She immediately joined a number of groups and clubs on campus, and since then, she says, "I haven't stopped."
Having been a physical education major in college, Nan makes sure to focus on her fitness. In addition to taking two balance classes a week, she also participates in other exercise classes offered by Wind Crest's fitness professionals as well. "I think that's the reason I'm in as good a shape as I am at my age," Nan says.
To keep her mind active, she also plays bridge. "I think playing bridge really helps you because you're concentrating all the time—even though you may get lousy cards like I do a lot," she jokes. "But at least you're thinking all the time."
When she's not relaxing in her one-bedroom, one-and-a-half bathroom apartment home, you can find Nan leading the golf putting group or collaborating with others in the Resident Advisory Council's dining committee.
"I'm not a person who likes to sit around," says Nan. "I like to be busy."
Fitness buffs
Lori and Steve Hessee also love to exercise. "We're at the gym every day, if possible," says Lori. They frequent one of the satellite fitness centers that is closer to their two-bedroom, two-bath apartment home.
Not only are they fitness buffs—they're integral members of several community programs. Lori says that they both act as Wind Crest ambassadors by helping with marketing initiatives, and they regularly tend to their 8- by 8-foot garden area on campus. Lori also spends a lot of time helping with estate sales through the Treasure Chest community resale shop that sells donated items to benefit the various philanthropic efforts at Wind Crest.
Lori explains that she and Steve were living in Phoenix, Ariz., when they retired, and soon realized they weren't interacting with people as much as they'd like. "We were looking for a [retirement] community that was very active. We checked out a number of them in the Phoenix and Denver areas. Wind Crest beat them all, hands down!" she says.
"This social life keeps us young. So does laughter—you can't go to dinner without having a good time, laughing and enjoying the people that you're with."
Countless activities
There's something for everyone at Wind Crest, notes Resident Life Director Ashley Cable. The community has more than 170 resident-led clubs, ranging from music and the arts to woodworking. Active community members appreciate the fitness and aquatic centers and exercise classes, including tai chi and yoga.
"There are so many different ways to get engaged in community life, no matter what your interests and preferences are," says Cable.
Mental, spiritual health
As part of its multidimensional approach to well-being, Wind Crest also provides opportunities for community members to explore their spirituality with programs for people of all faiths and backgrounds. "We have a robust group of community members who invest a lot of time and energy into these programs," says Cable. "The Seasoned Ministry—a group led by community members—for instance, has members who are trained to help support others, especially through grief and loss."
Cable also notes that Wind Crest has programs to support mental health. A group called the Learners, which is led by community members, creates classes on a variety of subjects in multiple semesters—similar to a university setting. The subjects range from history and astrophysics to art and music. "There's no point in life if you can't continue to learn and grow," Cable says.
Cable agrees that all these activities keep community members active—physically, spiritually, and mentally. "The beauty of community living is the ability to have so much socialization, which impacts many factors of a person's well-being," explains Cable. "Those social interactions help keep you mentally and physically strong. I think that's really the soul of Wind Crest and Erickson Senior Living—these relationships lead to so many other benefits."
To learn more about opportunities to reinvigorate your life at Wind Crest, schedule a virtual or in-person visit.
Back