Making Friends and Birdhouses at Wind Crest
By Michele Wojciechowski
August 6, 2021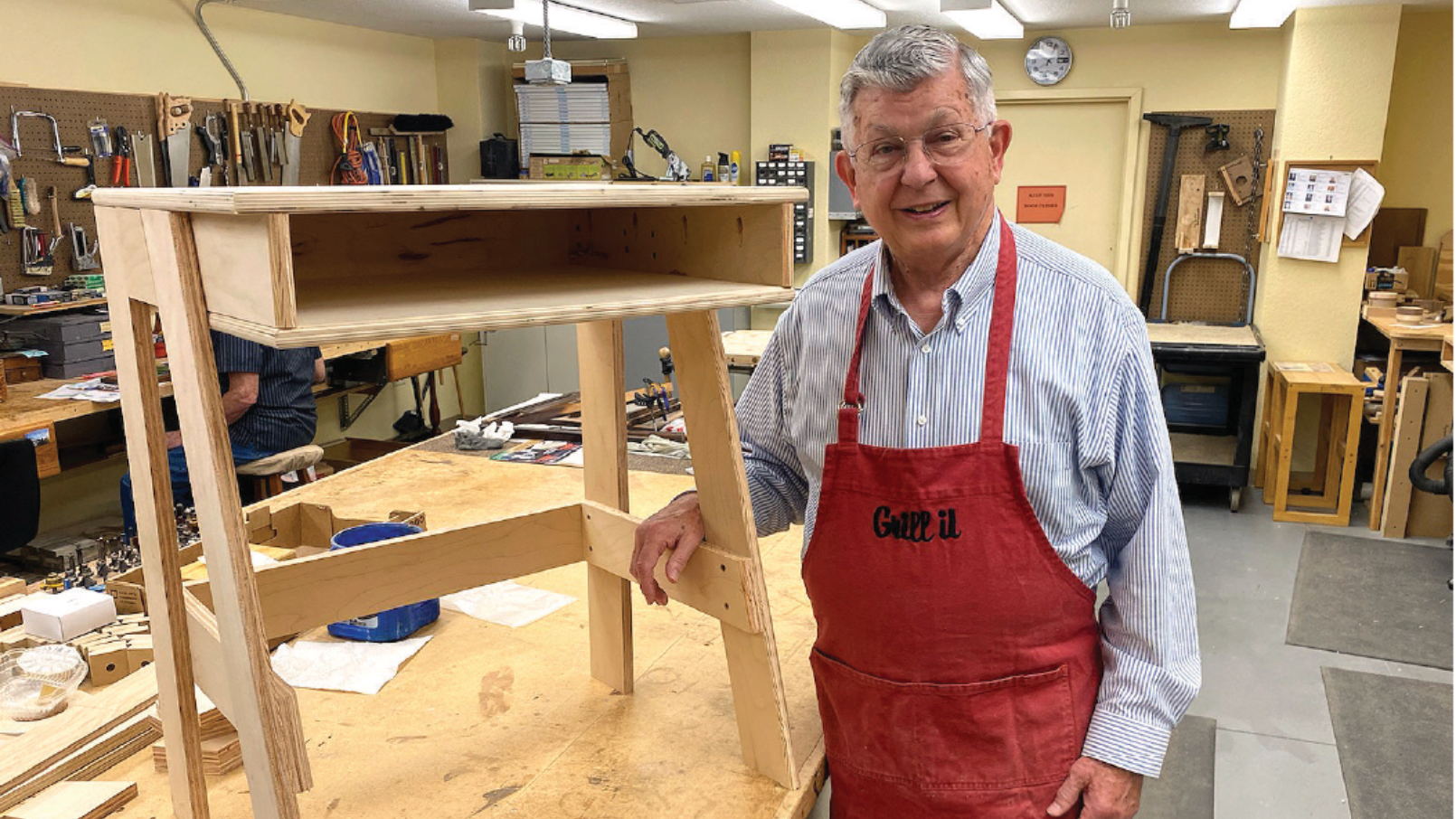 When Sid and Debbie Cook moved into Wind Crest just over a year ago, Sid had done a little bit of woodworking, but not much. "I had some tools, but I was really a novice," says Sid. What drew him to check out the woodshop at the Erickson Senior Living community in Highland Ranch, Colo., was an impulse, he says. "I wanted a hobby. I went down there, and I was really impressed with the facilities. They have a lot of really nice equipment," Sid recalls.
He met people such as Gerry Venard, the shop manager; Len Hilgartner, the original founder of the woodshop; and George Ulrich, the chairman of the woodshop committee. "I was just super impressed with the organization." In no time at all, in just over a month after he moved to Wind Crest, Sid joined the group, known as the Windy Wooders.
First projects
In addition to working on their own projects, Sid says that the Windy Wooders will also fix items for residents. The first project he worked on was fixing a chest that had a broken leg. "It was very simple and easy to fix," says Sid. "And I fixed it!" Someone suggested that he might want to try building a birdhouse. After Sid built it, they put it up for auction to raise money for the woodshop, which they do with other items that members build. But Sid's wife, Debbie, got to see the birdhouse before it was auctioned off. She loved it so much that she asked Sid to make one for each of their three sons and their families for Christmas. So, he built those birdhouses.
Sid says when the Windy Wooders had a request to build some desks for local children, he went to volunteer and was put in charge of the project. After purchasing plywood for the project, Sid says they initially built two desks. Then, they connected with someone in the Highlands Ranch area who had contacts with a local lumber company. The company provided all the wood needed to build desks—free.
"We went to various agencies and schools that would distribute these desks to people in need, including Open Door Ministries, which has a ministry to street people and very low-income people in downtown Denver," explains Sid. "This afternoon, I'm going to deliver five more desks to Open Door Ministries."
It takes teamwork
For a number of the desks, Sid cut the wood and let other woodshop members put in the screws and assemble them. At press time, they had crafted more than 65 desks for children in need. "I have had my hands on all the desks that we've done," says Sid. "After a while, you learn how you can be more efficient. So, it doesn't take me that long. It takes me about 2-3 hours to build a desk from start to finish. It's getting me used to working with a router, a table saw, and a chop saw."
In addition to working on the desks, Sid has been working on a table a resident donated that will be sold through the Wind Crest Treasure Chest shop. "It was in fairly rough condition—had some stains on it and whatnot. I've been trying to clean that up a little bit. It's an old antique," says Sid.
Making new friends
Although Sid enjoys the skills he's learned and the projects he's made while woodworking, there's something else he loves even more: the people. "They're all very helpful, very nice, and friendly," says Sid. "It's a good fellowship as well as having very good, top-of-the-line equipment to work with."
While he didn't know much about woodworking a year ago, Sid does now. "It's a challenge. It's an accomplishment. You can build anything, and if it's useful, you've done something," says Sid. "I reckon people like to accomplish different things. When you're building something that will help a kid or building something that is of some value that people can sell—that's even better! It's a good feeling to help people in any way, shape, or form."
Interested in a retirement lifestyle where you can pursue a hobby, learn a new skill and make new friends, all just steps away from your beautiful, new apartment home? Request more information about Wind Crest today.
Back