Maintenance-Free Lifestyle Attracts New Residents to Wind Crest
By Michele Wojciechowski
September 15, 2023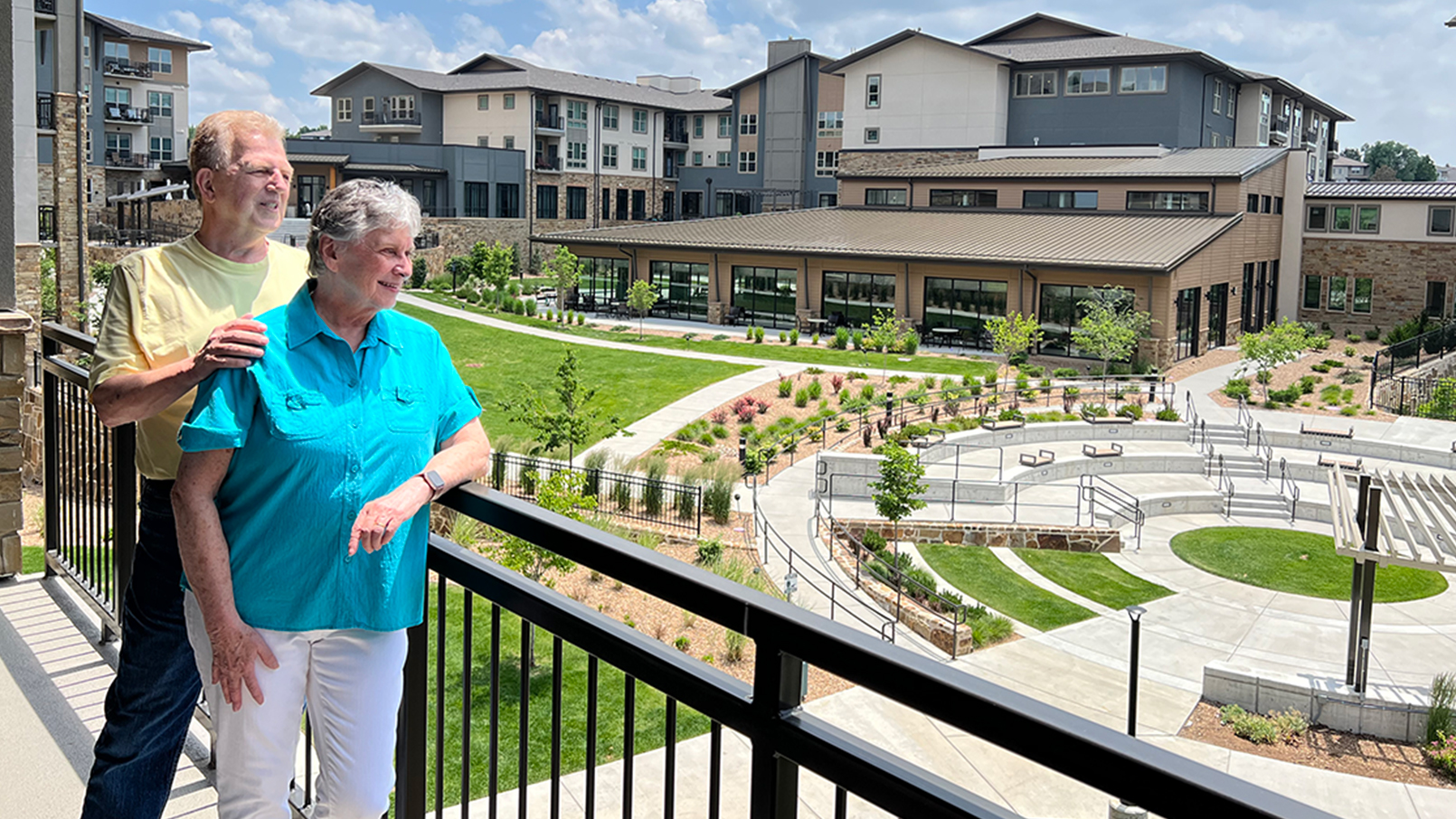 Three years ago, Carol Zimmer and her husband Steve Reed decided to move from Heritage Eagle Bend to Wind Crest, an Erickson Senior Living community in Highlands Ranch, Colo. 
Although they had enjoyed living in the 55-plus neighborhood, they wanted something different, and they weren't alone. In the last three years, more than 50 Heritage Eagle Bend residents have made the move to Wind Crest.
The couple's journey to the community began when they learned their Heritage Eagle Bend neighbors and good friends Ginny and Richard Daniel were moving to Wind Crest.
Curious, Carol and Steve made an appointment to visit the campus, and more and more of their neighbors decided to come as well. By the end of that day, nearly every single one had expressed serious interest in moving to Wind Crest.
"All those people are living here now!" says Carol.
Worry-free living
Wind Crest's maintenance-free lifestyle was a huge draw for Carol and Steve.
"We had a single-family house that was quite a bit of work. It was large, and we were responsible for the maintenance--so, all of the lawn work," says Carol.
"I really don't miss working on the lawn, especially during the nicer weather," says Steve with a laugh.
They now live in a gorgeous two-bedroom, two-bath apartment home with a wrap-around balcony overlooking the community's amphitheater--a beautiful environment with no work involved. Their apartment home also offers a feeling of security.
"If Steve is traveling for whatever reason, I'm no longer in a big house all by myself," says Carol. "I have absolutely no fear living here." 
Enjoying activities
With so many things to do at Wind Crest, the couple likes the option to be as involved as they want. 
Steve belongs to the Reader's Theater, in which performers act with scripts; sits on the general services subcommittee for the Resident Advisory Council; attends a men's coffee group; and takes fitness classes.
Carol loves to stay busy, so she runs a ladies meeting, volunteers at the campus TV station, serves on the boards of the Friends of the Amphitheatre and the Treasure Chest gift shop, and ushers for events at the Arts and Entertainment Center. 
She also runs the Newbie Buddies program to welcome newcomers to their building, arranges activities for other former Heritage Eagle Bend residents, and, with Steve, serves as a resident ambassador for Wind Crest.
"Actually, I turn down a lot of things," quips Carol. 
'So impressed'
Heritage Eagle Bend residents Audrey and Cliff Vander Zwaag were also inspired to move to Wind Crest--by Jim and Jean Clark, their son-in-law's parents who live at Wind Crest. "They invited us to dinner at their beautiful apartment home, and we were so impressed with everything," recalls Audrey.
Unfortunately, before their move, Cliff became ill and passed away, but Audrey says he had peace of mind knowing that she was joining a warm, welcoming community. 
Two years later, she is still happy with her decision. "I like the maintenance-free living here. I don't have to worry about snow removal or landscaping. I don't have to worry about my refrigerator filter! I don't have to worry if something happens to the furnace or the air conditioner," Audrey says. 
One call to general services, and they will take care of whatever she needs quickly. "It's just a worry-free place to live," she says.
Audrey has made a lot of new friends and gotten involved in a number of groups and clubs as well. She plays mah-jongg and gin rummy, has attended Learner's Club and exercise classes, and plays golf at one of the many nearby courses.
"You can be as active as you want to be here! Or, you can stay in your apartment home and read, if that is something you wish to do," she says.
An engaging lifestyle
Audrey especially appreciates the convenience of having a wide range of services right on campus. She visits the salon to get her hair and nails done. She sees the doctors and specialists at the medical center. And, she enjoys eating at all of the restaurants at Wind Crest.
"There's everything here. It's a self-contained community," she says. "I wouldn't change a thing. It's been wonderful!"
To learn more about senior living at Wind Crest, request your free brochure to get the scoop on amenities, floor plans, and so much more.
Back