Good Times in the Great Outdoors at Wind Crest
By Michele Wojciechowski
July 28, 2023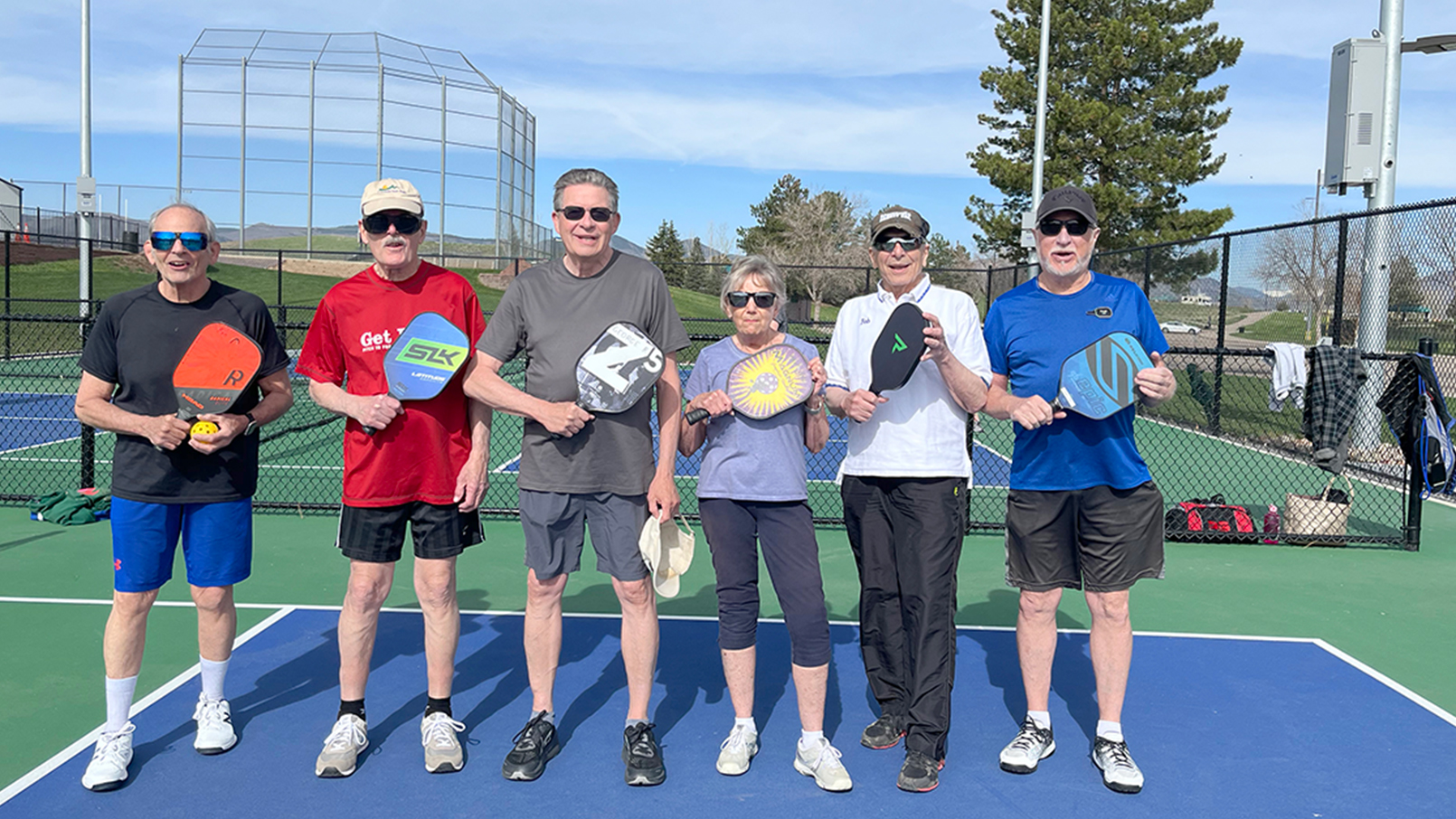 When Rob and Marcia Morris relocated from West Virginia to Wind Crest, the Erickson Senior Living community in Highlands Ranch, Colo., three years ago, they were thrilled with their two-bedroom, two-bathroom apartment home with a den. 
And Rob, an avid cyclist, was just as excited about the community's invigorating outdoor environment.
When people ask why the couple moved across the country, he responds, "Sunshine, low humidity, and bicycle paths."
Colorado, Rob says, has far more sunny days than West Virginia. "I have seasonal affective disorder. So, when it gets cloudy, I get blue," he explains. "And the two things that help it are sunshine and exercise." 
To the couple's benefit, Wind Crest has all that and much more!
Feeling fantastic
Research studies show that seniors who spend more time outdoors feel better physically, mentally, and emotionally, and Rob is living proof.
"Bicycling is my favorite hobby," he says. As a member of the Windy Cyclers, Rob rides every Monday and Friday, but he also goes biking on his own. 
Last year, he participated in the Triple Bypass, a 110-mile bike ride through Colorado's Rocky Mountains. 
"Back in West Virginia, I was probably bicycling 1,500 miles a year. At Wind Crest, I do about 4,000," he says.
Not only has this activity helped Rob stay in shape, it's also expanded his social circle. "I love the camaraderie. Being able to share my love for biking with other folks is extremely beneficial," he says. "Not to mention getting a dose of vitamin D!"
Investing in well-being
In 2022, Erickson Senior Living made a multimillion-dollar investment through its Well-Being Fund to support the addition of enhanced health and well-being programs and services to its residents across the country. 
At Wind Crest, funds were used to upgrade existing outdoor amenities and add new ones. 
The popular putting green was refurbished and a mobile disc golf course was purchased-a fun activity that can be played indoors and out, throughout the community.
"People really enjoy playing disc golf outside in the courtyards," says Resident Life Director Ashley Cable. 
Outdoor pickleball courts are also on their way. "Lots of people are looking forward to playing it!" she adds. "They can't wait." 
Upping your cardio
Fred Clift, leader of the community's pickleball group, is one of many residents looking forward to the outdoor pickleball courts coming to Wind Crest.
"We currently play at Arapahoe Community College nearby. Having courts at Wind Crest will be a game changer!" he says. "Between games, there's a lot of socialization. You learn about people and where they've worked, where they've lived, and their life experiences. It will be even more social playing with residents right here."
Fred also goes hiking regularly with the Wind Crest Trail Hikers, where he's made a lot of friends. 
His great love, though, is pickleball. "It gives you more stamina, you get better muscle tone, and the cardio aspect can improve your breathing," he explains. 
"I think we have to keep moving in some way as we age-pickleball definitely does that!" 
Outdoor amenities abound
Besides hiking, biking, and golf, Wind Crest offers plenty of other outdoor activities on its gorgeously landscaped, 84-acre campus. Residents can also play bocce ball, join the walking club, or enjoy outdoor summer concerts in the amphitheater.
"We're fortunate to be right along the High Line Canal. Everyone-residents and staff alike-loves taking walks along it throughout the year," says Cable. "It's beautiful and full of nature."
Wind Crest also has a legacy garden, a reflective space for walking. It features bricks and benches that residents can purchase to have a personal message inscribed-everything from anniversaries and celebrations to reflections and memorials. 
Throughout the summer, the Dining Services team hosts a rotating barbeque, which starts right after Memorial Day and runs to the first week in August. "These lunches are held outdoors and rotate among the three neighborhoods. Everyone gets to enjoy them!" explains Cable.
And just steps from their front doors, residents can dine al fresco at four of the community's restaurants. 
"We have outdoor seating in the summer at the Mile High Café, Windows, the Colorado Café, Cascades, and Carters," says Cable. "Everyone enjoys the beautiful weather while sharing meals with their friends and family."
Get outside!
Thanks to resident-led efforts and investments in outdoor spaces, an increasing number of Wind Crest residents are finding ways to spend time outside, which is proving to be an integral part of their active, worry-free lifestyles.
To learn more about the ways Wind Crest residents are enjoying the great outdoors, request more information today!
Back