The Freedom of a Carefree, Social Retirement at Wind Crest
By Michele Wojciechowski
July 25, 2022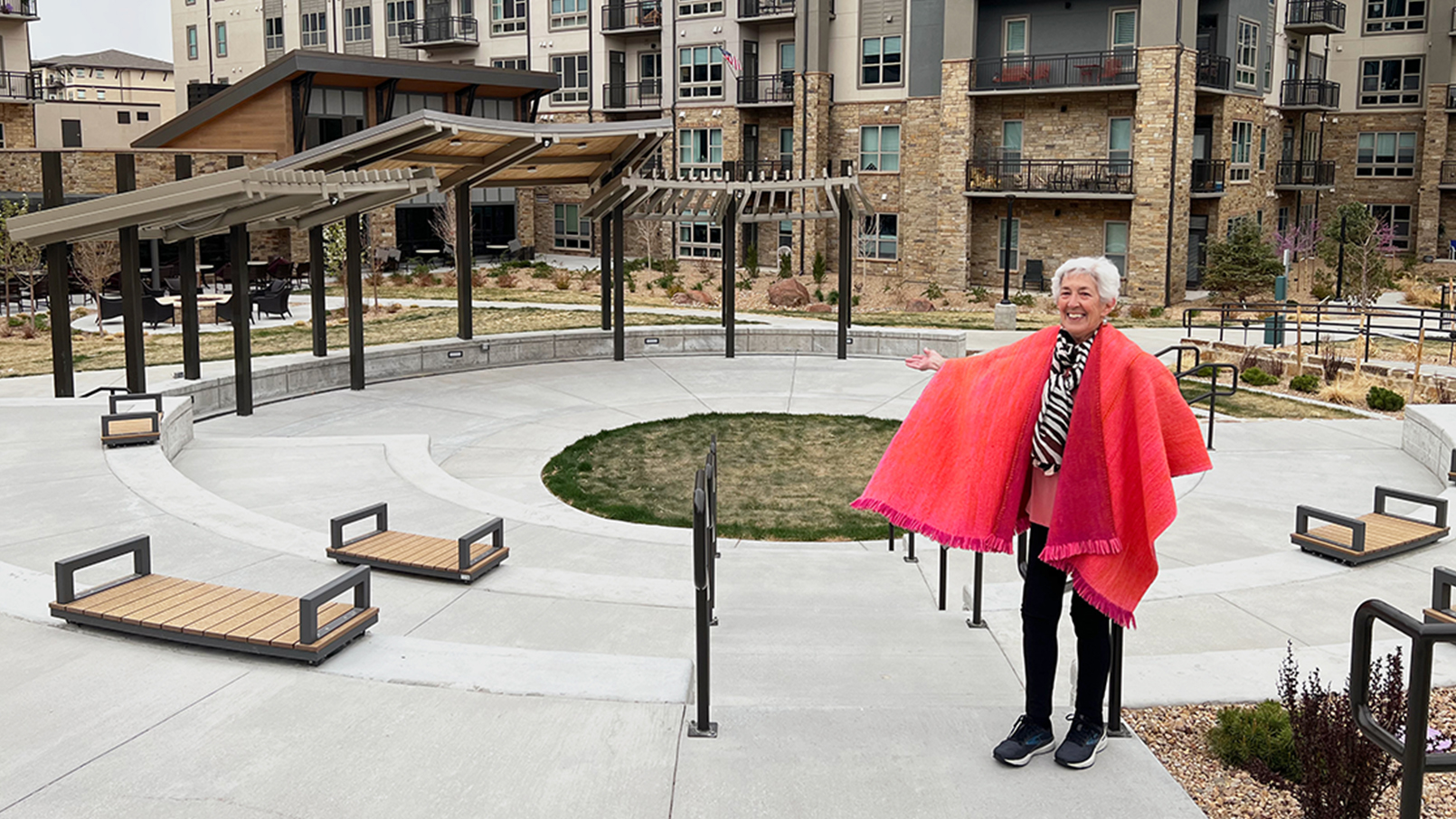 When she moved to Wind Crest, the Erickson Senior Living community in Douglas County, Colo., Kate Adams was looking forward to relaxing on her balcony, listening to music radiating from the outdoor amphitheater.
But with so many clubs and activities, artistic pursuits, and enriching volunteer opportunities to choose from at Wind Crest, residents are often surprised with how active and social their lifestyle is at the community.
Thanks to Wind Crest's stylish and maintenance-free apartment homes, the headaches of homeownership are eliminated, allowing residents to fully enjoy all the advantages of being part of an engaging community that fosters meaningful connections and supports their overall well-being.
Something for everyone
Instead of just being a spectator to performances at the amphitheater, Kate decided to get involved by starting a new club, Friends of the Amphitheater, so she could participate in seeking out talent and scheduling performances. One of the many advantages of living at an Erickson Senior Living community like Wind Crest is the ease of starting new groups or activities, if they don't already exist. With the support of experienced staff members, people can pursue their passions and share them with others.
"There is every kind of talent, skill, knowledge, and interest that you could ask for, right here at Wind Crest," says Kate. She says she knew "there have to be musicians here who would perform out in the amphitheater."
Friends of the Amphitheater, which includes Kate and about 20 other neighbors, quickly began working together to find musicians and other acts within the community to perform at the amphitheater. Soon enough, the group was holding fundraisers so they could pay professional performers to come on campus. Their first attempt at raising money was very successful, and Kate hopes they will have two acts perform each month from June through October.
Making connections is easy
The ease of getting involved in activities and starting new clubs - and making friends while doing both - are just a few of the reasons why people love their lives at Wind Crest.
"It's easy to make meaningful connections, and I think it makes everyone feel welcome," says Sales Counselor Sandy Shelpuk. "Whether it's their connections through clubs, classes at the fitness centers, or the ones they made over dinner, interactions like this are what make Wind Crest 'home' for residents. They've gotten to meet other people, and they've made friends here. And it's fun!"
Darla Schwartz, Wind Crest resident and self-described "social worker who can't quit," would agree. When Darla isn't spending time in her apartment home with husband Ben, she's out and about meeting new people - and inviting them to get together for dinner at one of the community's on-site restaurants.
What's in a name?
A couple of years ago, Darla began arranging "name" dinners.
"I started doing this because I knew three or four Karens at Wind Crest. One day, it occurred to me, 'Wouldn't it be nifty to have dinner together with all of them?'" Darla recalls. "They all said yes. Of course, I couldn't leave well enough alone, so I invited all the Karens who live at Wind Crest."
Here's how it works: Darla reserves the private dining room, emails all the women on campus who share a particular first name, and invites them to come to dinner. She writes in the email, "The best thing about it is you won't have to remember anybody's name that you meet, except mine!"
So far, she has held dinners for Lindas, Carols, Marys, Mary-somethings (Mary-Lou, Mary-Beth, and the like), Jeans, Janes, Joans, and Anns/Annes/Annies. She chooses one name each month. One day, Darla - who is currently the only one with that name at Wind Crest - is going to have a dinner with her fellow Darlas. 
Group gatherings
Darla has also set up monthly dinners called Newcomers and Neighbors (for those who are new to Wind Crest and community members who would like to welcome them), the Munch Bunch (for singles), and Couples Supper Club (so popular that there are two or three events held monthly).
She also organized a Guys' Breakfast (for men who are single or widowed), and most recently, a breakfast club called Out to Breakfast, a group of singles and couples who travel off-campus together to try a new restaurant for the first meal of the day.
"It gives me a purpose, it keeps me busy, and it gives me a good excuse not to clean my apartment home," says Darla with a laugh. "I just love it!"
After enjoying all these great meals together, residents have plenty of energy to spend in the fitness and aquatic centers.
"Wind Crest is an extremely active community," says Fitness Manager Terri Billings. "We offer a variety of exercise activities for residents. There is truly something for every 'body.' By participating in fitness activities, residents are able to build their social connections, form relationships with one another, have fun, and get fit." All of which culminates in a fulfilling, vibrant retirement.
Invest in your future at Wind Crest. From top-notch amenities and activities to affordable, maintenance-free apartment homes, you'll enjoy living your retirement to the fullest. Request more information today!
Back