From Entry Level to Executive Chef at Wind Crest
By Michele Wojciechowski
November 17, 2022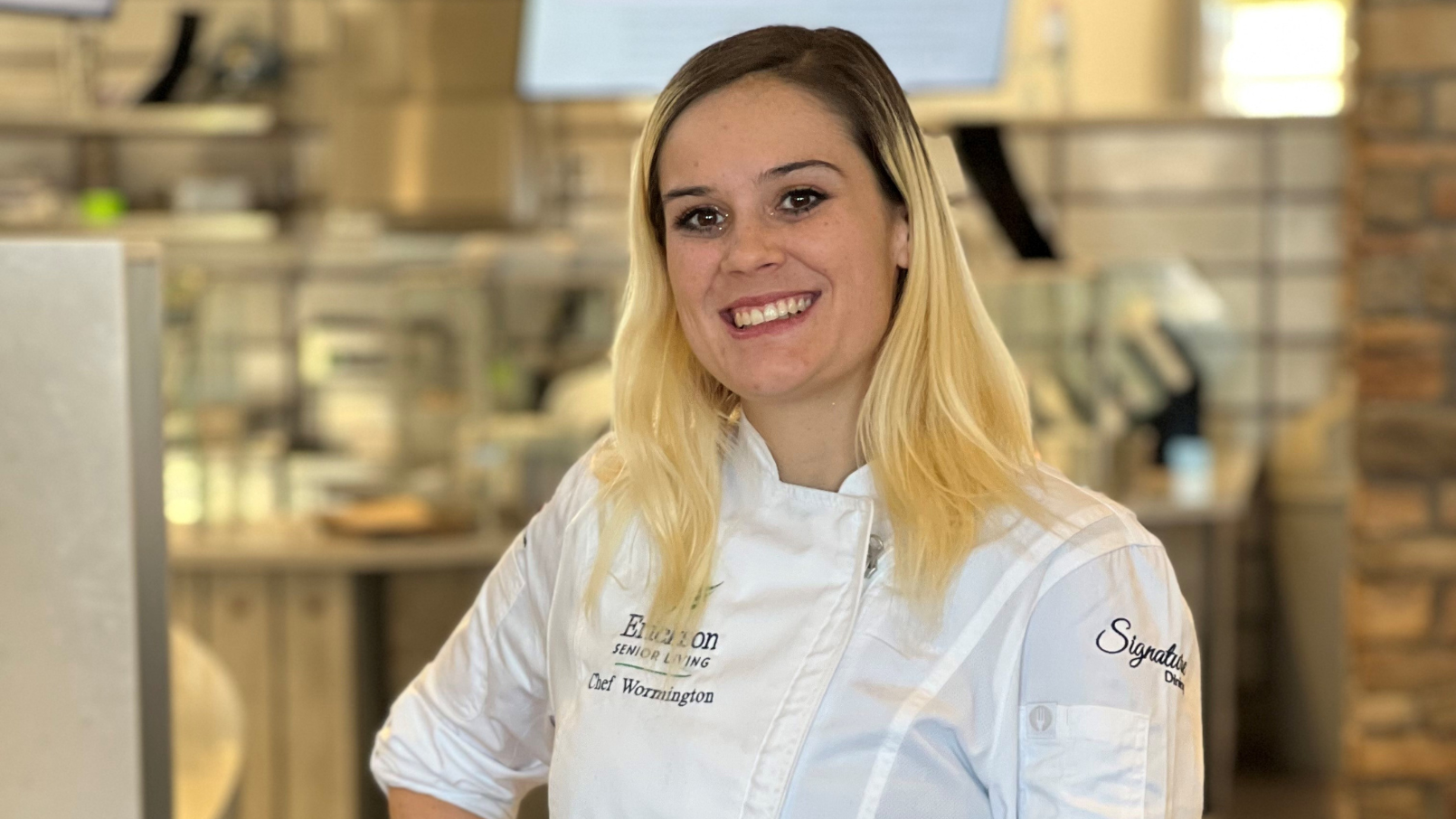 In 2014, Celeste Wormington was new to the Denver, Colo. area. Because she had a friend who worked at Wind Crest, the Erickson Senior Living community in Highlands Ranch, and loved it, she decided to apply. Her first job was an entry-level position, working as a part-time utility person in the dining department. But that's not where she'd stay for long.
Wormington says that as soon as she started to work at Wind Crest, staff immediately identified her as someone they wanted to see grow. "I was promoted to a prep cook and began overseeing the dessert section of the menu," she says. "Chef Josh Deuel was one of the first mentors who took it upon himself to show me a new skill every single day we worked together. His consistent side-by-side training helped me to achieve becoming a line cook."
Her next mentor was Chef Douglas Moss. "His continuous training and encouragement drove me to want to be a leader just like he was. I eventually became his sous chef," says Wormington. Before she made her next move to executive chef, she even had help from Erickson's human resources team. "When I was getting ready for my interviews, I was not very confident. A human resources member took the time to do mock interviews with me to give me feedback. When I finally went for the executive chef interview, I felt confident and excited to be there," she says.
This kind of support and encouragement is the norm throughout the nationwide Erickson Senior Living enterprise. "One of our highest priorities as Wind Crest is to foster a culture of personal growth and appreciation that provides our dedicated and diverse team of dining services professionals the experience and incentives to achieve ongoing career success," says Executive Director Craig Erickson. "There is nothing more exciting than seeing team members make significant contributions and enjoy career advancements because of the opportunities they have been afforded to build their portfolio of skills."
In addition to mentorship and advancement opportunities, Wind Crest employees benefit from access to multiple health care plans and choices, and a full range of services that enables them to build their careers, enjoy a healthy work-life balance, and plan for their future financial security. Those joining the dining services team (e.g. cooks, chefs, kitchen staff) may qualify for a sign-on bonus.
Some of the many employee benefit differentiators Wind Crest offers include tuition reimbursement, 401(k), generous paid time off (including for volunteering), Erickson Senior Living University class offerings, rapid advancement opportunities like Wormington has had, on-site employee health and wellness centers, employee discount programs, and more. High school juniors and seniors who work as servers can qualify for student college scholarships of $1,000 per semester.
The benefits, though, are only part of the reason why people work at Erickson Senior Living communities. "I love working at Wind Crest because I know that it will be a good day no matter what the outside world may bring. My team is very close, and we try to bring out the best in one another," says Wormington. "Erickson really does care about their employees. Working here for as long as I have has taught me what a career should feel like!"
Explore dining services and other exciting career opportunities at Wind Crest by visiting EricksonSeniorLiving.com/careers.
Back