Enjoying The Great Outdoors at Wind Crest
By Michele Wojciechowski
August 24, 2021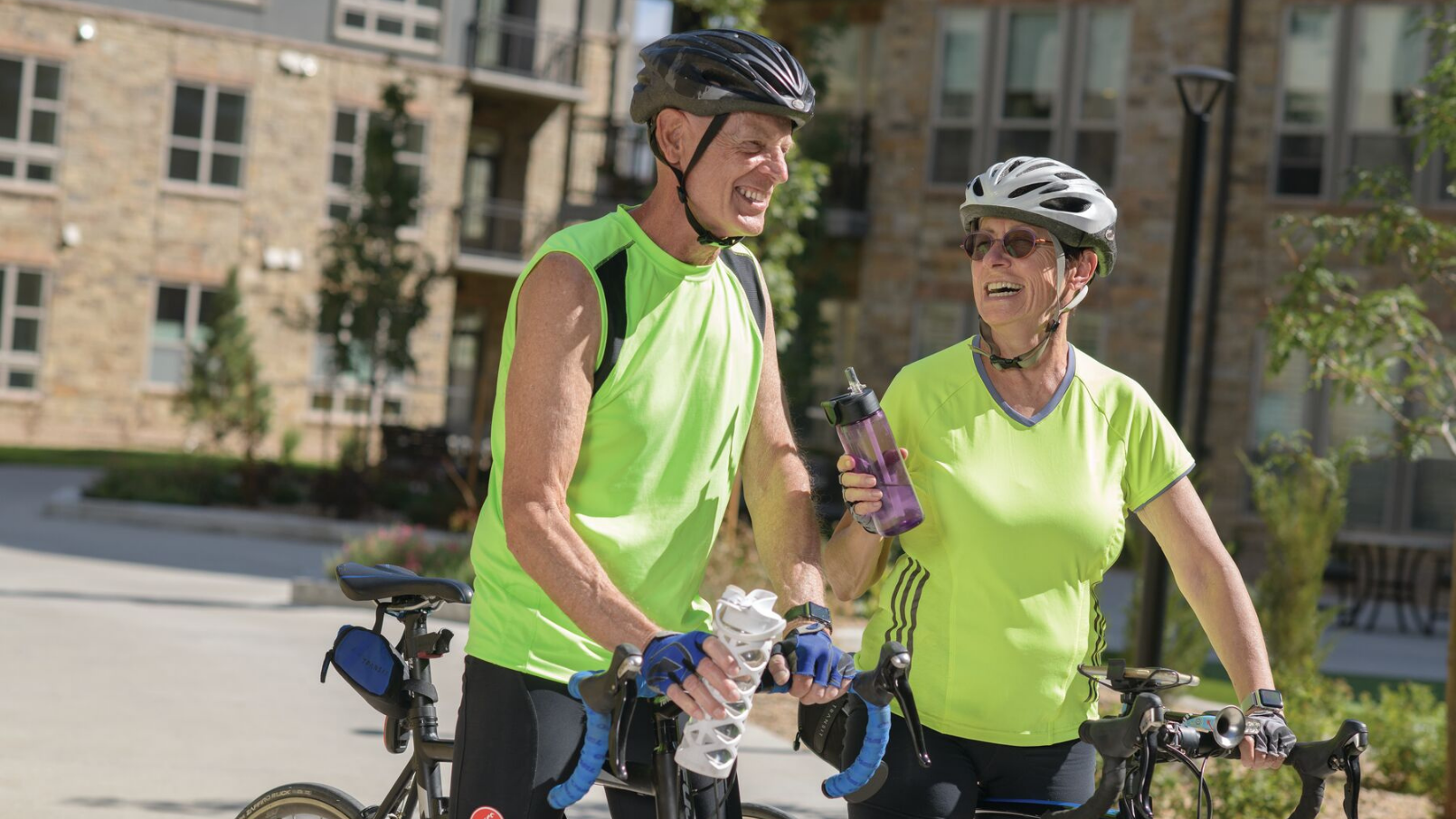 To say that Sara Jo Light and her husband Ray Venoski are active is a bit of an understatement. These residents of Wind Crest, an Erickson Senior Living community in Highlands Ranch, Colo., hardly stop moving.
For 25 years, they were competitive equestrians. Then, they traded their horses for bikes. "We switched to 'tire mode' of riding fast as compared to 'horse mode,'" says Sara Jo, "and we don't jump anything with our bikes."
They enjoy taking advantage of the nearby High Line Canal. "It's very convenient to take our bikes on those nice, beautiful trails," says Ray. They also appreciate the ability to bike right at home, on the Wind Crest campus.
"We have three neighborhoods at Wind Crest, and we do loops—go through the parking lot, under the canopies of the buildings—really fast and really hard," explains Sara Jo. As outdoor enthusiasts, Sara Jo and Ray take every opportunity to enjoy the picturesque surroundings at Wind Crest, including walking their dog Kismet around the property several times a day. When it's nice out, they enjoy al fresco dining.
"There are several places that you can sit outside to eat where you look at the Rocky Mountains," says Sara Jo. "Then a red-tailed hawk will fly over, and a bunny will go through the grass. It's pretty hard to beat."
Close to nature
The couple also loves to garden. "We have our own garden spot, so we use that often," says Ray. Community members can request gardening spots where they can plant flowers, vegetables, herbs— whatever they like. Sara Jo says that in their 10-feet-by-10-feet area, this year they've planted "Ray's world-famous tomatoes," snow peas, green beans, yellow squash, green zucchini, lettuce, kale, and Swiss chard.
The gardeners at Wind Crest tend to share their abundance. "Ray gives away about 100 tomatoes," says Sara Jo. They've also turned their dry creek bed into a knockout flowerbed. "It's pretty slick. We put the flowers on either side up above where the rocks are, so it's stunning," says Sara Jo.
Besides being able to pursue activities they love and that keep them physically and mentally healthy, they enjoy socializing with their neighbors at Wind Crest. "The people are great! We've made a lot of friends," says Ray.
On the move
One of those neighbors, George Rasmussen, is another man on the move. Two or three mornings a week, he swims, so, he's excited that Wind Crest has recently opened a second indoor pool on the campus. He likes staying physically active, and he also loves hiking on the High Line Canal with his wife, Jeanne.
In fact, George loves hiking so much that he started a new club at Wind Crest called the Trail Hikers Club. With more than 100 members, they hike every other week on trails near the community.
"I've got 32 different hikes on my master list, and that's just the ones that I've hiked already. They're all within an hour's drive time of Wind Crest, and they range from easy to moderate to strenuous," George explains.
One of the reasons that George likes to exercise so much, he says while laughing, is that he likes to eat. "If I didn't, I'd be on the losing end of the weight spectrum," he jokes. The neighbors on their apartment floor also have a weekly happy hour, sometimes around one of the fire pits on campus. George loves the social aspect of the Wind Crest lifestyle as well.
"You cannot go outside without bumping into a friend. And walking outdoors and just smelling the roses, so to speak, is a great therapy for me to be able to unwind and relax and just enjoy it," says George.
He admits there's another benefit too. "I was walking to a meeting, and they were cutting the grass. I smelled the wonderful smell of the newly mown grass, and I realized, 'Hey! I didn't have to cut it!'"
Interested in learning more about the active, engaged and maintenance-free lifestyle at Wind Crest? Request more information today.
Back